This fall, the Behavioral Research Center for HIV (BIRCH) joined the UW Department of Global Health. BIRCH is an NIH-funded P30 developmental AIDS Research Center that provides infrastructure and support for high-impact, interdisciplinary research on HIV and mental health. Its vision is to end the HIV epidemic by addressing the determinants and symptoms of mental illness and HIV through holistic person-centered prevention and care.
BIRCH is co-led by Dr. Susan Graham (Global Health) and Dr. Lydia Chwastiak (Psychiatry and Behavioral Services). Dr. Graham, who had been an Associate Director of the BIRCH Administrative Core since the Center's inception, became the new BIRCH Director and Principal Investigator in July 2023. At that point, the Center moved from Psychology to DGH, where Dr. Graham has her primary appointment.
"The move to DGH is a good fit for BIRCH, given the importance of HIV and mental health globally, the strong Global Mental Health group in the DGH, and the location of DGH in both the School of Medicine and the School of Public Health" said Graham. "We look forward to continuing BIRCH work in the DGH and are hopeful that our funding renewal application in 2024 will be successful."
BIRCH is comprised of four cores: administrative, integrated, methods, and development, that together address inequities by testing research solutions that reduce disparities and work to train and mentor the next generation of multidisciplinary HIV researchers.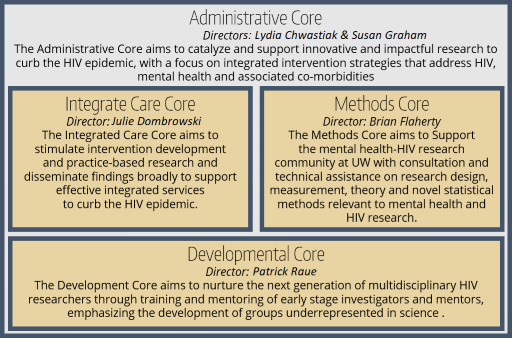 BIRCH unites more than 100 UW professors, psychologists, epidemiologists, researchers, trainees, and more from various departments and with different areas of expertise but all involved with HIV, mental health, or related behavioral science research. They aim to offer multiple avenues for consultation, technical assistance, and skills training to facilitate and stimulate new and ongoing research to study the nexus between HIV and mental health interventions.  
Underpinning BIRCH's strategic planning process and ensuring avenues for impact and implementation are The Community Action Group (CAG), along with the Local and Global Scientific Advisory Boards (SAB). Together, the CAG and SAB are comprised of researchers, non-profit leaders, and both local and global partners who draw upon their varied expertise to monitor BIRCH's developments and provide input on strategic directions, research programs, community engagement, and capacity building.
"We are so excited to welcome BIRCH into DGH," said DGH Interim Chair Carey Farquhar. "Their work to address mental health problems of global importance while promoting HIV prevention and care aligns with the department's mission to address causes of disease and health inequities at multiple levels."  
BIRCH hosted its first BIRCH Day on Oct. 14. The symposium style workshop was a success with nearly 20 attendees representing different institutions such as the University of Washington, Public Health-Seattle and King County (PHSKC), Kaiser Foundation Research Institute, and UW/Fred Hutch Center for AIDS Research (CFAR). Members came together to share the range of BIRCH-related research supported by Ending the HIV Epidemic (EHE) funding and discuss lessons learned and identify themes and implications about King County EHE research for full center application.  
If you are interested in learning more about the BIRCH Ending the HIV Epidemic (EHE) Supplements funded by NIH, please review the presentation overview here.