On Thursday, June 11, the University of Washington Department of Global Health took its annual graduation celebration online. The celebration honored 66 students, 57 of whom earned a Masters in Public Health (MPH), and 9 who earned a PhD in Pathobiology, Implementation Science, or Global Health Metrics. Fourteen medical students were also recognized for completing the Global Health pathway program, and 39 students were recognized for completing a minor in Global Health.
Graduation Celebration Video & Program Booklet | Family/Friends Photos 
"Each of you who is graduating today will start a new phase of your life as a global health professional with new roles, responsibilities, and opportunities. This is a remarkable time to graduate. It's a time of great pain, need and turmoil, but because of that, it's also a time when people, communities, and nations are actually crying out for change," said Department of Global Health Chair, Judy Wasserheit.
The Class of 2020 joins a worldwide network of DGH alumni, totaling nearly 2,000 people in over five continents, working to uphold DGH's mission of improving health for all around the world and address the causes of disease and health inequities.
Steve Gloyd, Global Health professor and Director of the MPH program, also addressed the virtual crowd during the ceremony, particularly the MPH students, with a message encouraging them to use their collective voice. "You're facing a world with increasing and unconscionable inequality with persistent racism and white supremacy. Your MPH will give you more power and privilege than you had when you came here, but how are you going to use it to make the world a more just place? Martin Luther King reminded us of the need to not be silent. 'If you are choosing silence, you are choosing the side of the oppressor.'" 
During the graduation celebration, four students – Blair Armistead, August Longino, Megan Mayer, and Paige Stringer – received Outstanding Student awards. Armistead, a graduating Pathobiology student, received the Outstanding PhD Student honor for her work studying women's health and infectious disease, specifically pre-term birth, stillbirth, and neonatal infections. 
Stringer, who earned an MPH in Leadership, Policy & Management, received the Outstanding Masters Student award. Stringer is the founder and executive director of the Global Foundation for Children with Hearing Loss, and received a 2019 World of Children Health Award.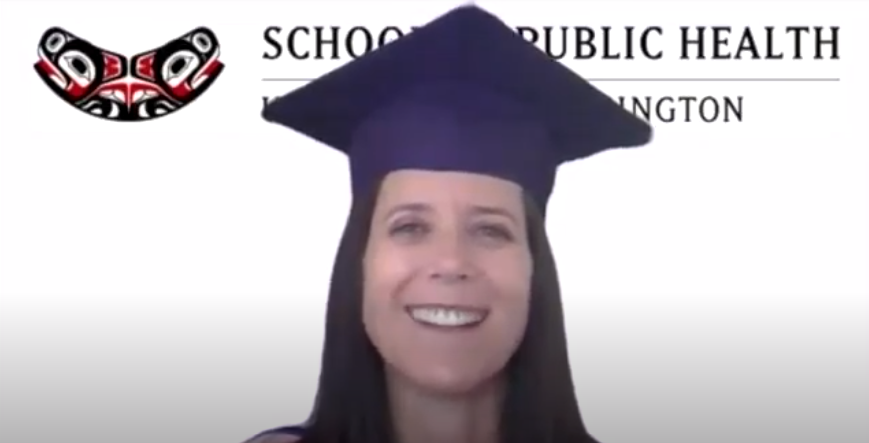 "The time of COVID is yet another reminder of how interconnected we all are," Stringer said. "We are only as effective at making a better world as our humility and appreciation for each other and our unique cultures and points of view allow us to be. As new graduates, we are prepared to take the lessons we've learned and contribute to helping the world emerge from the COVID pandemic with new ideas. Find your passion, embrace it, keep your humanity, and maintain your humility."
Longino and Mayer were co-awardees for the Medical Student Achievement Award and both completed the Global Health pathway for medical students. Longino participated in the Global Health Immersion Program (GHIP), during which he designed and carried out a mixed methods research project with men who have sex with men and transgender sex workers on HIV-related health behaviors in Lima, Peru. Mayer received an MPH from the Department of Global Health in 2019 and also participated in GHIP in Lima, Peru, where she worked on a community health project on hepatitis B in transgender women.

Polly Woodbury graduated with an MPH in Leadership, Policy & Management, and was also recognized by the UW with a spot on the 2020 Husky 100, which honors students for making a difference at their school, in their community, and in the future. During her time studying at DGH, Woodbury conducted several projects to improve the occupational health and safety of Cambodian brick workers.
"As the daughter of a Khmer Rouge survivor, I have my mother's spirit of resiliency and profound sense of duty instilled within me," Woodbury told DGH. "I feel the gravity of her words in my bones and it sustains me in my pursuit to serve others and enact systemic change."
Kathryn Lau, an MPH Health Metrics and Evaluation graduate, was a student speaker in the program.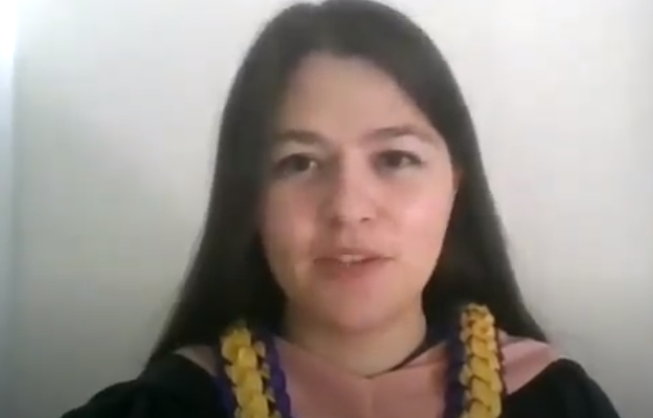 "In the Health Metrics and Evaluation program, we do our best to quantify threats to public health to understand and respond to acute disasters like COVID-19," Lau said. "Yet an equally critical role of public health is to bring to light the impact of quieter, sometimes slower acting threats. We have the skills to better understand and highlight these problems. We also have a responsibility to do so ethically and inclusively. Data is only a tool; the answers come from the questions we ask and the biases we choose to ignore or recognize in our data sets, on our research teams, and in ourselves."
Taylor Stepien was one of six students in the Class of 2020 to graduate with a PhD in Pathobiology. Stepien, who studied mechanisms of salmonella typhi persistence at the Department of Laboratory Medicine & Microbiology's Fang Laboratory, called upon her fellow graduates to share the knowledge they've obtained at DGH.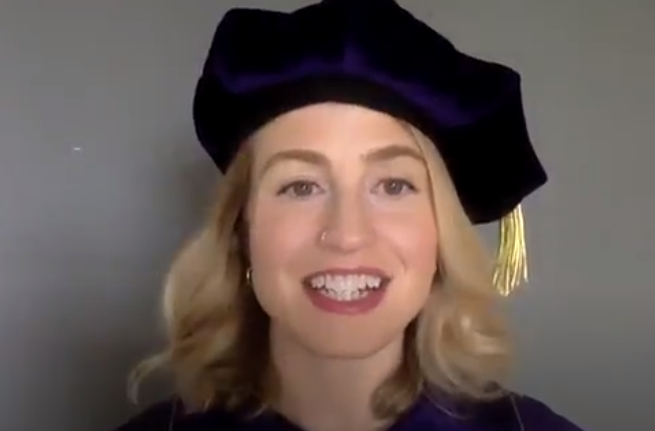 "As scientists, we often speak carefully, using heavily qualified and uncertain terms," Stepien said. "It can be difficult to balance this accurate and responsible expression of uncertainty with maintaining public trust in scientific knowledge. For most of the people in our communities, the work we do is a black box. Yet we know that the policies based on our findings have the potential for positive change. I know all of us today are already united in our goal of adding to the collective knowledge."
In her remarks, Sarah Masyuko, a PhD in Implementation Science graduate, thanked her DGH mentors, family, and friends and reminding her fellow graduates of their inherent privilege.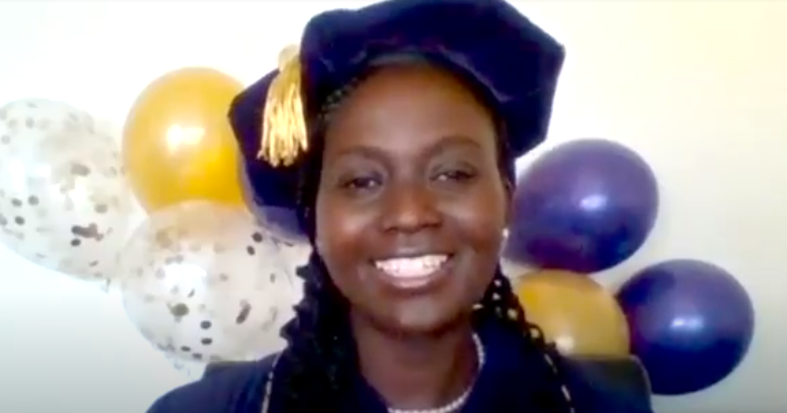 "Today is truly a day to pause and celebrate the fruits of our hard work, determination, sacrifices, and perseverance," Masyuko said. "But we didn't get here alone. We're here because of the sacrifices other people made for us. We salute you. There is a Swahili proverb that translates to, 'The one who wears the shoe knows where the nail pierces.' As an African woman, I had to learn to re-learn, learn to battle the cold winter and snowy weather. It is here that I learned about privilege. It is here that I learned to embrace our differences. My fellow graduates, use your privilege for good, to build and not to destroy."
In her closing remarks, Wasserheit extended her heartfelt wishes for the Class of 2020.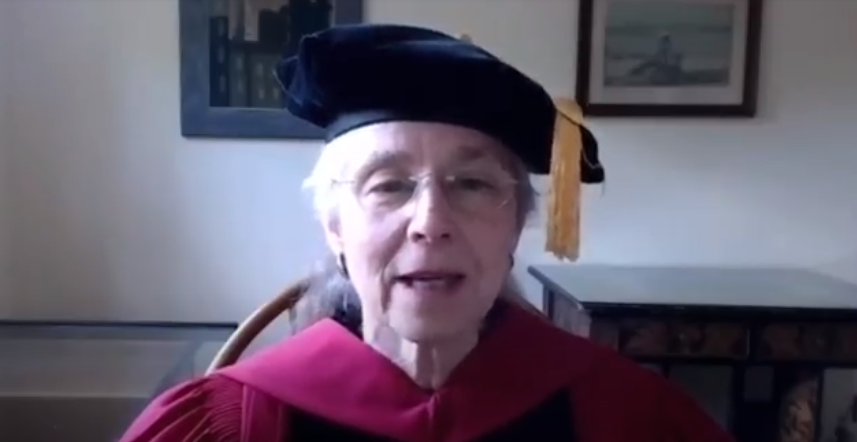 "As you leave the University of Washington, I wish you four things. First, the unparalleled joy and privilege of using what you've learned – your knowledge and skills – to make this world a healthier, more equitable, more inclusive, and more sustainable place," Wasserheit said. "Second, the delight and exhilaration of continuous learning and discovery as you carve your professional paths. Third, the unabashed, raw, fun, and amazing adventures with remarkable colleagues along that path. Finally, and perhaps most important, the wisdom to find the right balance between your personal and professional lives. The balance between time for your family, friends, yourself, and changing the world." 
Congratulations to the Class of 2020, the Department of Global Health looks forward to seeing all that you accomplish in your careers and the ways you will fulfill DGH's goal of providing health for all!
Click here to view a collection of congratulatory photos and videos submitted by graduates' family and friends. 
To watch the graduation celebration in its entirety, visit the DGH YouTube page.