The Husky 100 recognizes 100 students each year across the University of Washington's three campuses for making a difference at their school, in their community, and for the future. Students are evaluated on their ability to demonstrate a capacity for leadership, a discovery mindset, and a commitment to inclusivity.
This year, DGH Master of Public Health student Polly Woodbury, and Kristen Trivelli, a Doctor of Nursing Practice student enrolled in Global WACh's (a center within the Department of Global Health that focuses on women's, adolescents', and children's integrated health) Graduate Certificate program, were named to the Husky 100 for their innovative and impactful work, both locally and globally. Woodbury and Trivelli spoke about the work that led to their Husky 100 recognition, as well as the people in the department who helped them during their time at UW.
Polly Woodbury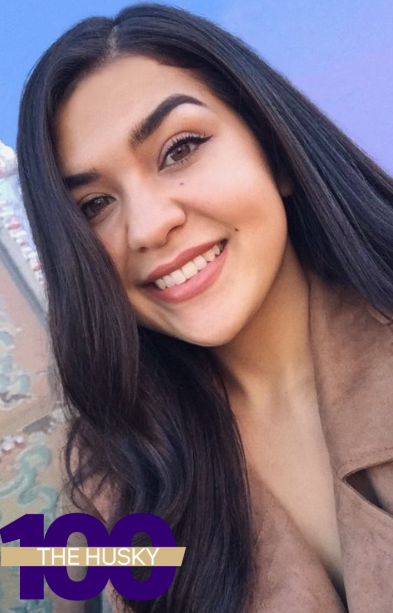 Can you describe your work in Cambodia surrounding occupational health and safety concerns of workers, as well as what those projects entailed?
As the daughter of a Khmer Rouge survivor, I have my mother's spirit of resiliency and profound sense of duty instilled within me. I feel the gravity of her words in my bones and it sustains me in my pursuit to serve others and enact systemic change.
My first summer as a Husky, I integrated my social work training with issues of global health and my interest in workers' rights at an international labor solidarity organization in Phnom Penh. My work in Cambodia helped with small, incremental advancements for workers' health. For example, I conducted interviews and held feedback sessions with workers for Cambodia's report on mass-fainting in garment factories. I was ultimately sponsored to present the workers' recommendations at the Southeast Asia Regional Occupational Safety & Health Strategies Conference in the Philippines. I also helped facilitate educational meetings and focus groups on gender-based violence (GBV) in the workplace, which provided a space for collaboration and social support amongst GBV survivors.
Building on my practicum experience, my MPH thesis aims to explore another issue of occupational hazards. Because of globalization, economic growth, and overwhelming foreign investments, Cambodia is in the midst of a construction boom which demands an unhealthy amount of bricks. These bricks are supplied by a domestic industry at the expense of tens of thousands of debt-bonded Cambodian families. Inside these kilns, issues of social work, public health, working conditions, human rights, and climate change are toiled into a deadly impact on workers' lives.
Last summer, using my Khmer language skills developed as a UW Foreign Language & Area Studies Fellow; I conducted 15 in-depth interviews with brick kiln workers to examine working conditions and occupational health issues. Once completed, I will disseminate research findings with local Cambodian stakeholders to bring attention to this pressing area and help inform worker protection and health care policies.
Which faculty member(s), staff, or mentors within the department helped you with your research, studies, and growth during your time at UW? Years from now, who will you remember most for the impact they left on you?
First, I'd like to thank my MSW/MPH concurrent degree academic advisor, J'May Rivara (School of Social Work). Also, faculty mentors for the Women of Color in Global Health group that I was part of: Deepa Rao and Ahoua Kone, who believed in me and saw the leadership that existed when I didn't recognize it in myself.
I'd also like to acknowledge DGH support staff/faculty: Steve Gloyd, Andreas Keodara, and Julie Brunett, as well as my thesis chair Noah Seixas (DEOHS) and committee member Stella Gran O'Donnel (SSW). James Pfeiffer also inspired my qualitative research paradigm and helped fine tune my thesis proposal. Special recognition for Andreas because I could always count on him to provide much-needed support by validating my experiences as a first generation college student through active and empathetic listening.
What advice would you give to younger students entering the Department of Global Health?
Find a support person/faculty member/peer group that will remind you of your purpose (e.g., your dream, the reason why you're at DGH, your story, etc.) and will always believe in you like Ahoua and the Women of Color in Global Health group did for me. Another piece of advice, especially for first generation and students of color: own your story, you belong here on campus. You are not alone!
Kristen Trivelli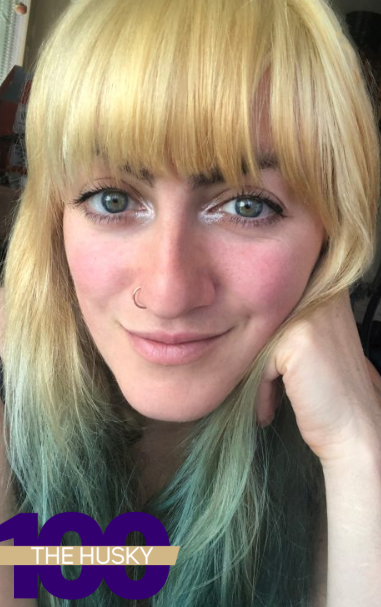 During your time at UW, you discovered an interest in organizing for LGBTQTSIA+ health equity and promoting health/wellness for the queer community. Would you mind explaining what some of that work looked like, and how you went about organizing and promoting health/wellness? 
While at UW, I became a Core Leader of Health Equity Circle, an interdisciplinary student organization that works to improve health equity by organizing the community around various health issues. I specifically remember teaching the difference between problems and issues, in that problems are vast, general and overwhelming, while issues are more immediate, specific and actionable. This was when I realized that I had been struggling with a large problem in my nursing career: that LGBTQTSIA+ persons experience worse health outcomes than cisgender and heterosexual persons. This problem resonates deeply with me as a member of the LGBTQTSIA+ community.
In my undergraduate nursing degree, I did not receive any specific education regarding the health of the LGBTQTSIA+ community, which parallels my experiences in graduate nursing school. I decided to seek out more education though a LGBTQ Health Class offered in the School of Medicine. Several months later I founded unicoRN, the school of Nursing's LGBTQTSIA+ organization, built on the pillars of education, community engagement, membership, mentorship, and personal development.
I also worked with a group of health students, Interprofessional Queer (IQ) Health, to create UW's Annual LGBTQ+ Health Conference, and I helped organize A Very Queer Health Fair this past February. Building community with other students from different disciplines highlighted the commonalities among us while also providing me with different perspectives that helped tailor my approach.
Are there other areas of global health that you're interested in researching as well, or have researched/worked with in the past?
I completed my Global WACh Capstone by developing a qualitative study exploring perceptions of exclusive breastfeeding in rural Zimbabwe. Prior to that, I completed a Needs Assessment of several hospitals in Vietnam to help build a heart transplant program, and I volunteered in Operation Smile in India. As a new Nurse Practitioner, I'd like to work both locally and globally on sexual and reproductive health, especially as it pertains to LGBTQTSIA+ health and wellness.
Which faculty member(s), staff, or mentors within the department helped you with your research, studies, and growth during your time at UW? Years from now, who will you remember most for the impact they left on you?
Drs. Danuta (Danka) Kasprzyk and Dan Montaño mentored me through my Global WACh capstone in Zimbabwe, for which I am very grateful. Dr. Jillian Pintye has also been a great role model for me, having a background in nursing, research, and in global health!
What advice would you give to younger students entering the Department of Global Health?
There are so many people, faculty and students alike, who are doing incredible work in the Department of Global Health and in the Global WACh Certificate Program – reach out and get to know them! If there is something you want to do that is not currently offered, I guarantee that you will find support to develop it within the department.