More than 30 UW researchers participated in the 22nd International AIDS Conference (AIDS 2018) — the world's largest global gathering on HIV and AIDS — to share ground-breaking science aimed at helping to address the most pressing challenges in HIV/AIDS. The conference offered an important opportunity to strengthen policies and programs around the world that ensure an evidence-based response to the epidemic.
Globally, more people than ever before – 21.7 million – are on HIV treatment. However, the newly released IAS-Lancet Commission report stated that the HIV epidemic is not on track to end by 2030. It also showed that integration in diverse epidemic settings is highly cost effective and offers "win-win" results, improving both HIV-related and non-HIV-related health outcomes.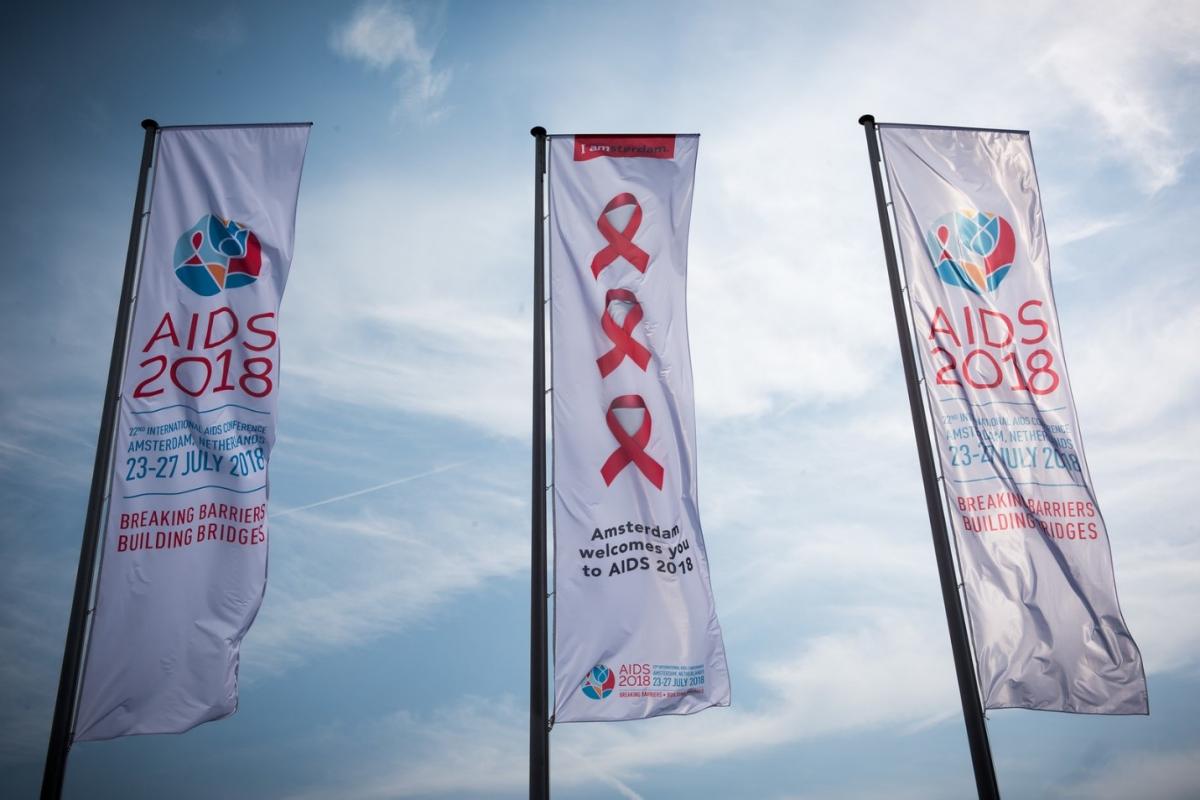 Under the theme Breaking Barriers Building Bridges, the conference brought together more than 15,000 researchers, activists and policy makers from 160 countries.to share the latest science on innovations in treatment, cure and prevention, and new on-the-ground strategies to address inequities in HIV policies and programs. The conference took place in Amsterdam from July 23 to 27. 
Dr. Jared Baeten, UW/Fred Hutch Center for AIDS Research (CFAR), UW Department of Global Health (DGH), presented on "What we know about PrEP from efficacy to effectiveness?" He stressed that normalization is important for PrEP (a daily pill taken to prevent HIV-infection) uptake and spoke to the demand side component of the prevention cascade.
Dr. Ann Downer, I-TECH, DGH, presented in the session "Keeping it Up: National Ownership and Financial Sustainability". Dr. Downer shared case studies and lessons learned from the successful transition of I-TECH programs to local ownership.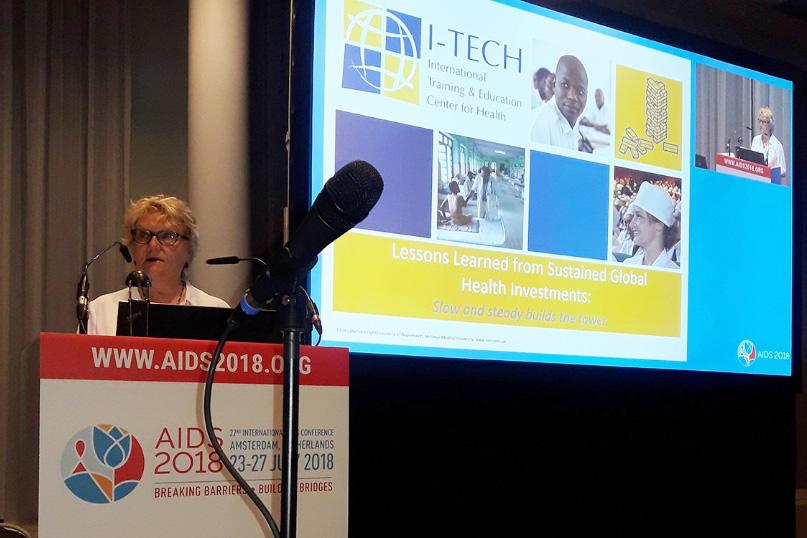 Dr. Ruanne Barnabas, ICRC, DGH, discussed the DO ART Study. Her research focused on community-based HIV care, and urged client-centered approaches that increase coverage and decrease barriers to care, have potential to reach persons not in care, and allow clinics to focus on HIV+ patients with resistance or complex medical issues. She began her presentation by thanking those who are living with HIV and have participated in the research. "Our fight against HIV and AIDS is indebted to people living with HIV both past and present," she acknowledged.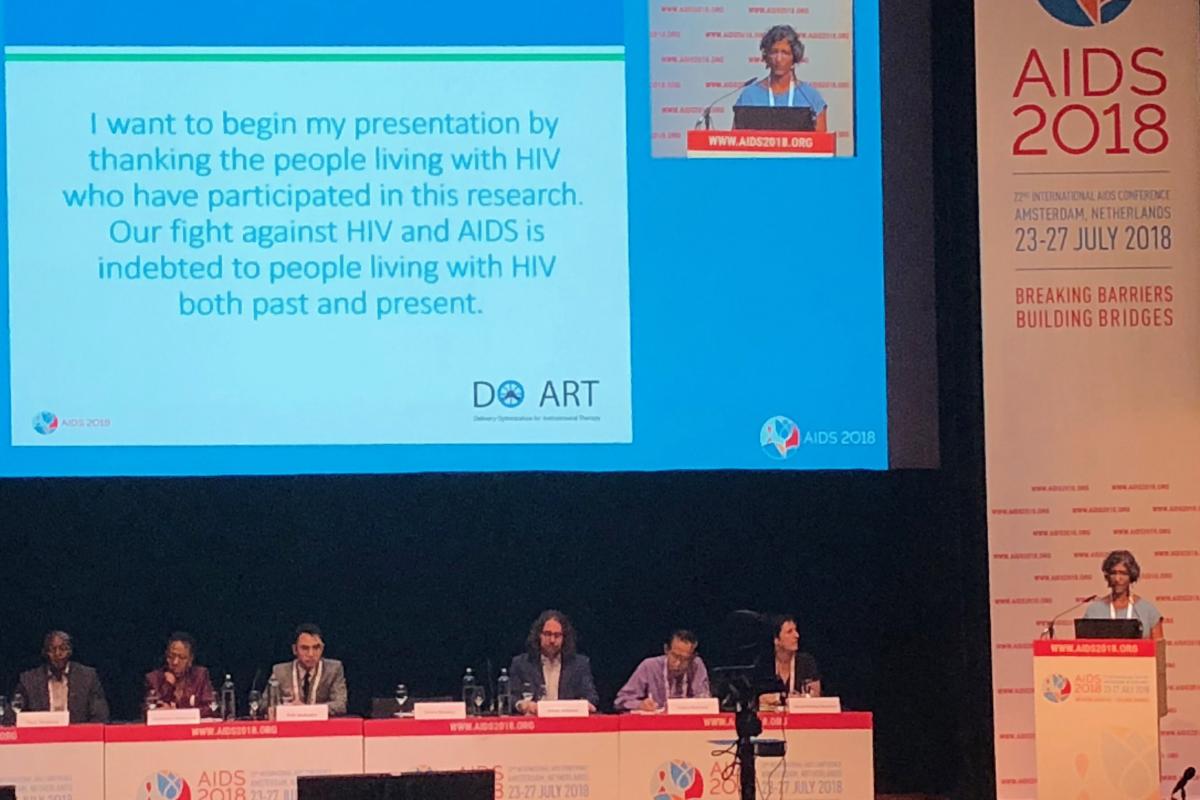 Dr. Jillian Pintye, Global WACh, DGH, presented on "Uptake of PrEP within clinics providing integrated family planning and PrEP services: Results from a large implementation program in Kenya."  Dr. Pintye spoke about  the PrEP Implementation for Young Women and Adolescents (PrIYA) program, which evaluates integrated PrEP delivery within routine antenatal, postnatal, and family planning clinics in Kenya. The PrIYA program is supported by PEPFAR and DREAMS.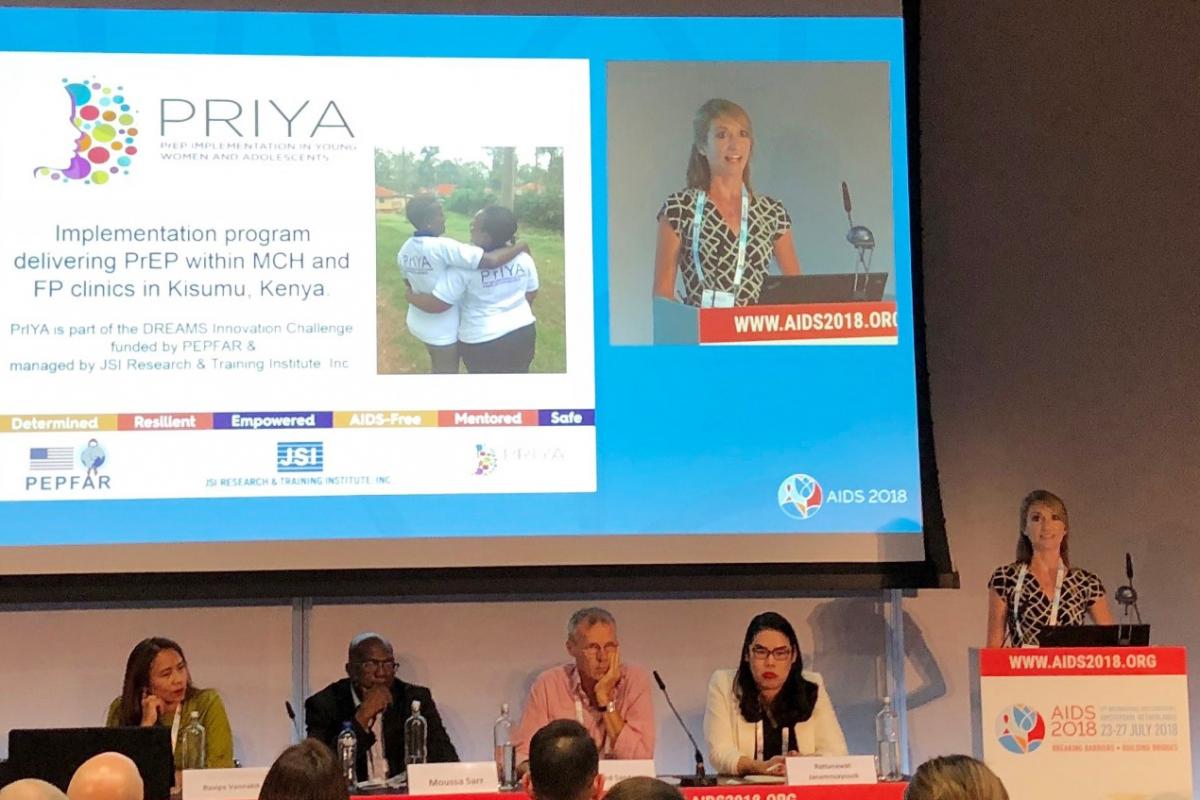 Dr. John Kinuthia, Global WACh, DGH, and a long-time collaborator from Kenyatta National Hospital in Nairobi, Kenya, also presented on the success of the PrIYA program in "PrEP uptake among pregnant and postpartum women: results from a large implementation program." In total, they conducted 9,704 assessments among pregnant/postpartum clients for behavioral risk factors and willingness to consider PrEP. 1,856 (19%) of encounters led to PrEP initiation and PrEP initiators tended to be younger and more likely to have HIV risk factors than those who declined PrEP.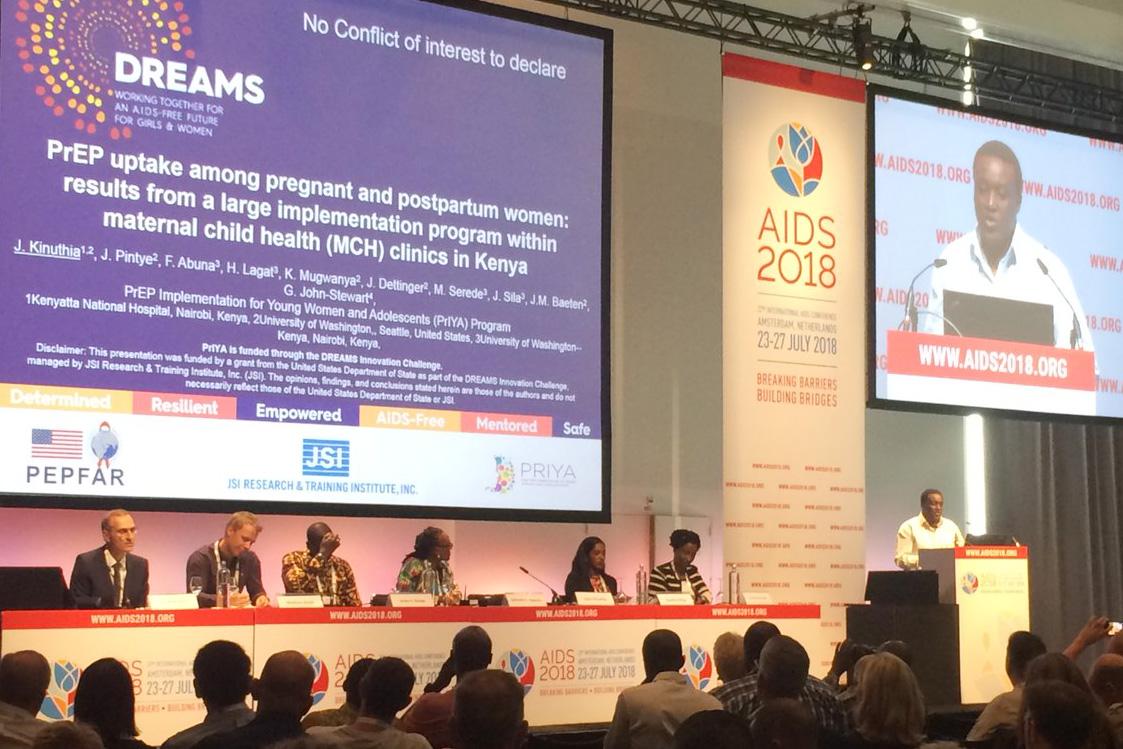 Dylan Green, START Center, DGH, spoke about "Risk heterogeneity across the 90-90-90: Evidence supporting new strategies to strengthen the effectiveness of Universal Test and Treat (UTT)." Green is a PhD student in the UW Epidemiology Department. He shared evidence on the demographic profile, risk behaviors, and mobility patterns of individuals across the treatment and care cascade, and provided a critical analysis of the epidemiologic mechanisms that may undermine the UNAIDS 90-90-90 targets in sub-Saharan Africa in the era of UTT.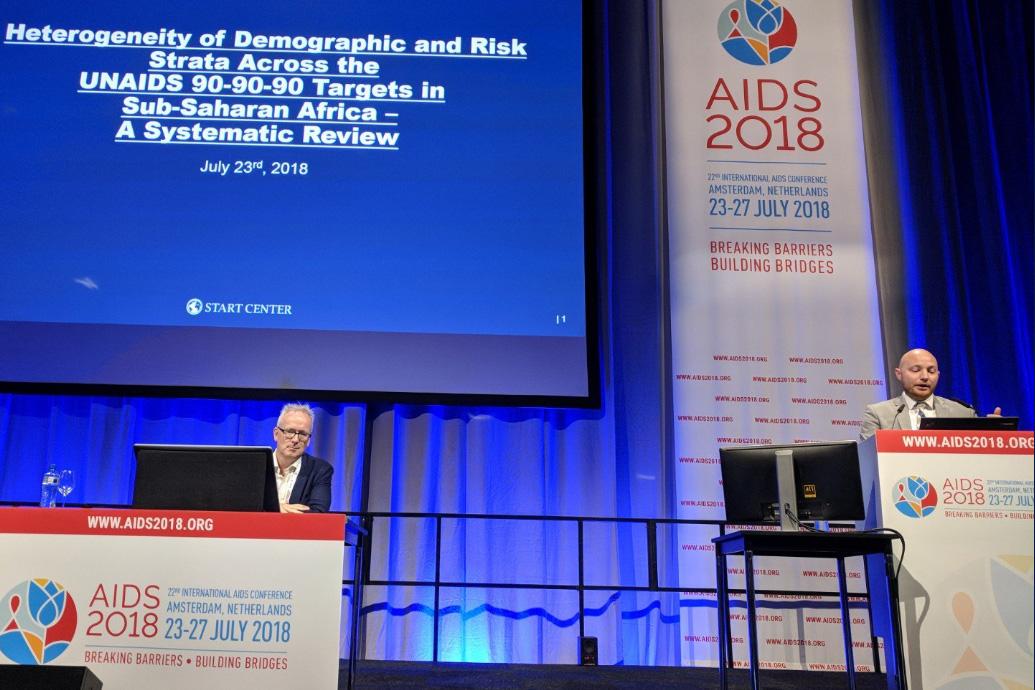 Val Wanga, a UW Epidemiology PhD student, explained research findings on "CD101 Ig-like Variant Modify the Effect of Bacterial Vaginosis on HIV-1 Acquisition." The research looked at the idea that multiple studies suggest that factors eliciting host genital tract inflammation may heighten HIV-1 acquisition risk. For instance, bacterial vaginosis (BV) and variation in the extracellular Immunoglobulin-like (Ig-like) domains of the CD101 gene both impact host inflammation and are associated with increased risk of HIV-1 acquisition. Studying interactions between these factors could provide insights into the mechanisms underlying this enhanced HIV-1 infection risk. The study results suggest that in the presence of CD101 Ig-like variants, BV does not increase HIV-1 acquisition risk.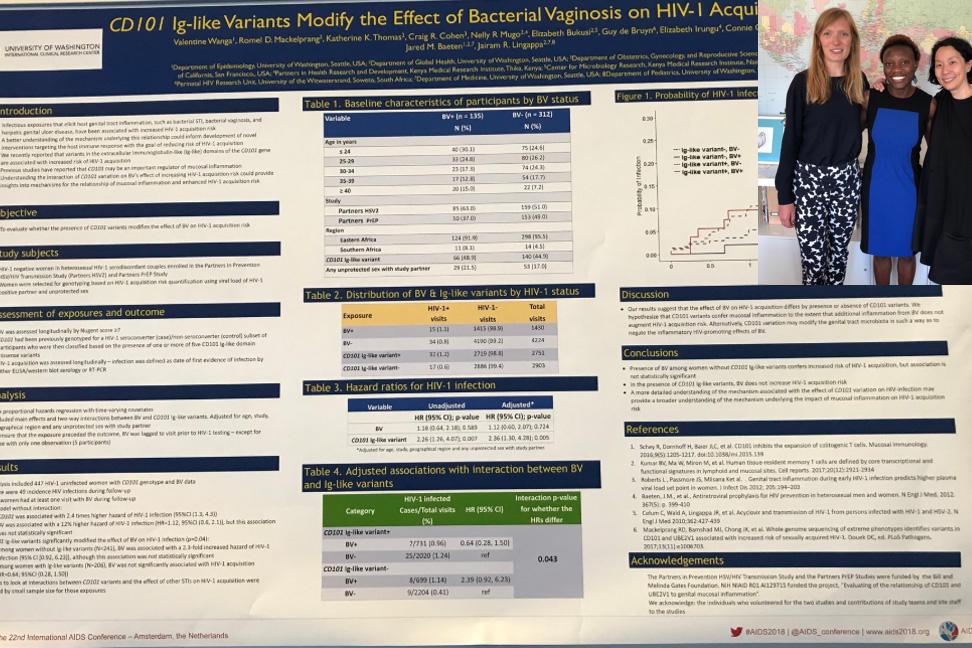 Danae Black, Global WACh, DGH, and UW Epidemiology PhD Student, shared research on "Intensified case finding and tuberculosis preventive treatment among HIV-infected adolescents in Kenya." Danae's descriptive research methods aimed to quantify tuberculosis symptom screening and isoniazid (an antiobiotic used to treat and prevent TB) preventative treatment use which is not well quantified in Kenya.
Dr. Irene Njuguna, Kenyatta National Hospital; Global WACh, DGH; UW Epidemiology PhD Student, spoke about study findings that can inform interventions to improve testing, diagnosis, and linkage to HIV care for undiagnosed parents of newly diagnosed HIV-infected children. Her research described the varying models of care and transition practices among health care facilities that serve adolescents moving to adult HIV care. Developing a consensus in uniform high quality care can help improve the health of this population and lower HIV transmission. Dr. Njuguna also presented on Cofactors of mortality among hospitalized HIV infected children newly initiating ART in Kenya. Her research highlighted the need to rapidly identify HIV-infected children who are hospitalized for acute infectious diseases, such as pneumonia and tuberculosis, and initiate HIV treatment before symptoms of the disease worsen. This strategy can improve the chances of survival among this vulnerable population.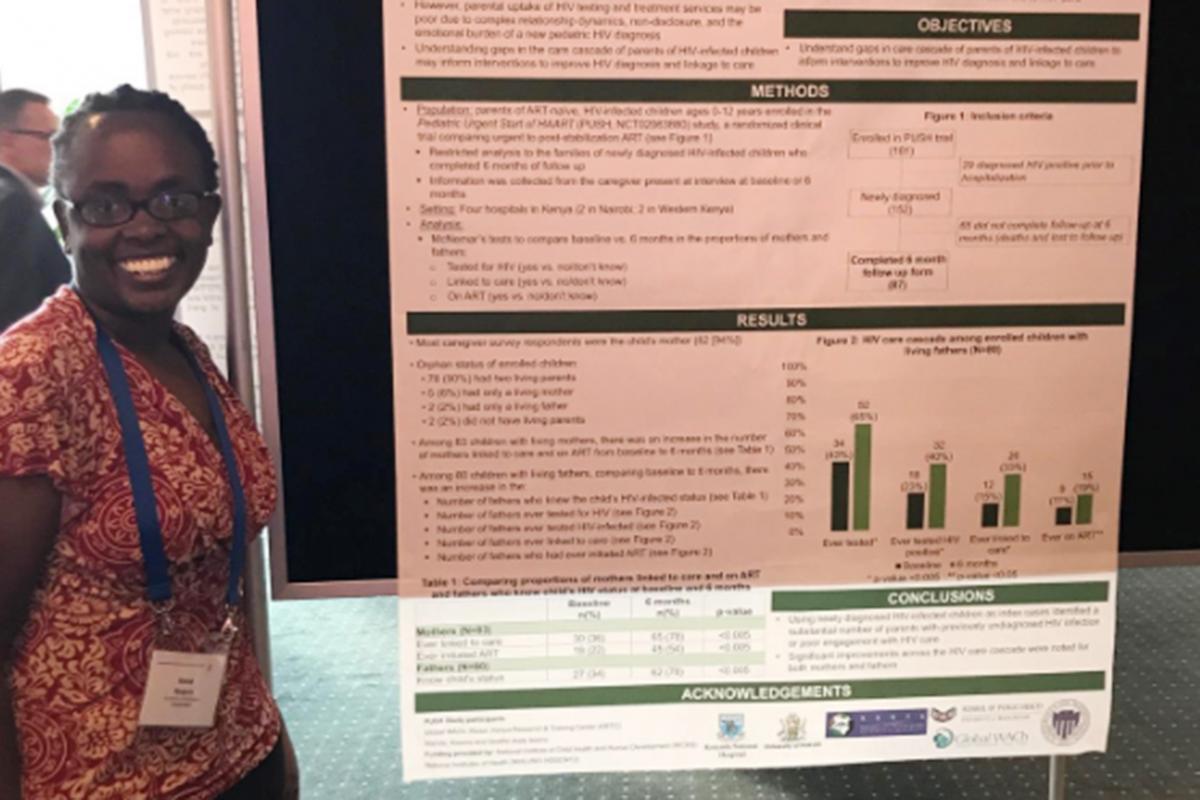 Lusi Osborn, Kenyata National Hospital, Global WACh, DGH, discussed prevalence and correlates of depression among HIV-infected pregnant women in Kenya. His findings highlight the need for improved screening and treatment for this vulnerable group.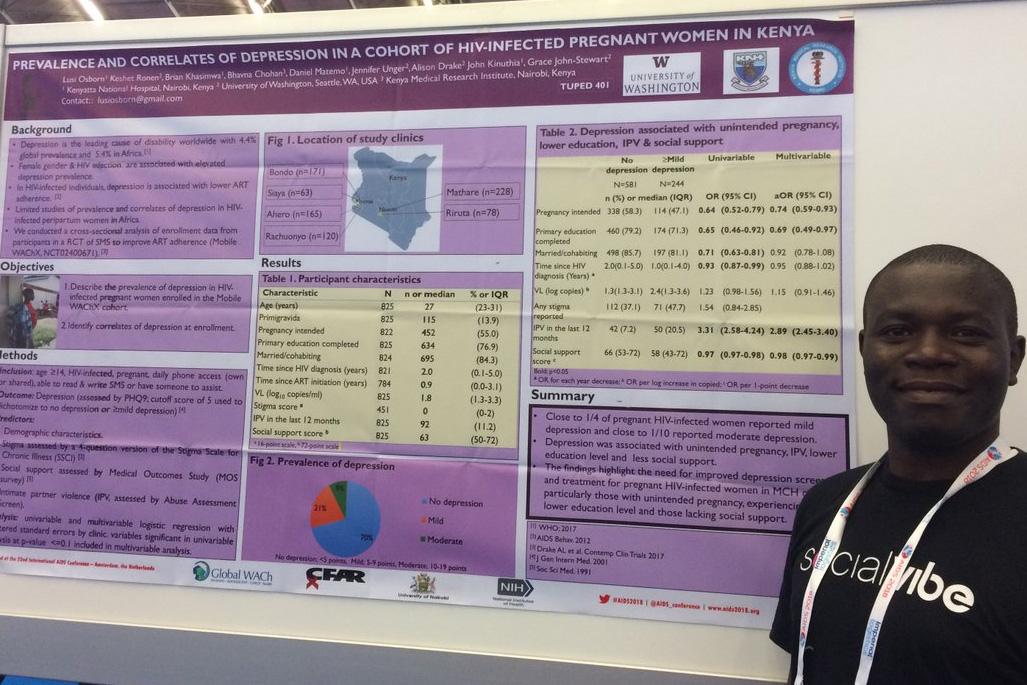 For more information on the team of UW researchers and partners who presented new research findings at the 22nd International AIDS Conference and pre-conference Workshop on HIV Pediatrics, see UW Department of Global Health centers, programs, and initiatives websites:
I-TECH 
Global WACh
START Center