Undergraduate Programs
Curriculum requirements for the Global Health Minor are outlined below. Students are encouraged to meet with an adviser to discuss the subject matter of the minor and plans for completing the minor before declaring to ensure that all requirements are understood and can be met.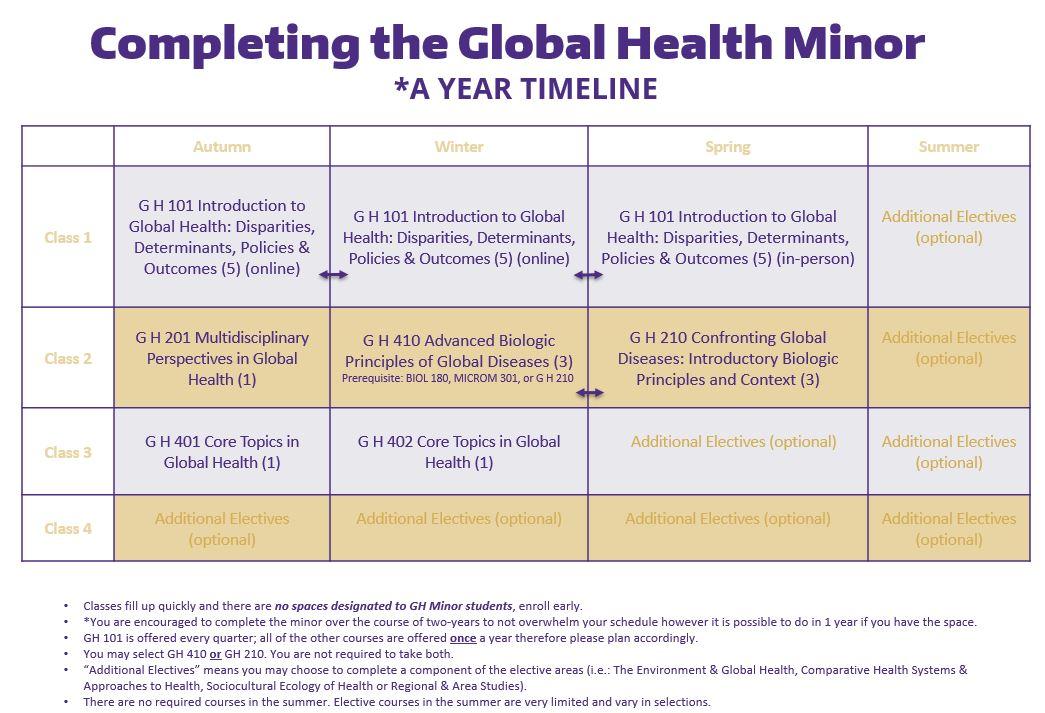 Minor Requirements
Required Courses 11 credits
Introductory Course 5 credits

G H 101     Introduction to Global Health: Disparities, Determinants, Policies & Outcomes (5) Autumn (online) / Winter (online) / Spring (in-person: recommended)

Biologic Principles in Global Health 3 credits (choose one)

G H 210     Confronting Global Diseases: Introductory Biologic Principles and Context (3) Spring
G H 410     Advanced Biologic Principles of Global Diseases (3) Winter - Prerequisite: BIOL 180, MICROM 301, or G H 210 (must take one)
                            *Note: G H 410 will not be offered Winter 2023. Please email ghminor@uw.edu to speak about alternatives. 
Perspectives in Global Health Series 3 credits (must take all three; nonsequential)

G H 201     Multidisciplinary Perspectives in Global Health (1) Autumn
G H 401     Core Topics in Global Health (1) Autumn
G H 402     Contemporary Issues in Global Health (1) Winter

Optional additional 1-credit discussion section available for all three courses - see time schedule to register
Elective Areas 19 credits
Must take one class in each Elective Area. Elective area descriptions are located
Elective Content Areas_Description.pdf .
     A.    The Environment & Global Health
     B.    Comparative Health Systems & Approaches to Health
     C.    Sociocultural Ecology of Health
     D.    Regional & Area Studies
Additional Requirements
Minimum of 30 credits required to complete the minor
Minimum of 15 credits unique to the minor (not shared with major) – Only 15 credits can overlap with your major!
Minimum of 15 credits of upper division coursework (300-/400-/500-level)
Minimum of 15 credits must be completed at the University of Washington
Minimum of 2.0 in every course applied towards the minor
Courses taken S/NS cannot be counted toward a minor