Master of Public Health
Approximate Timeline and Cost of UW Global Health MPH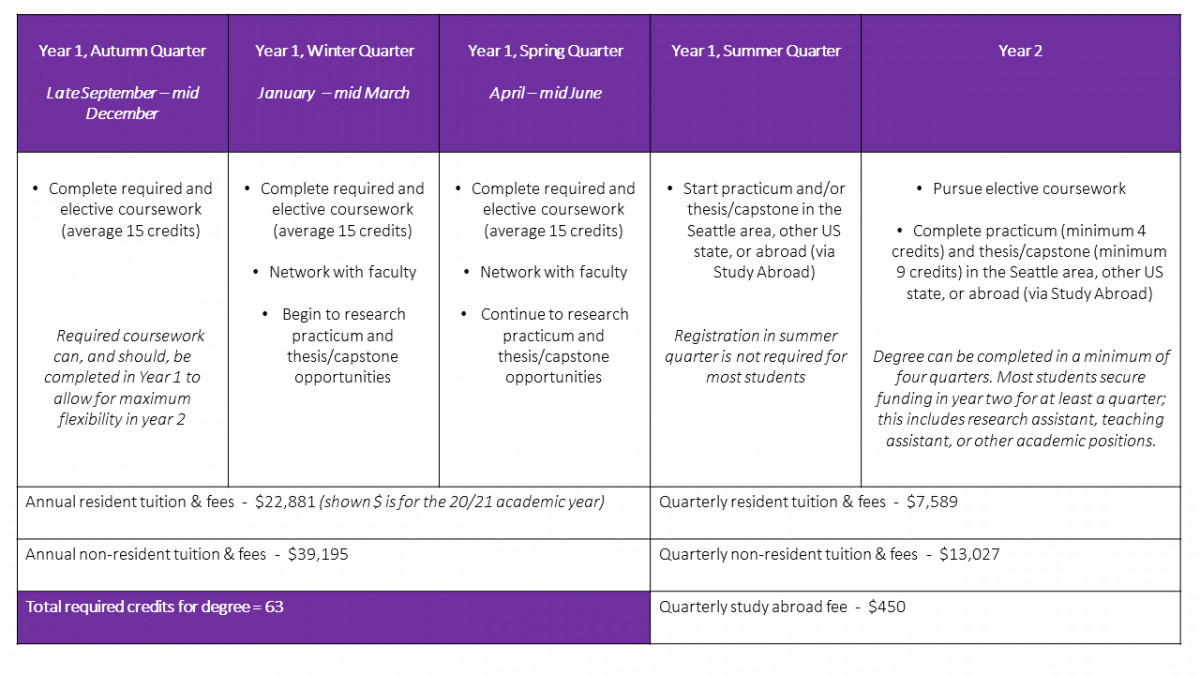 Tuition Rates
Tuition rates vary by credit when registering for between 2-6 credits, and again when registering for 19 credits and above. When registering for between 7-18 credits the tuition rate charged does not vary. Tuition rates for Washington state residents and non-residents can be found here. Estimated student budgets can be found on the UW Financial Aid website. Concurrent students pay the higher tuition of the two programs in which they are enrolled. 
​Study Abroad for students who are outside the US for a quarter or longer
Students who travel abroad (including international students returning to their country), are encouraged to register through the Study Abroad/Independent Learning program for any quarter they are pursuing practicum, independent study, thesis, or capstone credits. The International Learning program is not a traditional faculty-led program but a fee paid instead of tuition for students pursuing individual and independent research and practice. Students pay a $450 program fee (instead of resident or non-resident tuition) and can receive up to 18 credits. 
FINANCIAL AID
The UW Office of Student Financial Aid prepares financial aid packages for admitted students. To receive a financial aid package, applicants must complete the FAFSA and have results sent to the UW (school code 003798). Applicants are encouraged to apply for financial aid and funding when completing their application. Applicants can file beginning October 1; the UW's priority filing date is January 15. 
Financial Assistance for domestic students
Unfortunately our program does not have funding to offer the majority of incoming students. Funding from the Department of Global Health is available on a case-by-case basis to incoming students from underrepresented U.S. populations in the field of public health. Eligible students will be contacted if funding is available. The Graduate Opportunities and Minority Achievement Program (GO-MAP), housed in the University of Washington's Graduate School since 1970, is an excellent resource for graduate students of color. 
Financial Assistance for International Students
International UW graduate students are eligible to apply for the Shih International Graduate Student Loan. The loans are made possible through a generous gift from Jeff Shih, a Seattle and San Francisco businessman, and are intended to help international students in financing their education and completing their degree objectives. Funding is also available through tuition waivers on a case-by-case basis to students from low and middle income countries. Eligible students will be contacted regarding these tuition waivers. The International Student Services office has information for international students looking to study at the UW. 
Foreign Language and Area Studies (FLAS) Fellowships
FLAS Fellowships support undergraduate, graduate and professional students in acquiring modern foreign languages and area or international studies competencies. Students from all UW departments and schools are encouraged to apply. These fellowships are ideal for students in their second year of study as many of the fellowships require intensive language courses which conflict with core first year MPH coursework. Fellows receive:
Academic Year Graduate: $18,000 USD for tuition + $15,000 USD for living stipend
Summer Graduate: $5,000 USD for tuition + $2,500 USD for living stipend
Research/Teaching/Staff Assistantships (Academic Student Employee positions)
Research Assistant (RA), Teaching Assistant (TA), and Staff Assistant (SA) positions, also known as Academic Student Employee (ASE) positions are jobs that often provide tuition waivers in addition to insurance and monthly stipends. The positions generally require 10 to 20 hours of work per week and can be year-long or quarterly in duration. TA positions offered by the Department of Global Health will be sent out a quarter in advance via email. RA positions are posted as they become available. Applicants and students are encouraged to apply for ASE positions across campus, especially in disciplines where they have prior education and/or training. For example, having an undergraduate degree in Psychology could help secure a TA position job in an undergraduate Psychology course. More info at the following links.
Graduate School's Information on Assistantships 
UW Hires (job listings; select Academic Student Employee in the category box)
Scholarships and Fellowships
The Graduate Funding Information Service (GFIS) is a great resource that works with current and admitted UW graduate students, helping them identify and locate funding opportunities for graduate school-related expenses including tuition, research, conference and research travel. 
The DGH Student Opportunity Blog lists jobs, opportunities and more for DGH students.  
The Department of Global Health Fellowships provide financial assistance to graduate students, professional students, and medical residents at the University of Washington.  Grants are up to $4,000 and support room and board, travel health preparation, travel insurance and/or supplies. Deadline to apply: mid-March.
Graduate School's Information on Fellowships 
International Research and Study Fellowships
The Chester Fritz and Boeing International endowments are one-quarter grants that provide support to UW graduate students doing international research or study. Successful applicants are awarded either a Chester Fritz Fellowship or a Boeing International Fellowship. The fellowships are available to fund research and/or study periods of one quarter (three full months) Awardees will receive a stipend of $2,400 per month, and paid health insurance (GAIP). During the quarter of their award, fellows are required to register for an independent learning program through UW Study Abroad. The program fee is covered by this fellowship. No extra money is included for airfare. Deadline to apply: early February.
Jackson School of International Studies
The Jackson School offers a number of funding opportunities. These include scholarships available through the Jackson School and individual Jackson School programs, including: The Center for Human Rights; The Center for Global Studies; and the African Studies Program.