Endowed Fellowship for Global Health Excellence, Equity, and Impact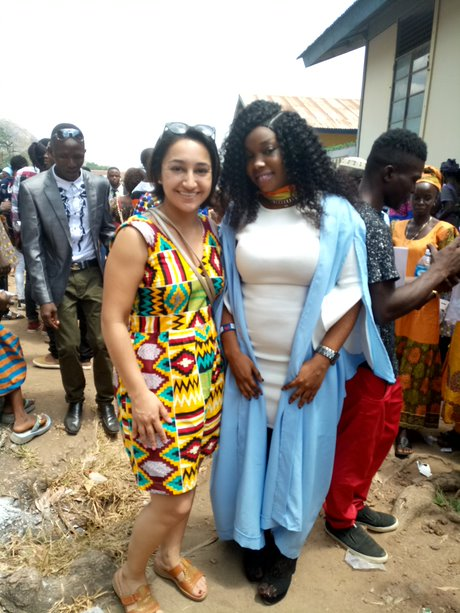 Tell us a little bit about yourself  
Originally from West Texas, as an undergraduate at the University of Texas I studied psychology and anthropology where I focused on race and gender studies. Following a couple of years as a youth development specialist, I headed to Guinea, West Africa, as a Peace Corps public health volunteer. Unfortunately, close to the end of my service, volunteers were evacuated due to the Ebola epidemic, but several of us were given the opportunity to return to West Africa to assist the CDC with their response efforts. I was sent to Sierra Leone and spent several months there as part of their Health Promotion Team. I then went on to complete a Master's in International Development Management with a certification in Public Anthropology at  American University. It was then I had the opportunity to assist with HIV/AIDS community-based public health research with and for the Latinx LGBTQIA+ immigrant community. After completing my master's and with the aid of a Fulbright grant, I returned to Sierra Leone to complete my own research regarding women's health and the implementation of participatory action research methods. Afterward, I returned home to Texas where I supported the Austin Public Health Department for several years, managing a collaborative planning initiative, facilitating their most recent community health assessment, as well as providing support during the COVID-19 pandemic. 
Why did you decide to attend the UW for graduate school? 
My passion has always been social research and when I decided to return to school, I was looking for a Medical Anthropology program with which to apply a critical lens to public health practices. Having worked in public health for the past 10 years, I'm interested in how we might better engage community in the development and implementation of public health interventions. The University of Washington offers a joint Medical Anthropology and Global Health program, which I felt would be an asset for continued work in the public health field. As I explored different educational opportunities, I was also very excited to hear from other students that the UW Global Health program was actively engaging in critical dialogue relating to practice and theory, a major benefit given my own interests. 
What are your practice or research interests?   
I plan to focus my research on emergency response efforts, precisely, how public health workers engage with community at the exact time they may have less capacity for reflective work due to the constraints posed by any crisis, for example, time limitations and the nature of the disease. I'm interested in how decisions get made, how community is or isn't involved in these processes (and correspondingly how community is defined), and the long-term impact or benefits to different stakeholders.  I am also interested in the racial and cultural dynamics of these public health efforts given the dominance of Western-based epistemology in Global Health. All of this with an eye towards the implementation of collaboratively-developed improvements and considerations. 
What are you enjoying most about your graduate program? 
I am enjoying getting to know my cohort as we engage in difficult but necessary discussions regarding the future of global health. I am surrounded by so many knowledgeable, thoughtful, and compassionate people in this program and I am truly fortunate to have met them. I look forward to continuing to learn not only from my professors, but also from my colleagues. 
Did your award influence your decision to attend UW? 
Receiving this Global Health Fellowship was a critical component of my decision to attend UW. Unfortunately, in this country we still face so many barriers in accessing education, which limits opportunity for so many gifted would-be scholars. Without this funding, I would not have been able to enroll in this program which is so perfectly suited to my research interests. I'm grateful to my advisers, Dr. James Pfeiffer and Dr. Rachel Chapman, and the entire Global Health Team who advocated for me and provided me with this wonderful funding opportunity.