Research Assistant and Achievement Rewards for College Scientists (ARCS) Foundation Fellowship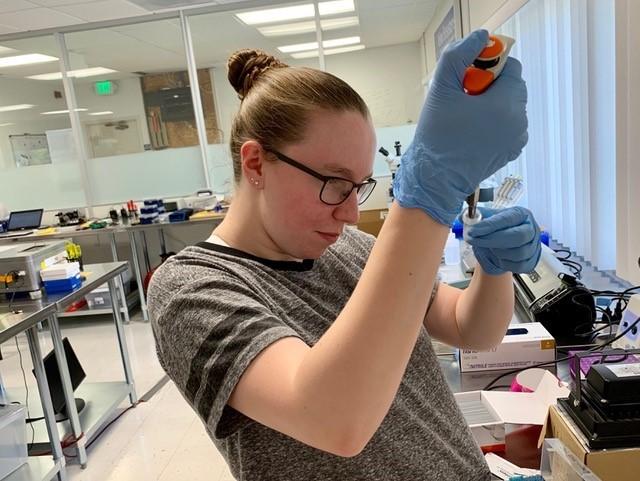 Tell us a little bit about yourself 
I grew up in Mission Viejo, CA and received my B.S. in Biology from Harvey Mudd College, a small STEM-focused liberal arts school in southern California. I also did a minor in music focused on euphonium performance in solo and concert band settings. My thesis work at HMC on Trypanosoma brucei, the causative agent of African sleeping sickness, first led me to become interested in host-pathogen research. Given my additional passions for social justice and advocacy, I found that I was really excited by the idea of pursuing research related to neglected tropical diseases and pathogens affecting developing countries. 
Why did you decide to attend the UW for graduate school?   
When choosing where to apply for graduate school, I wanted to find a program with a variety of labs studying globally relevant infectious diseases that also had translational components. The UW fit perfectly for what I was looking for, and the partnerships it has with Seattle Children's and Fred Hutch was an added bonus. I specifically decided to enroll in the Pathobiology Ph.D. program due to its emphasis on not only studying diseases of public health importance, but also on training its scientists as leaders in global health, as I believe that having well-rounded researchers is key to good science. I also hope to go into science policy in the future, and the Pathobiology program's position as a part of the Department of Global Health and the School of Public Health positions me to gain excellent career-relevant experience. 
What are your research interests? 
I am interested in a wide variety of pathogens of public health importance, with a special interest in neglected tropical diseases and pathogens that primarily affect developing countries. I hope to do translational research that leads to the identification of pathogen and/or host factors that can be targeted in the development of safe and effective vaccines and therapeutics. 
What are you enjoying most about your graduate program? 
While I have been very appreciative of the fantastic classes and access to fascinating lab experiences here, I have really enjoyed engaging more with the students and faculty in the Pathobiology program. Our program is small, with only around 5-7 students in each cohort, which means we all know each other on a much deeper level and have more opportunities to interact with faculty, which I really value. 
Did your award influence your decision to attend UW? 
I was extremely honored to be designated as an ARCS Foundation Scholar by the Seattle Chapter of the ARCS Foundation. Knowing that UW and ARCS were willing to invest in me and provide both financial and networking support absolutely influenced my decision to join UW as part of the Pathobiology Ph.D. program. I am very grateful and thrilled with my decision.