Research Assistant, University of Washington Department of Global Health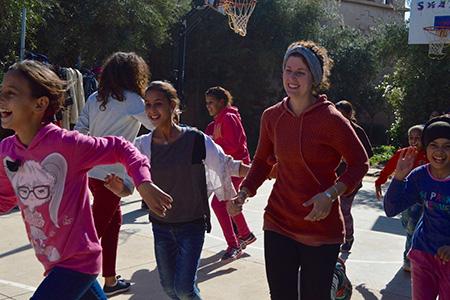 Q: Please tell us about yourself – where did you live before Seattle and what were you doing?
 
A: I am originally from a small town in northern Minnesota. Recently I was serving in Morocco as a Peace Corps Volunteer in the Youth Development sector. I worked mostly with female adolescents in a variety of capacities, predominantly focusing on education, health, sports, and art activities for middle school students.
 
Q: What's your academic focus and what research are you doing as a Research Assistant (RA)?
A: I am a student in the Global Health MPH General Track and plan to also pursue the Global WACh certificate to help me further focus on my interests in adolescent and women's sexual and reproductive health. As a Research Assistant I am working with Donna Denno primarily on two research projects, one on minimally invasive autopsies to determine cause of death among children in Malawi and the other on environmental enteric dysfunction among children in three lower middle income countries. 
Q: What's been the most valuable part of your Research Assistantship thus far?
A: So far, the most valuable part of my Research Assistantship has been learning about the process of setting up a new study. I have learned about writing institutional review board (IRB) protocols, developing project timelines, and identifying institutional and individual roles within a project. This has helped me better understand some of the critical components that must be accomplished before on the ground research can occur. Furthermore, receiving feedback on the tasks I complete and making revisions has been an incredible learning experience that I am able to transfer and utilize in my schoolwork.
Sarah Lawrence is a recipient of the Department of Global Health Graduate School Fund for Excellence and Innovation (GSFEI) Top Scholar Award.