Research Assistant, University of Washington Department of Global Health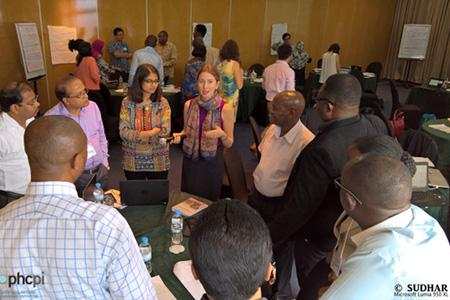 Q: Please tell us about yourself – where did you live before Seattle and what were you doing?
A: Before I moved to Seattle I was working for an organization called Results for Development (R4D), based in Washington, DC. I focused primarily on issues at the global level, including pathways towards universal health coverage, health financing reforms and measurement of primary health care system performance. Part of my role involved managing a global partnership called the Primary Health Care Performance Initiative, which focused on catalyzing improvements in primary health care through better measurement and knowledge sharing. I also spent many years working on the Joint Learning Network for Universal Health Coverage (UHC), which is a network of policymakers and practitioners across Africa, Asia, and Latin America who are focused on UHC reforms. I led a collaborative of member countries that were interested in sharing experiences and best practices on how to measure quality at the primary health care level.   
Q: What's your academic focus and what research are you doing as a Research Assistant (RA)?
A: I'm interested in the intersection of health systems, quality, and measurement – specifically how better management and use of data can improve quality. As part of my work at R4D, I was focused on understanding the different dimensions of quality, including the technical quality of care that's provided as well as the patient experience in health care, which can be an important determinant of outcomes via return visits, adherence to treatment, and overall trust in the system. In my research assistantship, I am working with the Mozambique team in the Department of Global Health to support ongoing health system quality improvement interventions as part of the SAIA-Scale project and second phase of the Doris Duke African Health Initiative. Currently I am analyzing data on patient satisfaction and experience from two districts in Mozambique to understand the determinants of satisfaction. 
Q: What's been the most valuable part of your Research Assistantship thus far?
A: I think my Research Assistantship has been a really nice complement to my coursework in the sense that I'm able to immediately apply and build on the skills we are learning through courses. I feel lucky to be working on something that I'm really interested in and I've benefited from mentorship by more seasoned researchers on the team. Along with the other PhD students on the team, I think we've been welcomed as peers who can contribute meaningfully to discussions. I've also enjoyed my RAship as a means of staying connected to work that's happening outside of the school bubble! 
Meredith Kimball is a recipient of the Department of Global Health Graduate School Fund for Excellence and Innovation (GSFEI) Top Scholar Award.