Research Assistant, University of Washington Department of Global Health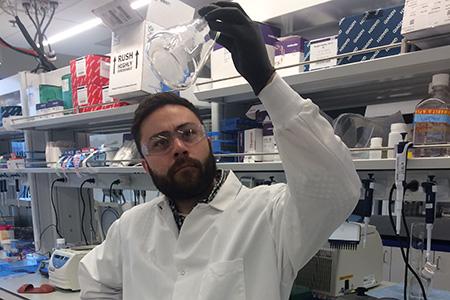 Q: Please tell us about yourself – where did you live before Seattle and what were you doing? 
A: I grew up in Marysville (just north of Seattle) and attended the University of Washington as an undergraduate, during which time I had the incredible opportunity to study syphilis pathogenesis in Dr. Sheila Lukehart's laboratory. After college, I worked as a research scientist in Dr. Eliza Curnow's lab at the Washington National Primate Research Center (WaNPRC). A major goal of ours was to generate a nonhuman primate model of fragile X syndrome. Between my time at WaNPRC and starting in the pathobiology program, I returned to syphilis research, working on collaborative and independent projects for Drs. Sheila Lukehart and Lorenzo Giacani.
Q: What's your academic focus and what research are you doing as a Research Assistant (RA)?
A: I am broadly interested in bacterial pathogenesis and the diverse mechanisms pathogens use to subvert their hosts. Throughout my education/career, I have also become keenly interested in the rising tide of antibiotic resistance and how best to combat resistant bacteria. 
Q: What's been the most valuable part of your Research Assistantship thus far?
A: Getting to know the world-class faculty and students both within the department of global health and across the UW. It is a great privilege to be part of such a collaborative department: as scientists, we spend so much time thinking about basic research that we can lose sight of the bigger picture. We are lucky to be reminded of the bigger picture by the incredible work done by other divisions within global health.    
Mark Fernandez is a recipient of the Department of Global Health Graduate School Fund for Excellence and Innovation (GSFEI) Top Scholar Award.