Research Assistant, University of Washington Department of Global Health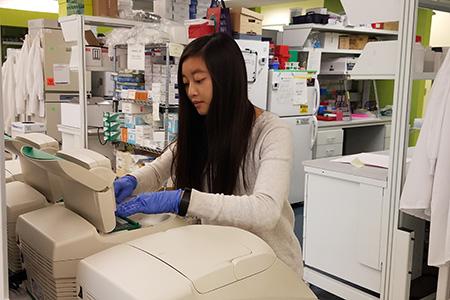 Q: Please tell us about yourself – where did you live before Seattle and what were you doing?
A: I'm originally from Taipei, Taiwan and grew up in Vancouver, Canada. Before moving to Seattle, I lived in St. Louis for 4 years where I received my bachelor's degree from Washington University in St. Louis. While I was there, I worked in a lab that studied viral immune evasion mechanisms. My project specifically focuses on a viral chemokine decoy receptor.
Q: What's your academic focus and what research are you doing as a Research Assistant (RA)?
A: I'm currently in the Pathobiology PhD program and am interested in infectious diseases, specifically host-pathogen interactions. As an RA, I'm rotating in a HIV lab this quarter where we are looking at the integration sites of HIV in the human genome.
Q: What's been the most valuable part of your Research Assistantship thus far?
A: So far, the most valuable part of my RA is the opportunity to learn about a field that is completely unfamiliar to me and being able to reach out to those with an expertise in the field to gain a better understanding of where the field is right now, and what are the main questions that we're interested in answering. It has helped me realize what the current limitations in the field are, and pushed me to think about potential ways to address these issues.
Amy Lu is a recipient of the Department of Global Health Graduate School Fund for Excellence and Innovation (GSFEI) Top Scholar Award.