This year, the UW Department of Global Health (DGH) welcomes 68 new graduate students. These newest Huskies hail from Seattle and across the USA, as well as international students from 13 different countries (Cameroon, Guinea, Jordan, Kenya, Malawi, Myanmar, Namibia, Nepal, Peru, Rwanda, Sierra Leone, Tanzania, and Zimbabwe).
"You are entering Global Health at a unique moment in history -- a time that is as challenging as any we have known in the last century, and, simultaneously, a time of tremendous need and opportunity.  You'll be working with people who are addressing some of the most fundamental challenges to achieving health and well-being, like corralling the global COVID-19 pandemic, or tackling climate change impacts on health," said Judy Wasserheit, Chair, Global Health, UW. "As you start your studies in the Department of Global Health, be sure to get connected with each other and with the wider global health community here in Washington; reach out to faculty and staff for advice and help; and take advantage of being in this stunningly beautiful place to find a healthy work-life balance and enjoy Seattle."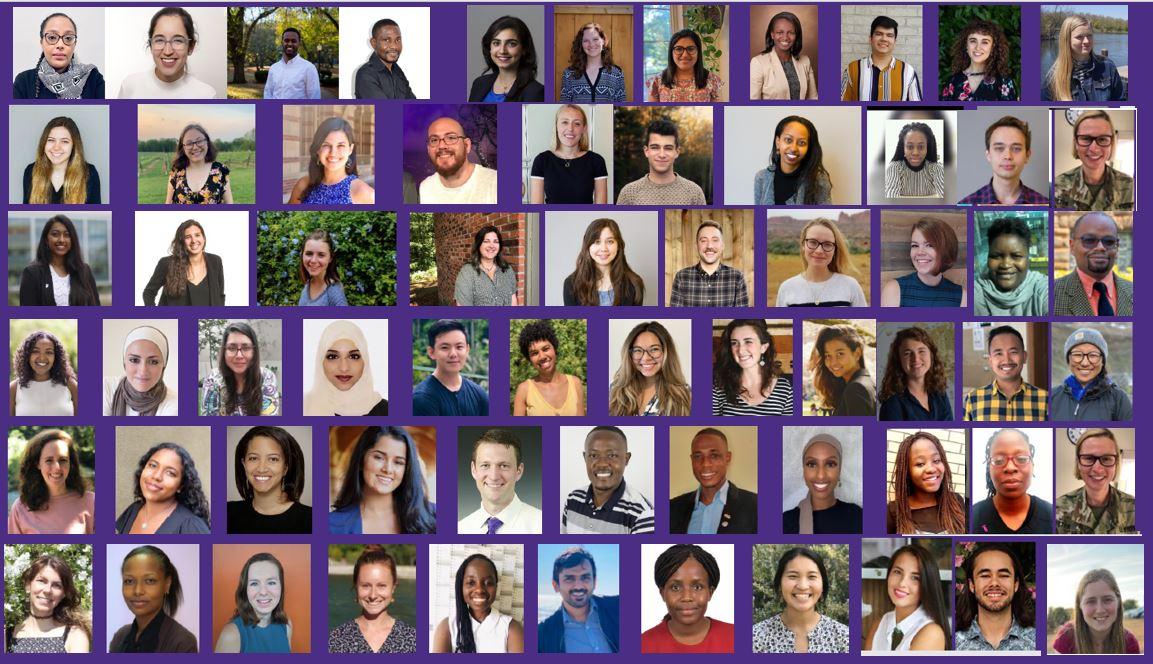 DGH's new students join the 126 continuing students already enrolled in Global Health Masters of Public Health (MPH) and PhD programs (50 MPH students, 52 PhD in Global Health students, and 24 PhD in Pathobiology students).
Fifty-four students will begin the MPH Program, and 14 new students will begin PhD programs. Of the new MPH students, 36 have chosen the general track, 15 are in the health metrics and evaluation track, and 3 are in the MD/MPH path. 
The group of incoming PhD students include eight pursuing a PhD in Global Health (seven implementation science, one metrics) and six PhD pathobiology students.
"I'd like to extend a very warm welcome to our incoming DGH students in this challenging year of the COVID-19 pandemic! The DGH Academic Programs faculty and staff will do their utmost to help you navigate our online courses and create virtual opportunities to get together. Please don't hesitate to reach out to us at any time if you need help or just want to connect. Here's hoping that we can all meet in person sometime soon!" said Susan Graham, Associate Chair of Academic Programs, Global Health, who opened the DGH new student orientation.
In addition to its MPH and PhD programs, DGH academic programs include Graduate Certificates (in Global Health, Global Health of Women, Adolescents & Children, Global Injury & Violence Prevention, and HIV & STIs), an Undergraduate Major and Minor, the School of Medicine Global Health Pathway, and a Global Health Certificate for Residents and Fellows.
The UW Department of Global Health is now in its 14th year since its creation in 2007. The Department is world-renowned for its ground-breaking discoveries, research methodologies, and its education and training programs. DGH has 1,400 alumni from around the world, who are making meaningful impacts to global health through multilateral and bilateral agencies including WHO, UNAIDS, and CDC; non-governmental organizations including the Bill and Melinda Gates Foundation, PATH, Partners in Health; national ministries of health; and local organizations worldwide. DGH's alumni include four ministers of health in Peru, Liberia, Central Africa Republic and the Democratic Republic of Congo.