The just-released Department of Global Health 2019 Annual Report highlights DGH's impacts, in collaboration with our partners around the globe, on transforming lives and improving health for all.
The report highlights innovative discoveries in science, efforts to improve global health systems and practices, and examples of how we are preparing the next generation of global health leaders through our world-class learning programs.
The report also puts a spotlight on DGH's work to improve maternal, newborn and child health, including results of our research focusing on critical windows—during birth and infancy, during the transition from childhood to adolescence, and from adolescence into adulthood—where healthcare interventions can have long-term benefits across the lifecycle.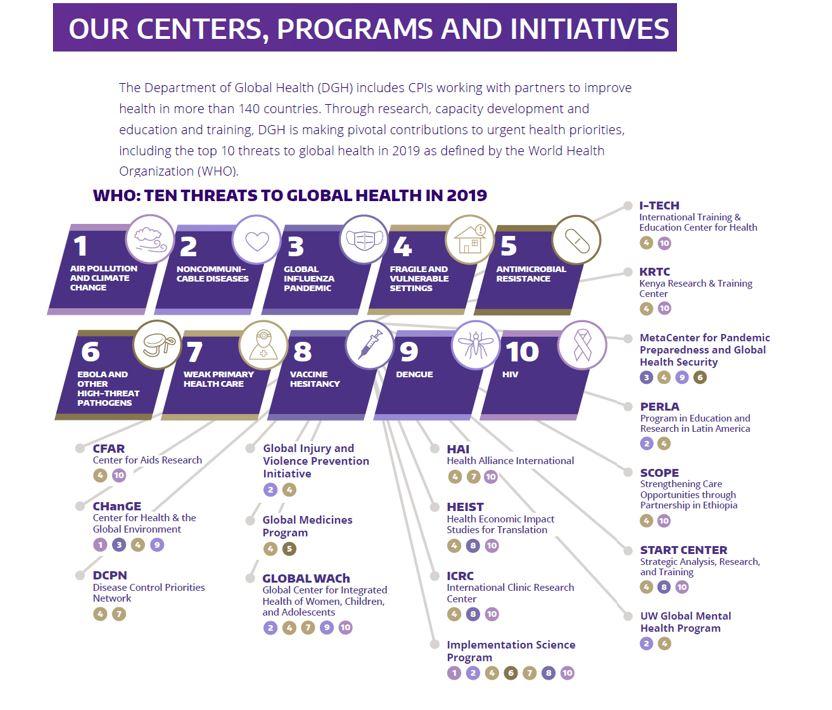 Several DGH faculty and staff who were honored in 2019 for their outstanding work in the field of global health are also highlighted, including Professor King Holmes, who received the Consortium of Universities for Global Health (CUGH) 2019 Distinguished Leadership award; Professor Ben Anderson, who won the Washington Global Health Alliance (WGHA) Pioneers Award for Impact; Assistant Professor Jillian Pintye, who won the WGHA Pioneers Rising Leader Award; Kate Pfizenmaier, Managing Director, Global WACh and SCOPE, won the 2019 Outstanding Staff Award from the UW Department of Global Health, and more.
DGH's 2019 outstanding students in global health are also featured, including Courtney Jackson, who received the 2019 Husky 100 award; Christopher Kemp, who received the SPH Gilbert S. Omenn Award for Academic Excellence Doctoral Award; Rabi Yunusa, who received the SPH Outstanding Master's Student Award, and others.
Our spotlight on DGH alumni includes Eteni Longondo (MPH 2005) who is now the head of the Ministry of Public Health in the Democratic Republic of Congo (DRC); Biraj Karmacharya (MPH 2017), head of community programs at a university hospital in Dhulikhel, Nepal, and Mina Halpern (MPH 2006) , executive director of Clínica de Familia La Romana in the Dominican Republic.