54 years in medicine and public health, including 13 years of leadership in the UW Department of Global Health, has brought profound impacts on infectious diseases worldwide and solidified UW's work in research, collaborative partnerships, mentorship of global health leaders, and grant funding.
Dr. King Holmes, Director of Research and Faculty Development and inaugural Chair of the UW Department of Global Health, has been named Distinguished Professor Emeritus.
Well-known for his visionary leadership and ability to bring together researchers and others from different disciplines and sectors to tackle some of the most difficult infectious diseases, King has bridged across the sciences to behavioral and social factors that put people at risk for STIs and HIV.
"King is considered by many to be the father of the field of sexually transmitted infection (STI) research and care. As the HIV pandemic exploded, he quickly became a global leader in HIV, as well as STI prevention and care.  The list of King's honors and awards is long, but one of King's most important and enduring legacies is his mentorship and consistent nurturing of the careers of numerous global health, HIV and STI researchers, educators, program directors and policy makers around the world," said Judith Wasserheit, Chair, DGH, "I am very grateful that I was lucky enough to be one of those very fortunate people."
An accomplished career and a global reputation for interdisciplinary collaboration
Holmes, a medical doctor and epidemiologist by training, built a global reputation in the field of sexually transmitted diseases even before his arrival to UW. King undertook his first assignment in global health in 1964, when he was assigned by the U.S. Navy to "cure gonorrhea." In Subic Bay, the Philippines, he befriended the Olongapon Nightclub & Bar Association, who allowed him to talk with sex workers about his work. Through that connection he met the local "doctora" who was treating sex workers, and observed that the same un-disinfected specula was being used to examine more than 50 sex workers a day. Back on the navy ship he was based on, he also found that doctors did not use the microscopes available on the ship to actually examine the specimens. Through addressing his findings, gonorrhea rates dropped.
 "When King began his research career, the field of sexually transmitted diseases had been ignored and/or neglected in the United States and many other countries for nearly three decades and was in serious disrepair, both in the academic and public health arenas. King correctly diagnosed the problems, largely stemming from meager research and prevention ," said H. Hunter Handsfield, Professor Emeritus of Medicine, UW. "Starting in the early 1970s, King began to address these problems in his research, training of young investigators, and public advocacy. At first almost single handedly, he led the field worldwide with his emphasis on rigorous science — microbiology, virology, immunopathology, infectious diseases, modern behavioral science, sophisiticated epidemiology, and exacting clinical investigation — in the service of STD prevention. Several generations of his trainees have built on his legacy, and even those who did not train or directly serve with King have been spurred to their own contributions by his example. All who value healthy and rewarding sexuality — indeed, the world at large — owe King Holmes a profound debt of gratitude."
"No one in the last 50 years has influenced the field of sexually transmitted infections like King. He literally raised the quality of science, the quality of research, and the importance of these infections and their associated behavioral and societal stigmatization. Essentially all STI recommendations on the way to diagnose, treat and prevent STIs from a public health or patient management point of view have emanated or derived from Seattle. Which means they passed at some point though his hands," said Lawrence Corey, President and Director Emeritus, Fred Hutch.
King's emphasis on forging connections between researchers in different disciplines is well-known. He recalls entering a meeting room in Europe and seeing the words "Eat them or be eaten" on the whiteboard. He crossed it out and wrote the more humble, yet effective "help them and grow stronger together."
Grounded in the principle of promoting collaboration among researchers and those working in other sectors, King played founding roles in developing the UW Center for AIDS and STDs, UW/Fred Hutch Center for AIDS Research, the UW International Training and Education Center on Health (I-TECH), and other organizations.
Numerous prestigious awards also honor King's work – he was named to the Institute of Medicine of the National Academy of Sciences; received the Canada Gairdner Global Health Award for his global scientific contributions to the field of sexually transmitted diseases; was awarded the IDSA Alexander Fleming Lifetime Achievement Award; and the CUGH Distinguished Leadership in Global Health Award. He is the author of more than 800 peer-reviewed publications, books, monographs and supplements.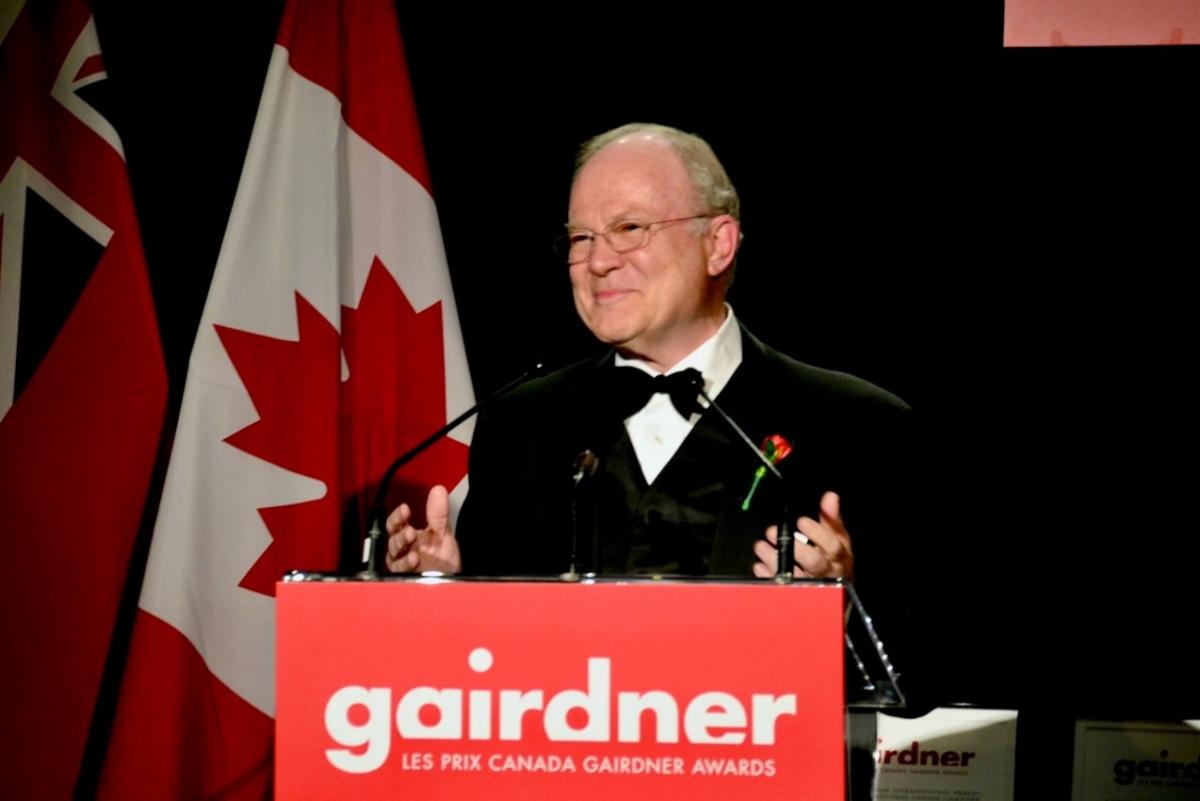 Dr. King Holmes won the prestigious 2013 Canada Gairdner Global Health Award for his work in sexually transmitted diseases.
Strengthening UW Medicine, Public Health and the Department of Global Health
At the UW, King held the position of Chief Resident at UW Medicine, before becoming a full Professor of Medicine, then Vice Chair of the Dept. of Medicine, and eventually, the William H. Foege Professor and Founding Chair of the Department of Global Health.
"I first met King 42 years ago, when he was already a world-famous professor. What I learned from King was the importance of interdisciplinary research. When King was working with the UW Center for AIDS and STDs the Center was based in UW Medicine. King asked that the Center's funds support multidisciplinary people from other areas like social work – so I agreed to give money away from the School of Medicine," said Paul Ramsey, dean, UW School of Medicine. "King understood how to support, recognize and get people together on multi-disciplinary grants and approaches, and he advanced the field. What King did in mentoring is really an enormous contribution to the whole field of Health Sciences. Our School now places great emphasis on giving awards and supporting mentorship."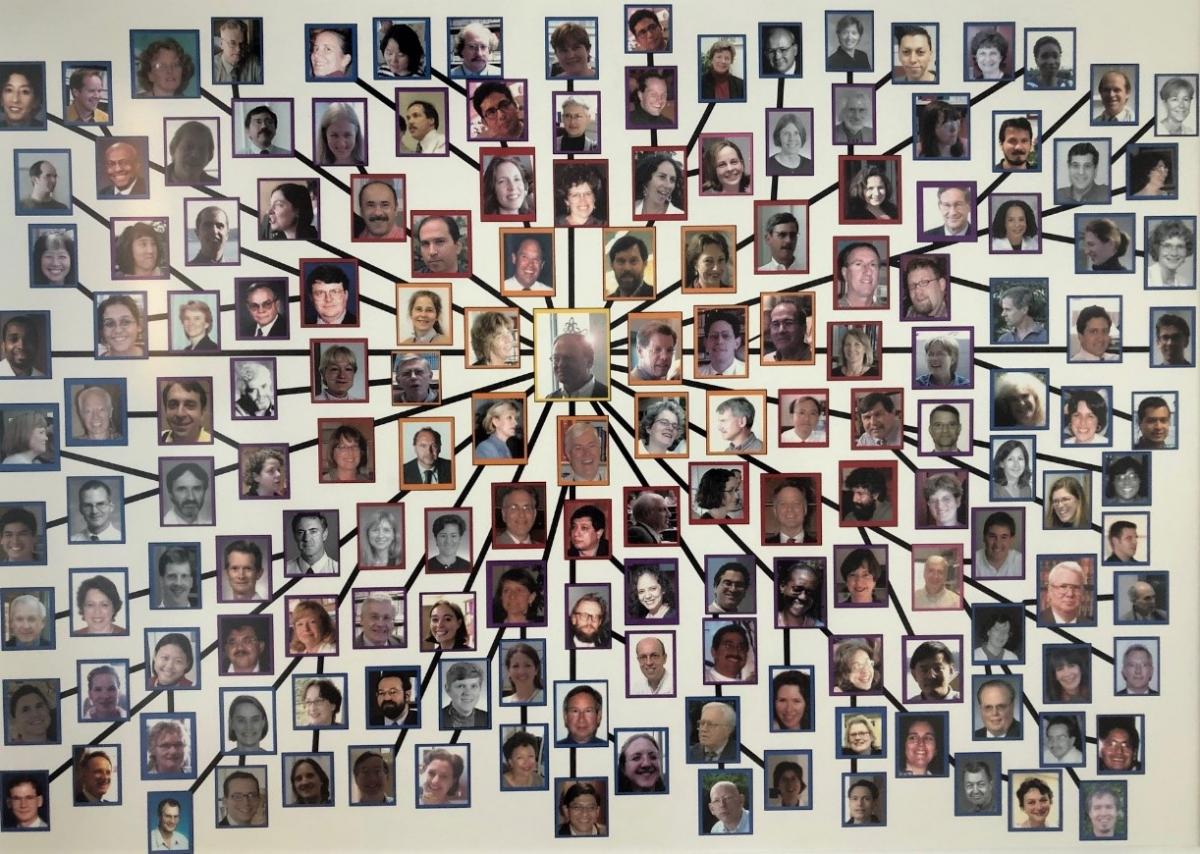 A present from King's mentee Tom Quinn, now at Johns Hopkins University and the NIH, depicting photos of many who were mentored by King.
"My mentor at UCLA was a mentee of King's, and I continue to benefit from people whom King has mentored across the UW," said Hilary Godwin, dean, School of Public Health, "King has broadened so many people's perspective. We owe him tremendous gratitude."
"King's great legacy lies not only in his own research that brought basic science to the study of STIs and HIV, but in the generations of those he trained or lured to the Global Health Department at UW.   His vision will continue to inspire UW and the field of global health for years to come," emphasized Roger Glass, Director of the NIH Fogarty International Center.
In the early 2000s, King approached the Deans of the Schools of Medicine and Public Health with the idea of forming a joint Department of Global Health. The idea was turned down, but King persisted. On his second attempt approaching the Deans, along with Bill Gates, Sr., the Department was born in 2007.
As founding Chair, King set DGH on a course of enhancing relationships with collaborators around the world. His accomplishments during his time as the founding Chair and Director of DGH are numerous, say UW's leaders, faculty, students, staff and partners and he leaves DGH in a strong position for the future. The department has grown and diversified its students, faculty and staff, increased its grant funding, and forged new internal and external research collaborations, among other achievements. With King's leadership, DGH is well-positioned to continue making important contributions to global health for which DGH is known worldwide.
Moving forward as Distinguished Professor Emeritus
Holmes, who has been serving in the role of UW DGH Director of Research and Faculty Development since 2014, will continue his service as Distinguished Professor Emeritus ensuring a smooth transition to the new Director of Research and Faculty Development, Dr. Pamela Collins. Dr Holmes led the Faculty Search Committee that recruited Dr Collins from the NIH (where they had met) to the UW.
In his announcement to the global health community about transitioning to Distinguished Professor Emeritus, King shared that he had started reading the book "How to do Nothing." Ten pages into it he realized it wasn't for him. While continuing to enjoy his love of wine and family, he will focus on developing a global health archive, along with writing his memoirs, and continuing to serve the UW as Distinguished Professor Emeritus.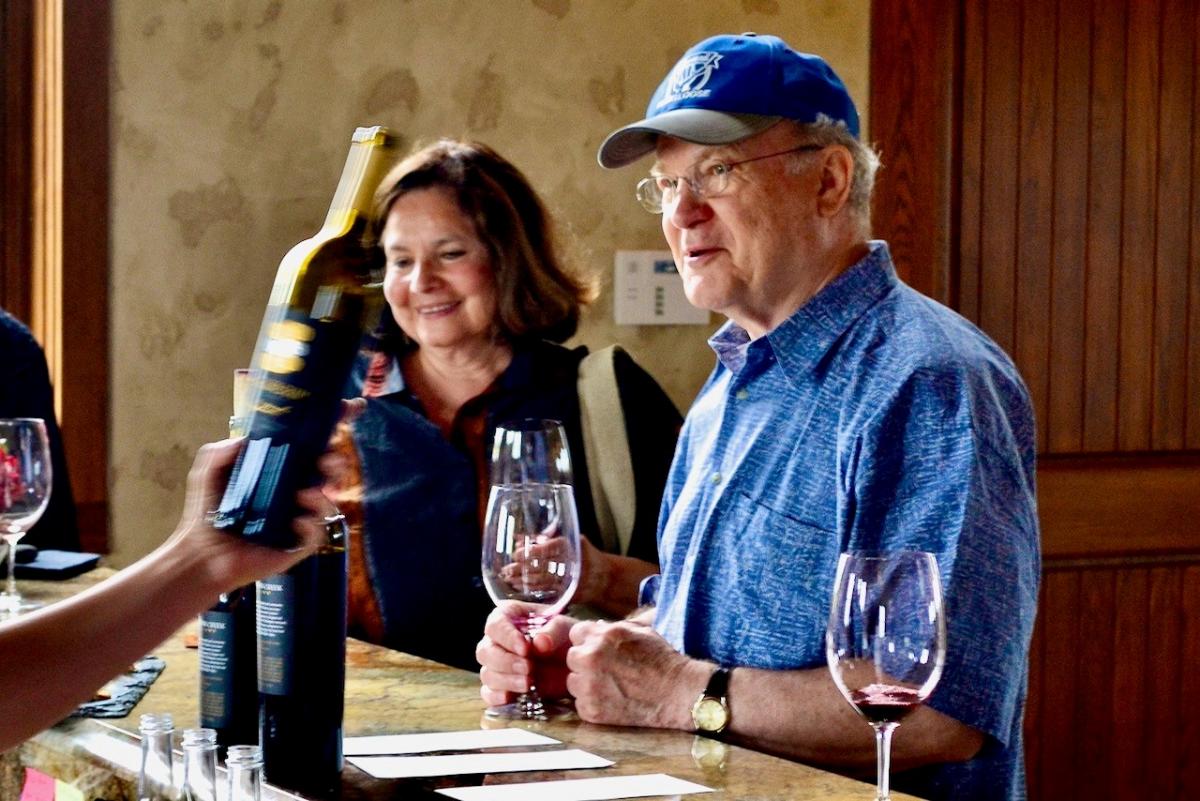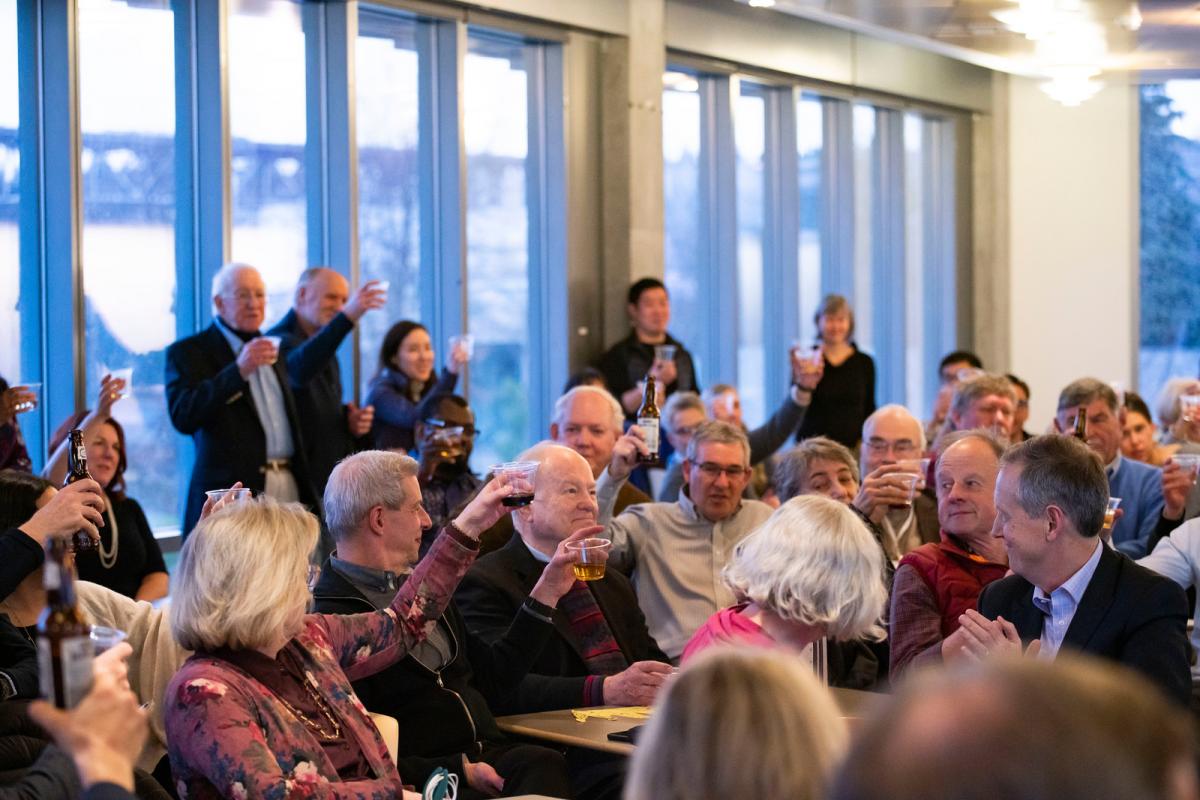 UW colleagues and family raise a toast to King.
Read more about Dr. King Holmes in the SPH Profile: Dr. King Holmes.