More than 190 people and 20 global health organizations participated in the sixth annual Global Healthies, an event that brings the UW and Seattle Global Health community together to explore opportunities for collaborations, and highlight students' global health research. 
At the event, UW global health students networked with representatives from 20 global health organizations from both within the UW and in the broader community, including PATH, Planned Parenthood, the Washington State Department of Health, Fred Hutch, I-TECH, Health Alliance International, the START Center and others. 
The event also offered students and faculty the opportunity to discuss and potentially work together on more than 35 research collaborations. The opportunities included studies on climate and health; point-of-care testing to improve TB and HIV outcomes; maternal and child health and reproductive health; improving the supply of iodine in the diet, and many more.
Global health students also presented research posters, with topics ranging from dengue prevention to worker safety concerns among brick kiln workers in Cambodia to elevating awareness on hearing issues globally. 
"The main point of my research project is finding more efficient ways to increase health access in Malawi and Zimbabwe for people who need it," said Melody Wang, a PhD Global Health student. "Specifically for this project, I focused on infants who need HIV diagnoses as soon as possible, as well as people already living with HIV who need treatment." 
"The goal of our study is to highlight areas that need extra emphasis in terms of pandemic outbreak potential," said Erin Frame, a PhD student in Health Metrics. "In our work that's two-fold. It's places that have limited accessibility to health facilities, but on the flip side it's places that are really accessible to health facilities but might not be particularly ready to see patients. I hope this work will be useful for preparedness planning on the ground."
Students who presented posters also competed for awards for excellence and achievement across five categories: Discovery and Development, Education and Training, Implementation and Application, Public Health Service and Direct Care, and Oscar Gish Social Justice and Health Equity. 
"I hope my work will help improve lives and the greater state of global health," said Natasha Bourgeois, a PhD Student in the Pathobiology program. "Specifically, my work is aimed toward finding drugs that can prevent dengue virus, and helping to reducing the total number of people dying from it every year."
The Oscar Gish Social Justice and Health Equity award was presented by Professor Steve Gloyd. The Oscar Gish award is in honor of Gish, a UW faculty member who passed away in 2004. As an economist, author and scholar, Oscar Gish was an advocate for social justice and equality.  He was known as an expert on international health policies, and influenced both students and faculty alike to strengthen their commitment to social justice.
"This award is really meaningful, I'm so privileged to be a graduate student at a school like the University of Washington. I am honored to use my privilege to help uplift  the voices of Cambodian brick workers so more people address their occupational health and safety concerns," said MPH student Polly Woodbury, who won the Gish award. "Hopefully we can help create systematic change moving forward."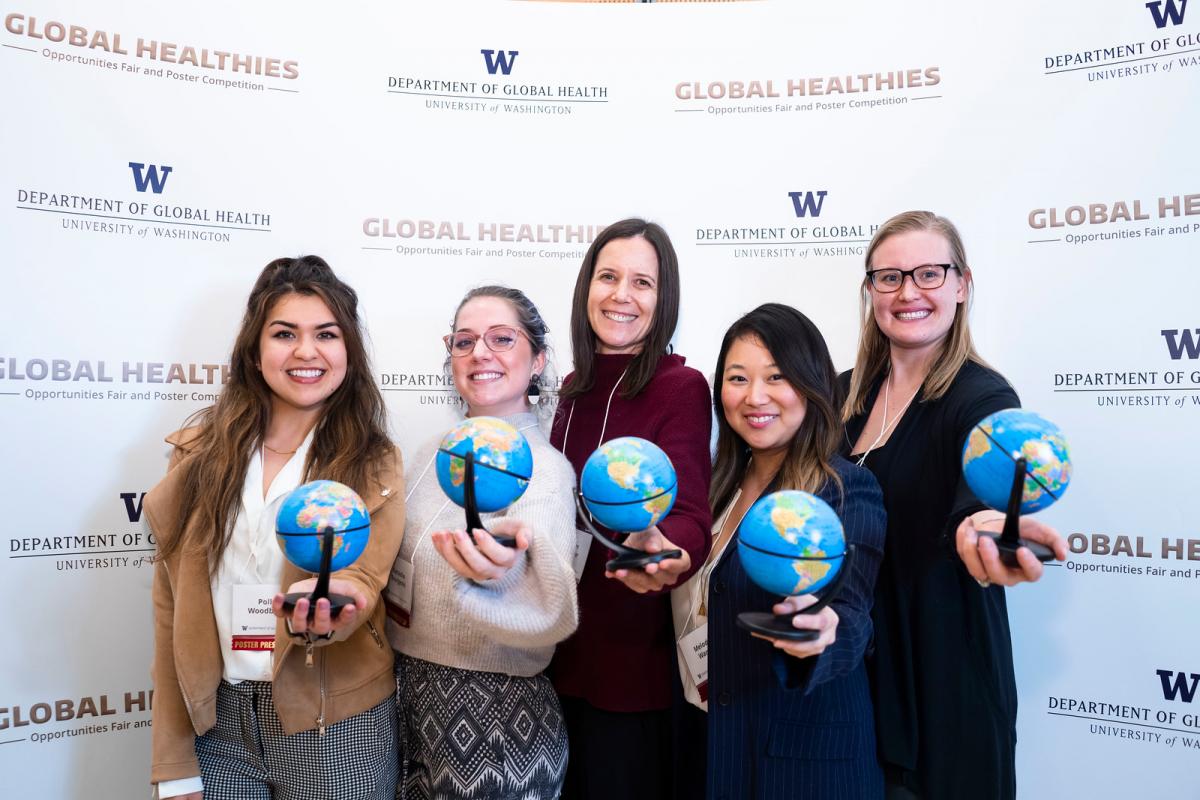 Awardees of the 2020 Global Healthies awards were:
Discovery and Development
Natasha Bourgeois, PhD Student, Pathobiology
Project: "Discovering Host Kinase Signaling that Mediates Dengue Infection"
Education and Training
Paige Stringer, MPH Student, Global Health
Project: "A Communications Plan for the World Health Organization 2020 Launch of 'World Report on Hearing'
Implementation and Application
Melody Wang, PhD Student, Global Health – Implementation Science
Project: "Integrating HIV and TB Testing Services in Malawi and Zimbabwe: Implementation and Impact of Multi-Disease Point-of-Care Testing
Public Health Service and Direct Care
Erin Frame, PhD Student, Global Health – Health Metrics
Project: "Travel Time to Health Facilities in Areas of Outbreak Potential: Maps for Guiding Local Preparedness and Response"
Oscar Gish Social Justice & Equity 
Polly Woodbury, MPH Student, Global Health (Concurrent Graduate Student in Social Work and International Development Policy and Management)
Project: "Bricked In: Occupational Health and Safety Concerns of Cambodian Brick Kiln Workers"
Congratulations to all award winners and thank you to the attendees who made the 2020 Global Healthies a wonderful event! For event photos visit these galleries from the School of Public Health and the Department of Global Health.