What does mental health look like for refugee populations, and how do the unique social conditions refugees face affect their mental health? Diem Nguyen, a DGH student pursuing her master's degree in public health, explored this as part of a recent discussion at the Pacific Science Center titled Global Health: Facing the Future. 
On December 10, 2019, a panel of global health researchers convened as part of the Pacific Science Center's "Science in the City" series, supported by the Bill & Melinda Gates Foundation and Washington Global Health Alliance. The event focused on the future of global health and why health needs to be considered in a global context.
The panel consisted of each member giving a presentation on their respective topic of expertise, followed by a Q&A session with the audience. Nguyen's presentation centered on mental health in refugee populations. Her research purpose and goal, as stated during her presentation, is to "work collaboratively with refugee groups to strengthen communities and create a healing process that is culturally grounded".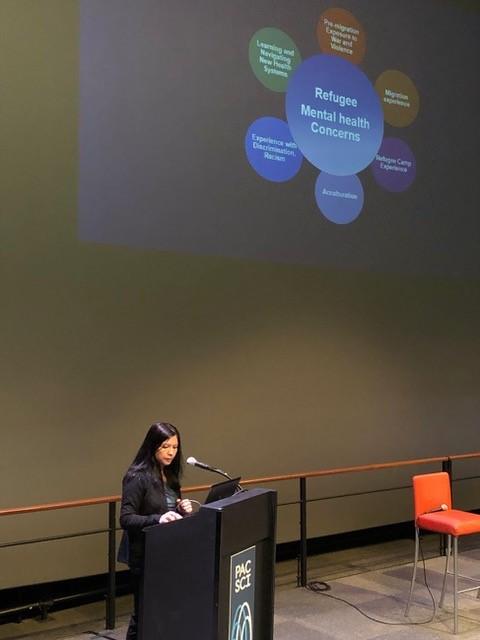 Before enrolling in the Department of Global Health, Nguyen was trained as an educator, working as a researcher in the UW School of Education and receiving a PhD. During this time Nguyen says she began to realize the prominence of mental health conditions like depression and anxiety among immigrants and refugee communities. However, among the refugee populations she encountered, these things were rarely discussed. For many refugees who had experienced trauma and have settled in the United States, their experiences prior to arrival are rarely discussed. Nguyen noted that one of her former students, a Khmai American, indicated that "talking will break" them, or freshen the pain.
"It's becoming a global health concern," Nguyen shared. "One in four people in their lifetime experience a mental health problem, and among vulnerable populations such as refugees, 35-40 percent suffer from mental distress."
Factors like exposure to trauma, war, migration, or long stays in refugee camps also contribute to mental health conditions, as well as racism and discriminatory practices in their new homes. Nguyen read a quote from a Vietnamese-American social worker that illustrates the layered complexity of mental health.
"There is a lot of intersectionality of trauma," they said. "We come from a very traumatized culture. Then you add the layer of coming to America, plus the layer of racism and discrimination, and that makes for a really nice mess."
She began her talk by asking the audience to name some things that support mental health, eliciting responses like community, built environments, and access to mental healthcare before naming other elements including exercise, sleep, and social relationships.
"In some ways, we have control over these," Nguyen said. "Recently I was involved in a health assessment where I worked with refugee community members. I asked them about things that support their mental health, and interestingly, the responses were very similar to the ones received here. But in addition, things that came up were safety, peace, acceptance, and a sense of hope. I noticed that these issues were very connected to social conditions, sometimes way outside the control of individuals."
Nguyen then cited research indicating that for people who live in stable societies, issues connected to the self or social relations tend to come up when people think about factors that influence mental health. But for refugees who have been exposed to war, violence, or genocide, mental health for them is more connected to social conditions that are often outside of the self; safety becomes a prominent element. 
"I think of my work as a collaborative effort with different refugee communities to rebuild fractured lives."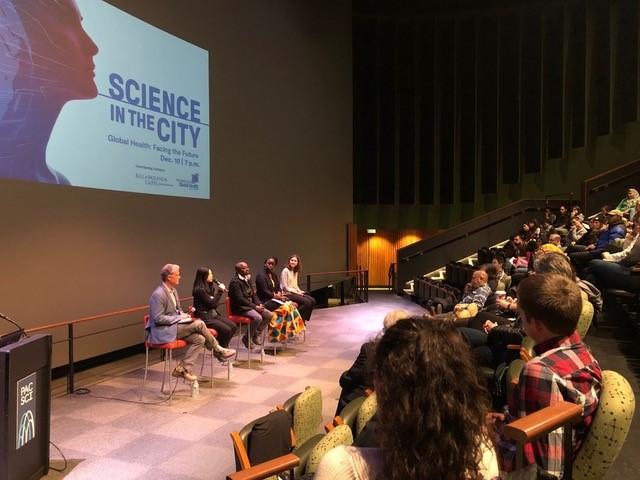 Nguyen concluded her presentation by expressing her desire to work with refugee families to provide the pillars of strong mental health that are so often taken from them during their migration process.
"For refugee populations, their sense of identity, family, and community have been destroyed in many ways. My hope is to restore some of these natural healing processes."  
Along with Nguyen, the panel included:
·         Linda Oseso, HVTN social behavior research manager at Fred Hutch
·         Dr. Eric Osoro, deputy country director of the WSU Global Health Kenya program
·         Allie Sibole, product development manager at PATH