While completing a Masters of Public Health in the Department of Global Health, students have several ways to gain research and fieldwork experience around the world. Students have fellowship opportunities that allow for hands-on training in a multitude of countries, but the Peace Corps represents another way to apply classroom curriculum at UW to the real world. 
Two current MPH students, Katherine Shulock and Erica White, recently completed stints with the Peace Corps. Shulock was assigned to Botswana and White was a health volunteer in southeast Madagascar. Both will tell you that the day-to-day operations of a Peace Corps volunteer are extremely fluid.
"I departed in 2015 and spent my first three months training with new volunteers in a big village. From there I got assigned to the village I lived in for two years, and then did a third year extension there as well," Shulock said. "I did my fourth year at Botswana's Ministry of Health for the adolescent sexual reproductive health office. I worked with pharmacists sometimes, I worked with a doctor as he did consultations, I tried to promote condom use to prevent secondary infections, my day-to-day was kind of all over the place."
"My work varied a lot as well, and you will probably hear this from every Peace Corps volunteer: there is no day-to-day. It changed dramatically based on season, day of the week, unforeseen circumstances, all of that," White agreed. "A lot of times my day started at 4 a.m. I'd go to the corner store and have coffee with the women who worked there. I'd usually spend my mornings at the local health center helping with vaccinations or fingerprinting. I would go into far-reaching neighborhoods of my village and help with vaccination campaigns, de-worming campaigns, water and sanitation programs, and English club for adults and youth, all sorts of things." 
Another commonality between the two Peace Corps alum was their desire to engage in multiple aspects of global health. Having the ability to not only do that, but also adapt to new things on the fly, was a foundation of both Shulock and White's time overseas.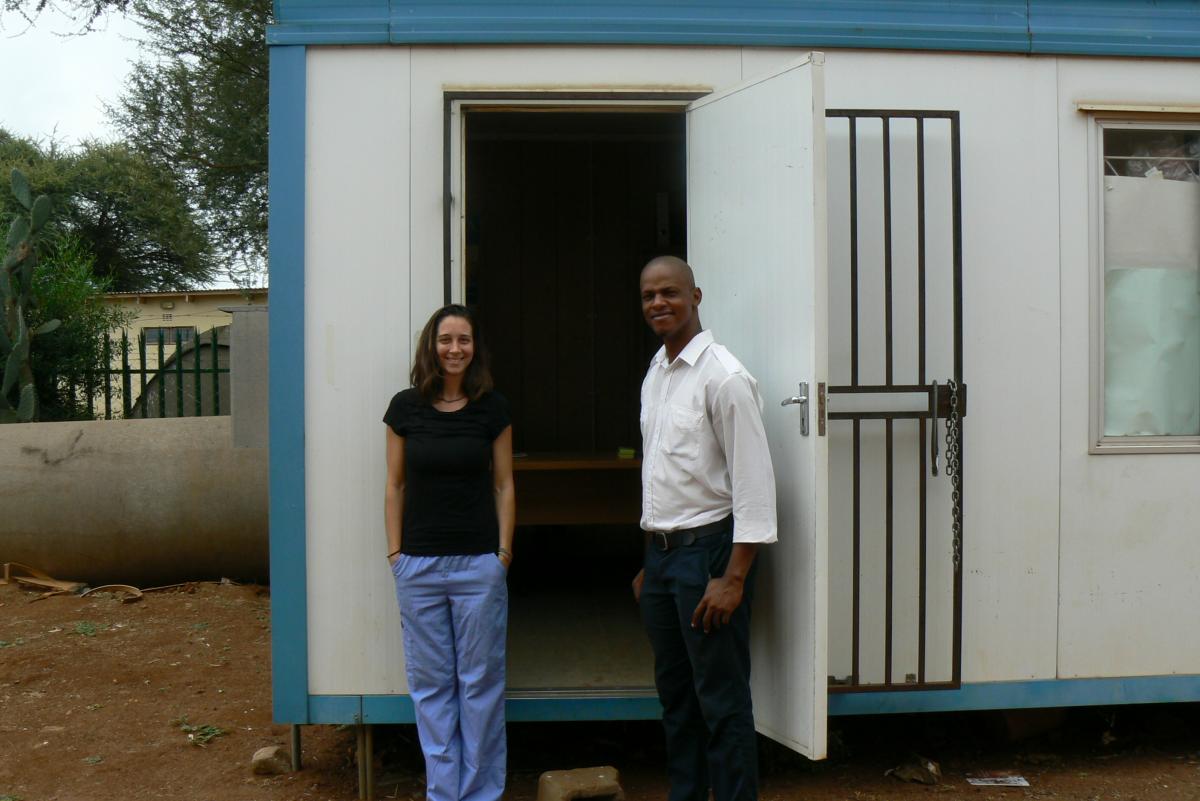 "As a Peace Corps volunteer you have a description of what you're supposed to do, but for me, I knew I wanted a mix of the bigger picture stuff and doing more hands-on work in the clinics. I tried to gear all of it toward HIV prevention, care treatment, and capacity building for HIV programs," Shulock shared. "I tried to get involved in a bunch of different things." 
White happened to be in Madagascar during a tumultuous election and a massive measles outbreak, leading to a wide-ranging view of all the things that affect a nation's health infrastructure.
"I saw a lot of things [in Madagascar] that I was reading and learning about in classes [at UW]. Things like preparation for pharmaceutical stock-outs, emergency preparedness, potential for a refugee crises due to climate change, linkages between water and sanitation and epidemiology. It was all on display," White said. "It was a lot of visualizing things we had learned in classes and experiencing those things firsthand, for better or for worse."
Of course, as with any big cultural endeavor, Shulock and White ran into a series of challenges and unexpected developments along the way. During Shulock's time in Botswana, one of her colleagues at the public health management office had the idea to open a youth clinic, which became a central focus of Shulock's tenure that she did not anticipate. 
"We opened the youth clinic about a year into my service," she explained. "Once I got involved in that it took me the rest of the way. I was working with a nurse every day, going to schools to bring students and young people into the clinic, and meanwhile we did community work at a youth group in the library. This was mostly with older youths who were about 19 or 20, had graduated high school, but had not found employment yet. Finally, we also opened a youth center as part of a separate project through a U.S. Embassy grant that I wrote with two other Peace Corps volunteers."
White became heavily involved in a club that helped the local community learn English, and also found a way to incorporate athletics into her work. She mentioned that finding vehicles for change outside the traditional ideas of health work was one of the most rewarding parts of her two years in Madagascar.
"In the English club we talked about family planning, and the volleyball team discussed power within the family and how girls in rural Madagascar can advocate for change. I got to take on a lot of small projects that were very impactful in separate ways."
Upon returning to Seattle and having time to reflect on their experience, both Shulock and White expressed gratitude for both the Peace Corps and the Department of Global Health, as the information and experiences they've gathered from both wove together to create a deeper understanding of the field. For students who are considering joining the Peace Corps themselves, White ended with a bit of advice.
"People who enjoy it the most – and definitely make the most of their Peace Corps experience – are the ones who come in with no expectations," White stated. "My advice would be to go in with an open mind and just go with the flow. Get really good at the language. Be honest about the expectations you do have because the Peace Corps will help you achieve those goals if you're open about them."