The capital of the Peruvian Amazon is only accessible by water or air travel, leaving it inherently isolated from the world. This city, Iquitos, Peru is the largest in the world that cannot be reached by road. Because of its geographic limitations, Iquitos also faces several logistical challenges, something postdoctoral fellow Olaf Recktenwald became very familiar with in his time spent studying the effects of communal meeting spaces on a floating river population's mental health conditions.
Recktenwald recently took part in the UW Northern Pacific Global Health (NPGH) Research Fellows Training Program, which regularly sends postdoctorate trainees and doctoral students to developing areas via the Global Health Fellowship Program. Sponsored by the Fogarty International Center, the program is an immersive 12-month experience in the health professions. In addition to Peru, fellows can travel to Kenya, Ghana, Thailand, India, or a handful of other African and Asian nations.  
Since 2012, a total of 14 fellows have chosen Peru as their research training site. That group now includes Recktenwald, a postdoctoral student from McGill University who went to Iquitos and immersed himself in the Claverito community. 
To begin his fellowship, Recktenwald joined an existing project in Iquitos, starting by organizing workshops and meetings. 
"I learned much about their ways of life, backgrounds, health conditions, needs, and approaches to building," Recktenwald said. "Every month or two I would hold workshops where we could ascertain the community's actual desires. These meetings ranged from interviews regarding perceptions of their environment, to drawing and modeling exercises, to presentations of design options."
The community of Claverito sits within Iquitos on the Amazon River basin. Already a water-based community, Claverito can endure drastic changes based on weather and tide shiftings. The ever-changing dynamics of the community means that Claverito has very few permanent buildings or meeting spaces. Because of this, Recktenwald wanted to help support the development of one.
"The Claverito community had a noticeable absence of designated communal meeting spaces.  This situation was exacerbated during the six-month high-tide season. In the low-tide season of July to December the houses rest on the ground and in the high-tide season of January to June they float on the water," Recktenwald explained. "Their houses are built in an ad-hoc manner using materials often scavenged from the city." 
These conditions were especially pertinent to Recktenwald, as his team examined the potential impact of a meeting space and how it could potentially lead to increased peace of mind.
"Built communal spaces were practically non-existent," Recktenwald said of Claverito. "Prior studies by our team had evaluated mental health conditions with respect to individual and communal landscape interventions. I wanted to continue that line of research, but now with respect to the architectural intervention that the community had stated was their highest priority."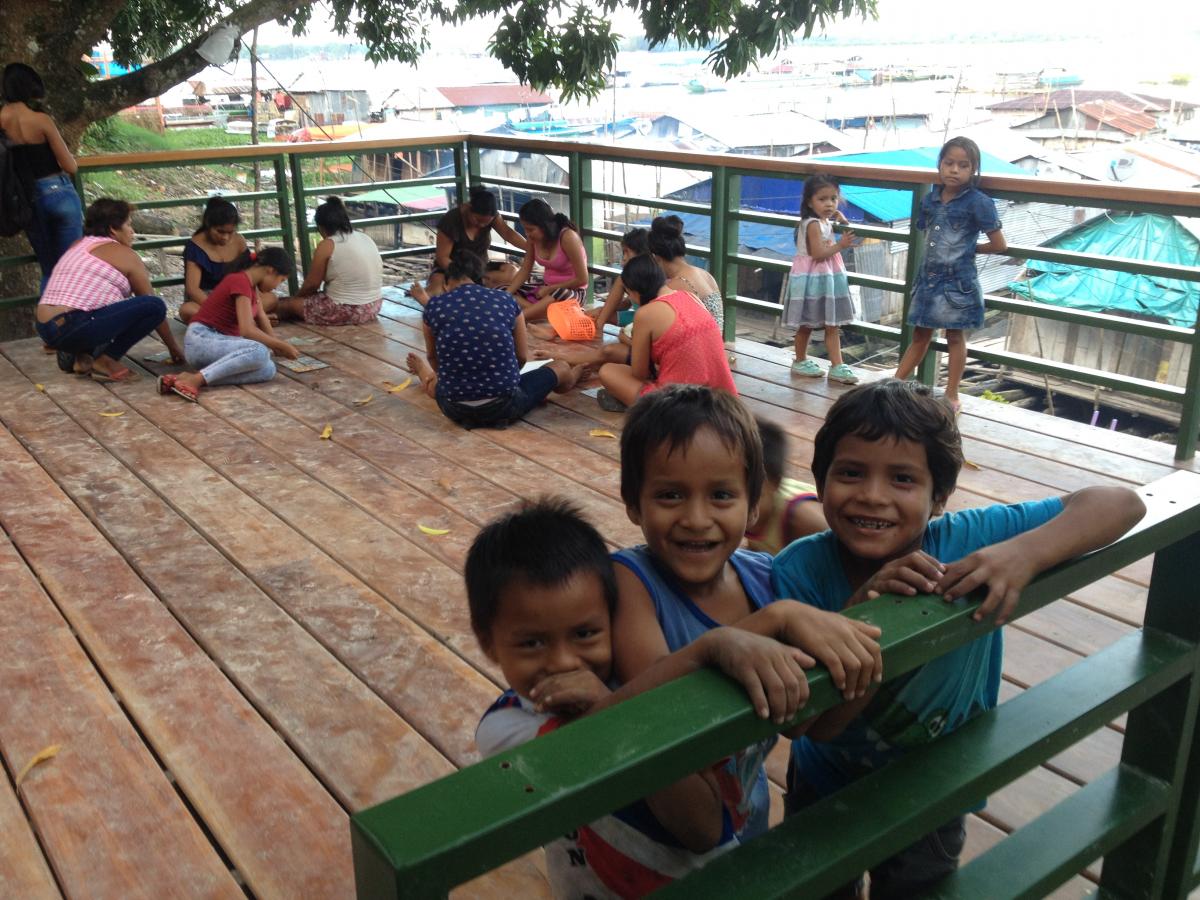 Working in close capacity with the community led to a better understanding of the people's desire for the meeting space. Using previous work by other fellows in Peru provided reference points, while technologies from rural areas merged with practices learned in Iquitos to eventually create the space.   
Today, impromptu get-togethers regularly occur in the meeting space, which is now open for all. Community meetings, games, and classes and homework sessions for school children all take place there as well. After six months of using the space, community members will take a round of mental health surveys aimed at evaluating and maintaining their overall mental well-being. 
The NPGH Fellowship program continually strives to strengthen communities' abilities to unite as a civic entity. Recktenwald said engaging in a different community for an entire year naturally creates an atmosphere of trust and reliability, one of the hallmarks of the NPGH program. In providing research training opportunities in low- and middle-income countries, the fellowship also allows for collaboration with affiliated institutions at each location, including six in Peru.
Fellowship research falls into one of the following categories: infectious diseases; non-communicable diseases; environmental health; trauma, nursing, oral health; and policy and implementation science. The wide spectrum of work supplies an interdisciplinary training environment. Each fellow also is paired with a mentor for disease-specific assistance and career guidance. 
Applications for the 2020-2021 program are now open. Applicants must be currently enrolled in a doctoral program or postdoctoral fellowship, or have completed an advanced degree within five academic years.