Wednesday, June 12, 2019 marked the 12th Department of Global Health graduation since the department's founding in 2007. This year's celebration saw a record number of students, as 74 students received their degrees, up from last year's total of 56. Of the 74 graduates in the Class of 2019, 62 received Masters in Public Health and 12 earned PhDs in Global Health Implementation Science, Global Health Metrics, or Pathobiology.
"We're here to celebrate together," said Judy Wasserheit, Chair of the Department of Global Health. "You are the largest class of Global Health graduates in the history of this university. We are privileged to have these opportunities to enter a profession that really focuses on changing the world, and make it a better place for people."
This year's graduates join a diverse network of over 1,700 alumni from over 20 nations who are pursuing various careers all around the world as global health professionals.
Four of these students — Rabi Yunusa, Helena Manguerra, Justine Levan, and Roy Burstein — reflected on their experiences in the Department of Global Health during the graduation ceremony.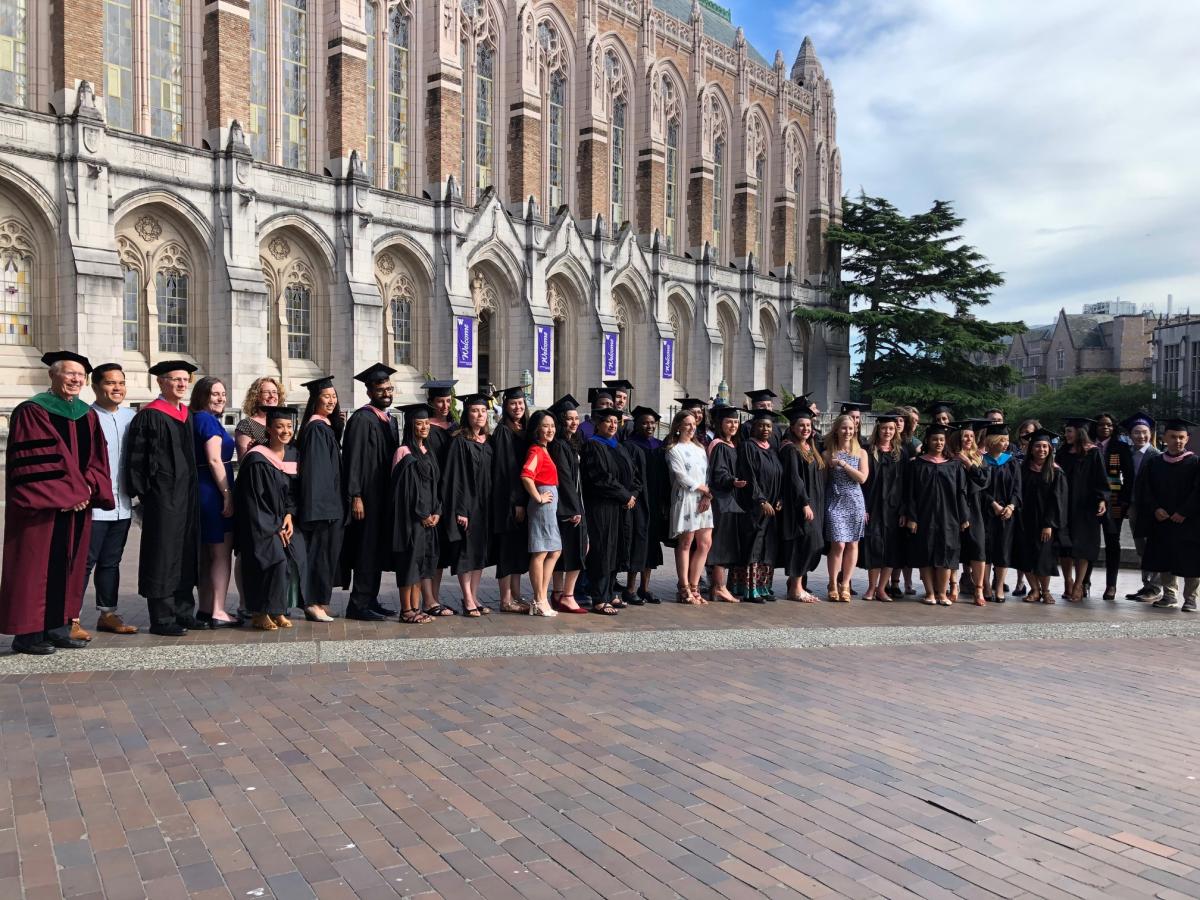 "When we leave here, we leave as we intended at the beginning: not only as Masters of Public Health, but just as importantly, as re-centered and humbled servants for all people," said Manguerra, a student who is graduating with a Master of Public Health in Health Metrics and Evaluation.
The ceremony in Kane Hall recognized five Department of Global Health Outstanding Students: Rabi Yunusa, Outstanding Master's Student; as well as Kathryn McGuckin Wuertz, Outstanding PhD Student; Thomas Fritz Siegert, Outstanding Medical Student Achievement; Christopher Kemp, Gilbert S. Omenn Award for Academic Excellence, and Courtney Jackson; Husky 100.
Yunusa's thesis work centered on women getting proper health services in mother-to-child HIV transmission. During her time at the University of Washington, she received the Endowed Fellowship for Global Health Excellence, Equity and Impact from the Department of Global Health. Yunusa, a medical doctor from Nigeria, makes constant efforts to improve the health of Nigerian women, children, and adolescents.  
"Fundamentally we can fight implicit bias by conquering our fear of true equality," Yunusa said during her remarks at the graduation ceremony. "We have to believe that all people are equal in form and nature - it is only when we can do this that we can do meaningful health work. The social determinants of health are real and true and we need to consciously search for them and acknowledge them to tackle them. We have the capacity to do it, so let's do it."
McGuckin Wuertz used a fellowship from the U.S. Army Medical Service Corps to expand her global health experience, as her deployment in Afghanistan bred a new perspective. During her research, Wuertz researched the novel role of an immune protein used to defend West Nile Virus. Wuertz is graduating with a PhD from the Pathobiology program.
Siegert (M.D., Global Health Pathway) received the Medical Student Achievement Award for his international work in Uganda and Kenya, as well as domestic practices in Moscow, Idaho. He also participated in the Global Health Immersion Program (GHIP), which he described as his "first true global health experience".  
Kemp (PhD, Implementation Science) did implementation science projects in the mental health and HIV-prevention fields, performing research in partnership with the Southern African Research Consortium for Mental Health Integration. The scope of his impact extends to sub-Saharan populations as well as those in America. "We've been able to do a huge range of work that has substantive longitudinal impact in South Africa and vulnerable populations in the U.S."
Jackson (Master of Public Health, Leadership, Policy & Management) secured a spot on the Husky 100 list—the university's top student award—after turning her passion for global health into years of striving for "the development of equitable trade policies and mechanisms of foreign aid that allow for agency, power-sharing, and paths out of poverty."
"We have an education that gave us the skills, the knowledge, the relationships, and the experiences to participate in work towards global health," Manguerra (MPH, Health Metrics and Evaluation) said. "But in addition, I encourage us all to look back at the beginning, to regather within ourselves the stories and the people for whom we thought it would be worthwhile to set aside years of our life to pursue a degree in global health."
"There are no imposters here," Levan (PhD, Pathobiology) said. "There is no luck or chance that brought you here; this is the manifestation of the hard work and capability that you carried into your programs at the beginning of all this and that will continue to carry you into the future."
"As PhD's in Global Health we are all committed to the pursuit of truth in the service of building a more just, equitable, and flourishing world," Burstein (PhD, Metrics) said. "I can't wait to see how our paths continue to evolve and the marks they make on the world."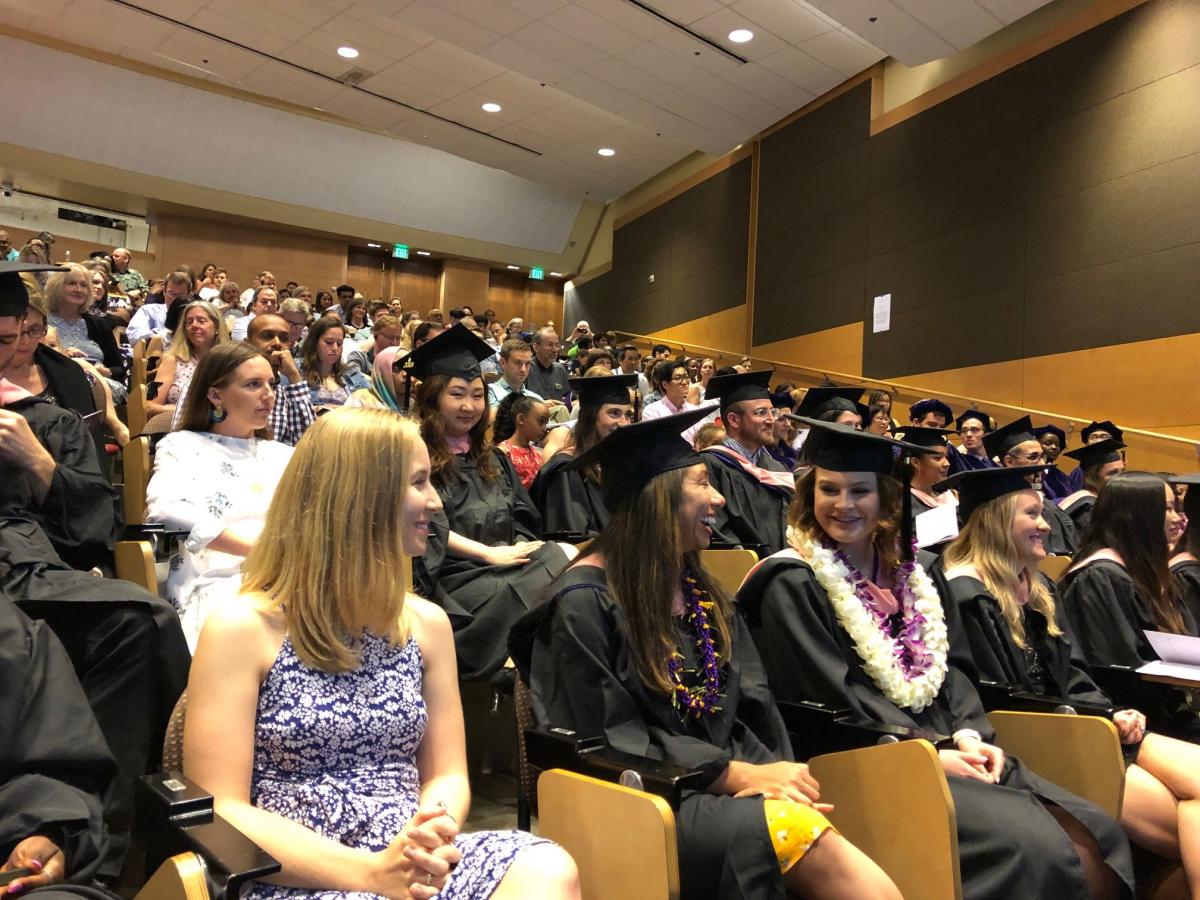 "Graduation is the perfect time to remember the importance of truth," Wasserheit said. "There has never been a time of greater urgency for your knowledge, your skills, your passion, your empathy, and your commitment. This is the time to be in Global Health."
"We need you. The world needs you. We have the honor and responsibility of being able to transform entire populations, particularly marginalized populations."
Join us in congratulating the class of 2019 as they move forward in their global health careers, making the world a healthier place at each step.
Graduation photos are now available here.