According to the WHO, the number of people worldwide with diabetes has risen from 108 million in 1980 to 422 million in 2014. And this number is expected to keep rising, with diabetes prevalence rising more rapidly in low- and middle-income countries. Diabetes can lead to serious health problems, including blindness, kidney failure, heart attacks, stroke and lower limb amputation. 
To help shed light on diabetes in LMICs, Brenda Kharono, MPHc, Global Health, University of Washington, and Mukantwari Edith, a nutrition specialist living with Diabetes Mellitus 1 in Uganda, share their stories in this blog.
Living with Diabetes in Uganda: A first-hand look
By Mukantwari Edith
Diabetes Mellitus type 1 has been a close companion of mine for 12 years now. For the longest time after my diagnosis, I viewed type 1 diabetes like a bad case of malaria or cough, for which I took tablets twice a day and thought would abate. I was not given any information at diagnosis and I underestimated my DM. I had exactly zero information about the disease, which put me at a significant disadvantage. Worse still, I didn't even know I had this disadvantage until 5 years post-diagnosis. 
With no access to smartphones at the time, my only source of information was the diabetic clinic. Then I joined a paediatric diabetes clinic at the Mulago National referral hospital in Kampala, Uganda from where I got free medications, doctor's visits and a quick introductory course to type 1 diabetes. I learned about the long-term complications, the HbA1c's, blood glucose monitoring, and taking hypertension drugs to slow progression into complications. This was the very first time I had any idea what I was actually dealing with, and at this point 7 years had already gone by. It reminded me of the worried faces people had when they heard about my diagnosis when I was 16. Even with all of that new information, diabetes still had plenty of curve balls to throw at me like hypoglycaemia unawareness, severe hypoglycaemia and stroke-like hypoglycaemia symptoms which were all shocking surprises that I was not equipped to handle.
Fast forward to today. I have searched for information from all over and while good to know, it was rarely useful due to lack of a structured education strategy and actionable tips. It was mostly haphazard and I was terrible at playing "connect-the-dots," until I found two amazing books, both written by type 1 heroes, Dr. Bernstein's Diabetes Solution by Dr. Richard Bernstein and Bright Spots and Landmines by Adam Brown. These two books have been very relatable teaching resources that I wish every type 1 diabetic could get their hands on, preferably written in languages they understand well and presented by people they can relate to. 
These books helped me understand type 1 diabetes and also understand myself in relation to the illness. Thanks to these two books, I have reclaimed my life from the clutches of type 1 diabetes and depression and my HbA1c came down from 10.5% to 6.9%. I am more hopeful than I have ever been. I have used my acquired knowledge from these books and my education background to assist my aunt, who has type 2 diabetes, to lower her HbA1c from 11.6% to 5.2%, and I hope to help many more. My aunt was floundering before, unsure of how to go about treatment since various medical personnel gave confusing pieces of advice that rarely worked….especially the diet advice from medical doctors.
Diabetes can take over a person's life and leave one feeling confused, helpless, hopeless, useless and even worthless. Many people at this point choose to ignore it, to their detriment. A study by Nyanzi et al. 2014 found that 53.9% of diabetic respondents had diabetic foot, while 33.8% had retinopathy and 25.6% had hypertension. It is true what they say: "Intelligence is our first line of defense against such terrorism." In a developing country, information is not easily accessible and many people are drowning under the weight of not understanding type 1 diabetes. Many people out there barely even have the tools to fight. However, having the tools is also useless if people do not understand how to use them to solve problems. We need to make that information available to people. 
Type 1 diabetes should never be the reason anyone gets held back from their dreams, their lives, their families or their communities. Patients living with diabetes need in-depth information to intimately understand just how much power they have to change their circumstances. It has to be delivered in a structured format, it should encourage understanding and inspire action in a relatable and supportive environment. This life-saving, life-changing information is needed now.
Diabetes in Uganda: What we can do
By Brenda Kharono
In 2003, 50,000 Ugandans were affected by diabetes with one in two (46.5%) adults with diabetes undiagnosed. The current prevalence of diabetes in Uganda is 1.4% (about 500,000) people, with higher prevalence of diabetes and pre-diabetes of 7.4% and 8.6%, respectively, reported in rural Eastern Uganda. The majority of people with high blood sugar are not even aware of their status. The mean age of people with diabetes in Uganda is 35 years.
Overall, the prevalence of Diabetes patients has gone up, yet health systems remain the same and are insufficient for addressing all affected people. Currently, the government has availed evidence-based protocols for management of diabetes, but has only 3 of the 13 WHO recommended basic medicines, technologies and procedures in the public health sector for diabetes management.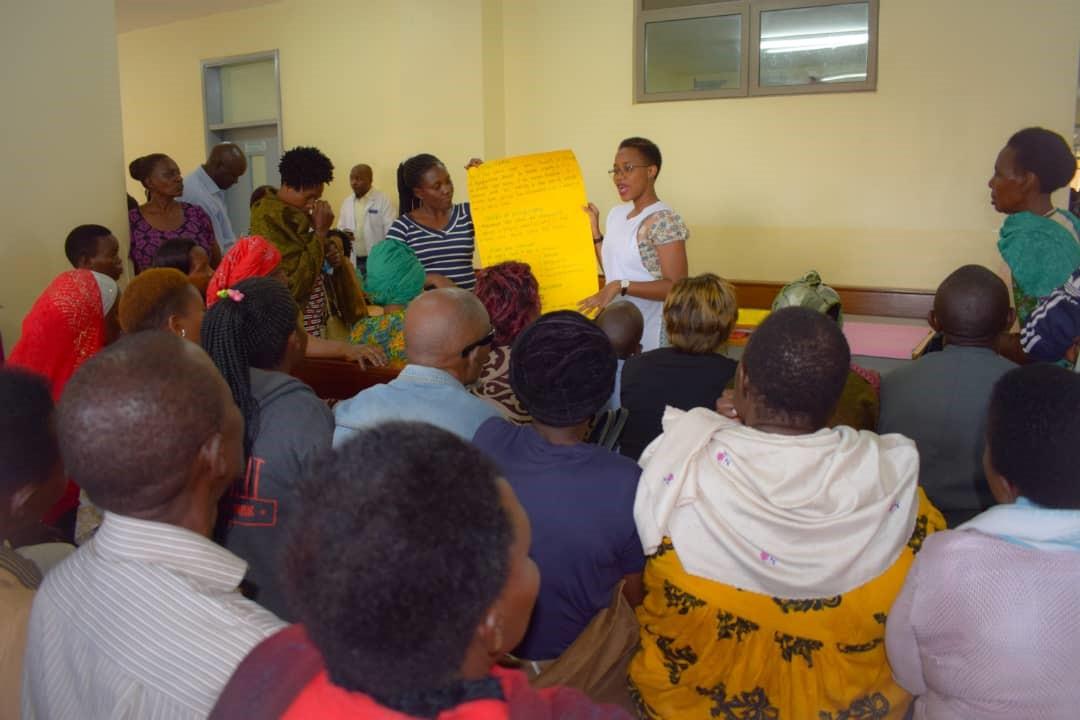 Patients face the consequences of an ineffective health system, with overwhelmed healthcare providers and lack of enough patient-provider time to understand the complexities surrounding disease management. The lack of a diabetes registry or uniform reporting system between healthcare centres and providers is a limiting factor in planning for preventive measures and treatment. These gaps are widened by the lack of nutritional support for patients who not only are uninformed about their conditions but are also ill-equipped to grapple with the psychosocial and behavioural routines, and dietary changes associated with a diagnosis of diabetes. 
An integrated approach to dietary/nutritional counselling support, treatment adherence and exercise are needed in the holistic provision of diabetes care. Dietary support from professional nutritionists and community health workers could go a long way in complementing effectiveness of the prescribed medication. The role of collaborative, integrated services between Ministry of Health physicians, nurses, nutritionists/dieticians, public health specialists, community health workers, psychologists, physical trainers, diabetes educators and pharmacists in slowing progression of NCDs like diabetes and preventing complications cannot be underscored. All these stakeholders are indeed necessary in the process of forming national guidelines and policies to manage NCDs. The government would benefit from boosting its health information systems to capture prevalence, incidence and morbidity of NCDs. These could be baby step towards a national operational strategy for diabetes in Uganda.