On Thursday, June 7, 2018, the Department of Global Health celebrated our 11th graduation since our founding in 2007. Over 140 students received degrees and certificates, including 3 graduates of the PhD programs, 53 graduates of the MPH program, 43 undergraduates with a Minor in Global Health, 17 graduates of the medical school on the Global Health Pathway, 8 Post-Bachelor Fellows, and 13 students that received a graduate certificate in Global Health.
The 2018 class joins a network of over 1,200 alumni who have gone on to work at all levels of global health programming, policy, research, and training around the world.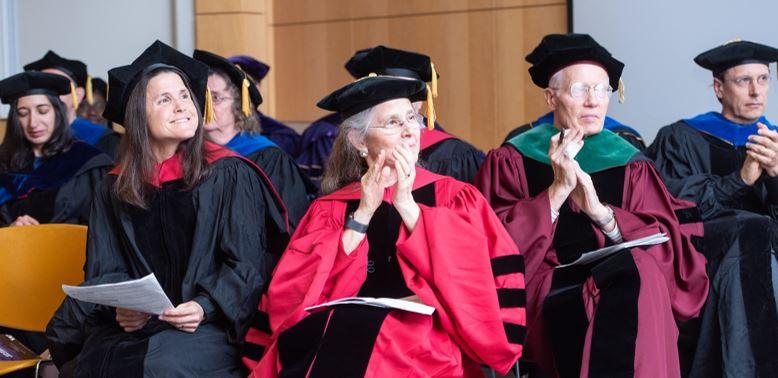 "Graduation marks the beginning of a new phase of life. Your lives will be transformed, and I hope you'll reciprocate by transforming the lives of others around the world," said Judy Wasserheit, MD, MPH, Chair, Department of Global Health (DGH).
The graduation celebration recognized Global Health Outstanding students: Peder Digre, Outstanding Master's Student; Emily Gage, DGH Outstanding PhD Student; Ryann Milne-Price, DGH Medical Student Achievement Award recipient; and Katrin Fabian, SPH Gilbert S. Omenn Award for Academic Excellence recipient.

"I am excited to apply the skills and knowledge gained through my MPH program to collaborate with and empower disadvantaged communities—locally and globally—to develop robust and creative solutions that improve health," said Peder Digre, Outstanding MPH student.
Peder served as the Chair of the Services and Activities Committee and Co-Chair of the Dean's Advisory Council for Students in the School of Public Health. Peder also works at PATH—a global health nonprofit headquartered in Seattle, where he has contributed to innovative initiatives to support entrepreneurs in low-resource settings to develop technologies to improve the health of women and children.  
 "With our degree, and with metrics and evaluation work, comes a great deal of responsibility. When putting research out into the world that we hope will make an impact, we are responsible for thinking critically about how this work might be used, how it might be interpreted, how it might be misused," said Emily Gage, Outstanding PhD student, in her Student Remarks, "We are responsible for considering the context and the communities involved. And we are also responsible for making our research a power for good."
In her Student Remarks, Katrin Fabian, SPH Gilbert S. Omenn Award for Academic Excellence recipient, reflected on her own position in the world and how it can contribute to both positive and negative systems, "Systems worldwide are designed to benefit those who are healthy and wealthy. But we can actively seek ways to counteract this. In the field of global health in particular, people from Western areas run the risk of imposing Western views in other parts of the world.  So I always try to think critically. Let's embrace our discomfort and make a difference in this world!"
Ryann Milne-Price, DGH Medical Student Achievement Award recipient, completed a study in partnership with the Department of Community Programs at Dhulikhel Hospital, Nepal on the regional use of safe and unsafe abortion services, "I hope to continue to be engaged with reproductive health access in rural areas through clinical practice, qualitative research, and community-imagined interventions. I am grateful to be a recipient of this award, as it will allow me to add to the growing international conversation around improving maternal health outcomes through access to safe abortion services."
"The Department of Global Health has shown me that each of our voices is a tool not just for science, but for social justice too," said Caroline Soi, PhD, Health Metrics and Implementation Science, who presented Student Remarks, at the graduation celebration, "I feel challenged, and to my fellow graduates, I extend the challenge: when we go back to our worlds, let us use our voices to fight for equity in our societies."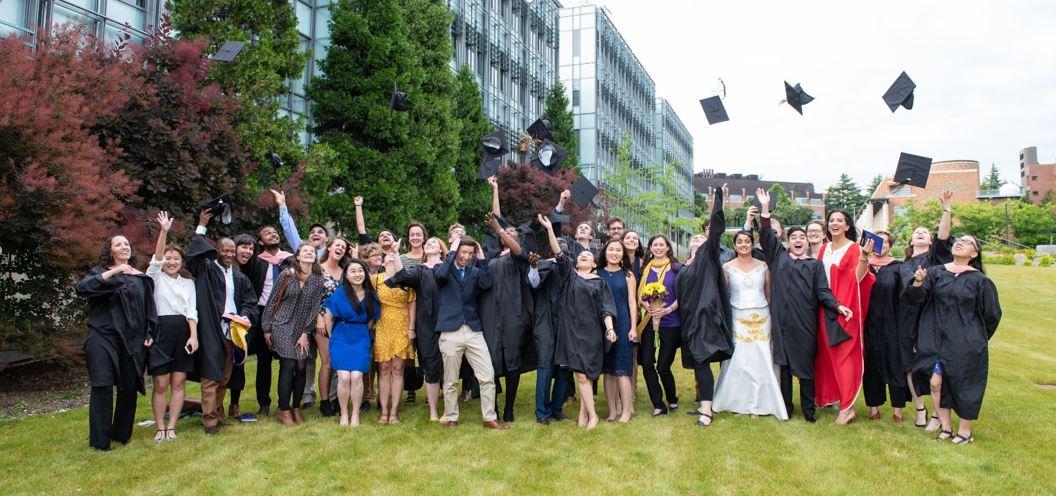 Please join us in congratulating their groundbreaking work to address health inequities around the world — we can't wait to see what the future holds for the class of 2018!