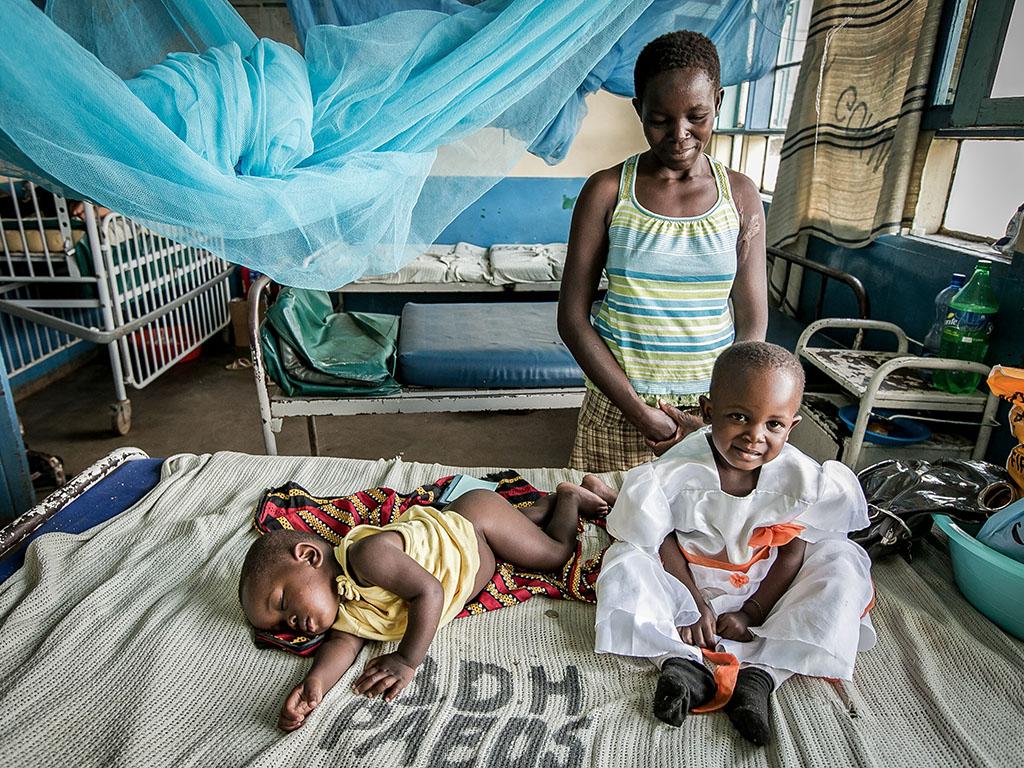 By Stephanie Edlund-Cho / Global WACh
Efforts to expand early care and treatment for pediatric HIV have dramatically decreased HIV and AIDS-related deaths among children. There is clear evidence that initiating antiretroviral therapy (ART) in children before they show signs of illness dramatically improves their health and development not just in childhood, but throughout their lifetime.  
The benefits of initiating ART among children during hospitalization are less understood. Because these children are already very sick with a weakened immune system, they may not fully benefit from ART and have tragically high death rates once they enter the hospital. The findings of a new study conducted by the University of Washington's Department of Global Health that seeks to understand the timing of ART treatment of these children was recently published in The Lancet HIV. 
The study looked at whether starting ART in hospitalized children urgently improves their outcomes and helps more children survive. In this context, "urgently" means in 48 hours of HIV identification and enrollment in care, rather than the standard 7-14 days, referred to as "post-stabilization ART."  The study compared trial results of 191 children ages 0-12 who were eligible to receive ART in 48 hours or eight days at four hospitals in Kenya.  
In the study, the research team did not observe differences in mortality rates, drug toxicity, immune system reactions, or adherence in children between the group who started ART urgently and those who received post-stabilization ART.  Although the team did not see reduced mortality, they concluded that administering ART urgently to children was a safe and feasible approach.  
"Ultimately, the ideal method to improve child survival is rapidly identifying HIV-infected children and initiating ART before symptoms of infectious diseases worsen," says Dr. Irene Njuguna, University of Washington's Global Center for Integrated Health of Women, Adolescents, and Children (Global WACh) and Kenyatta National Hospital in Nairobi, Kenya, and a researcher of the study. "In cases when hospitalization episodes occur and HIV is identified, the study supports WHO's guideline to initiate ART within the first week of HIV diagnosis even among hospitalized children with other diagnoses and not to wait to start ART until after hospital discharge."  
In many limited resource settings, however, putting the guideline into practice can be challenging, especially with limited access to methods to rapidly detect HIV in infants. Of the children enrolled in the study, more than a third were previously hospitalized, but not started on ART. 
The research team observed high mortality in the first few weeks following ART initiation, with 21% or almost 1 in 4 dying by six months post-hospitalization.  The high mortality rate among hospitalized HIV-infected children emphasizes the need for rapid HIV diagnoses and treatment as a matter of urgency.
In the standard practice of care (post-stabilization ART), clinicians caring for hospitalized newly diagnosed HIV-infected children prioritize treating the non-HIV infection, like pneumonia or tuberculosis.  Once the child is stabilized, clinicians initiate ART. ART is delayed due to specific concerns that include severe side-effects from multiple medications, inflammatory immune system reactions that could worsen the disease, difficulties in administering ART to children, and uncertainty of the child continuing ART at home without good adherence counseling.  The study suggests that clinicians can be reassured that starting ART before hospital discharge is feasible and has similar safety to delaying till stabilization. Importantly, it may prevent children from coming to hospital again or dying because they were not started on ART.
However, with either approach mortality was unacceptably high for these children. Until goals to test and treat all cases of pediatric HIV are met, further research on strategies to improve survival for late presenters is crucially needed.
Read the study findings and the Lancet commentary on the findings by Andrew J. Prendergast and Martina Penazzato, both published in The Lancet HIV.
See the infographic highlighting key study findings.
For more information, contact dghcomm@uw.edu 
Notes for editors:
The World Health Organization (WHO) recommends ART for all infected children within seven days of HIV diagnosis.  This international standard guides clinicians on general pediatric HIV diagnosis and treatment.  However, many HIV-positive children in sub-Saharan Africa slip through the cracks of HIV diagnostic systems and remain undiagnosed until they are hospitalized for severe illnesses exacerbated by HIV, such as pneumonia, malnutrition, and tuberculosis. In addition, many hospitalized children identified with HIV die while waiting for ART, before having the chance to access life-saving care.  
Dr. Njuguna is currently working on further pediatric HIV studies: The Financial Incentives to Increase Pediatric HIV Testing (FIT), Counseling and Testing for Children at Home (CATCH), Saliva Testing and Video Information to Expand Uptake of Pediatric Testing (STEP-UP). The studies have tested or are testing the feasibility of innovative interventions aimed to reduce the burden of HIV-infected children and save more children's lives.