Second year MPH student Maria Artunduaga, MD, competed in the University of Washington's Health Innovation Challenge in March as part of an interdisciplinary team of students from across campus including business, human centered design, occupational medicine, and health information management. Her team created a business proposal for an app that would help reduce fatal traffic accidents. She was inspired to focus on traffic injuries because of her field work in an emergency ward in Colombia last summer through the Thomas Francis Jr. Global Health fellowship, which she credits with inspiring her interest in global injuries. 
1) Tell us about your project.
About 1.25 million people die annually on the world's roads, and between 20 and 50 million sustain non-fatal injuries. Adults 15 to 44 years account for 59% of global road traffic deaths – one of the top three causes of mortality. I wanted to create a solution for the most vulnerable road users: pedestrians, cyclists and motorcyclists, who comprise half of the traffic deaths. Our mobile application integrates Department of Transportation fatal accident data with GPS-based mobile mapping to create an overlay of spatial points indicating the area's history of fatal or injurious traffic accidents and alerting users when they approach them.
2) You worked with an interdisciplinary team from across campus. How was that?
Last quarter, I joined a Health Innovation Seminar led by the Foster School of Business entrepreneurship expert Emer Dooley. She inspired and encouraged me to pursue my interest in injury prevention. She understood the global burden of disease, and recognized that my proposal could significantly impact low- and middle-income countries. Forming the teams wasn't difficult: I recruited classmates based on their interests and backgrounds. Initially, MBA candidates mentored us (the scientists) on the requirements for the Health Innovation Challenge. Each of us concentrated on our areas of expertise and communicated electronically.
3) What was the biggest highlight of the contest for you?
I was terrified of the first section -- pitching the judges to convince them that our idea could generate a significant global impact. Sixty seconds can challenge a non-native speaker. Fortunately I practiced a lot and it went well. The second part challenged us because DGH students generally discuss numbers, papers and topics unrelated to finances or management. I had prepared myself, but I was impressed by the depth of questions and I realized how much I have to learn about communicating with the private sector.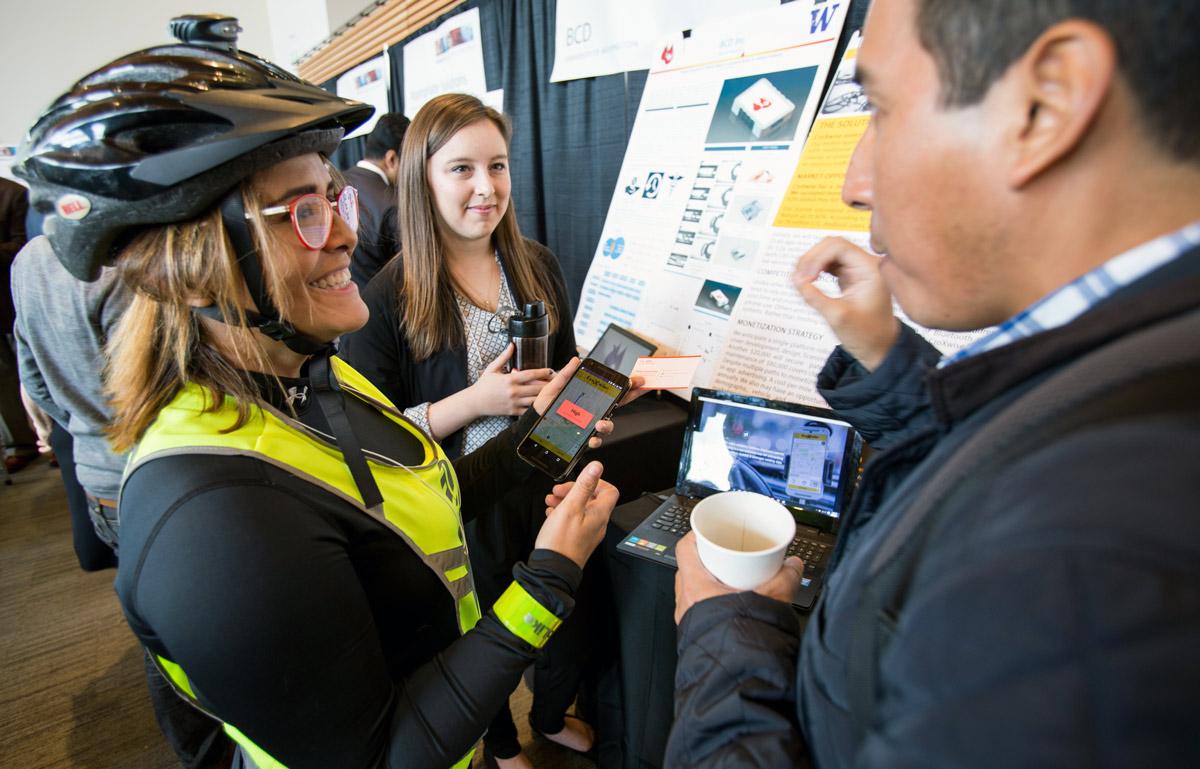 4) How do you think your participation in this contest affected your career?
Enormously! After my summer practicum at PATH, I realized that I'd like to use technology to tackle global health problems. Last week, UC Berkeley accepted me to spend a year studying the bioengineering, clinical, and entrepreneurial aspects of translating medical innovation into clinical reality. I'm passionate about improving healthcare globally through cost-effective diagnostic technologies and/or mobile applications. I hope to offer a fresh perspective on addressing global health problems from an entrepreneurial approach.
5) What advice do you have for global health students interested in entering innovation contests?
Someone who likes to think out of the box should consider taking the ENTRE 597/490 Health Innovation Seminar course. There's a large disconnect between UW schools and many teams fail to understand the global burden of the disease they are addressing and/or appreciate the clinical needs of the devices they want to develop. The Buerk Center for Entrepreneurship is eager for people like us to help with innovative global health solutions. Importantly, they have the money and network to realize people's ideas.
Read the CroXwise business summary
Dr. Maria Artunduaga is a second-year MPH graduate student in the Department of Global Health. She graduated cum laude with a medical doctorate from Pontificia Universidad Javeriana, earned a post-doctoral research fellowship in human genetics at Harvard Medical School, and trained in plastic and reconstructive surgery at University Of Chicago School Of Medicine.  She has published in such top scientific journals as The New England Journal of Medicine and Nature, received numerous awards while at the University of Washington, including a GO-MAP tuition waiver for academic merit and the Thomas Francis Jr. Global Health Fellowship. She is the department' Diversity and Inclusion Committee and the Resource Center Advisory Board graduate representative. She is dedicated to social justice, leadership and policy development, and experienced in mixed-methods research, global surgery and international medical education. A practicum with the PATH diagnostics program sparked an interest in technological solutions. She is passionate about improving healthcare globally using cost-effective diagnostic technologies and mobile health applications. Dr. Artunduaga will pursue a masters in translational medicine at UC Berkeley to gain fresh perspectives on addressing global health problems from an entrepreneurial perspective.
Connect with Dr. Artunduaga via LinkedIn
@martunduaga