Anna Bazinet is a fourth-year medical student at the University of Washington who is currently on a fellowship through Strengthening Care Opportunities through Partnership in Ethiopia (SCOPE), a program in the Department of Global Health. She will be spending five months in Gondar, Ethiopia where she will build on existing data from the SCOPE program to identify opportunities to use the reach and influence of the Ethiopian Orthodox Church to improve health education for HIV/AIDS, preventing mother-to-child transmission of HIV, assisted birth, or nutrition with the goal of improving the health of women, adolescents, and children in Gondar, Ethiopia. Her husband Oliver is joining her for the first six weeks. This post originally appeared on Anna and Oliver's blog, Adventures in Gondar, on January 5, 2016.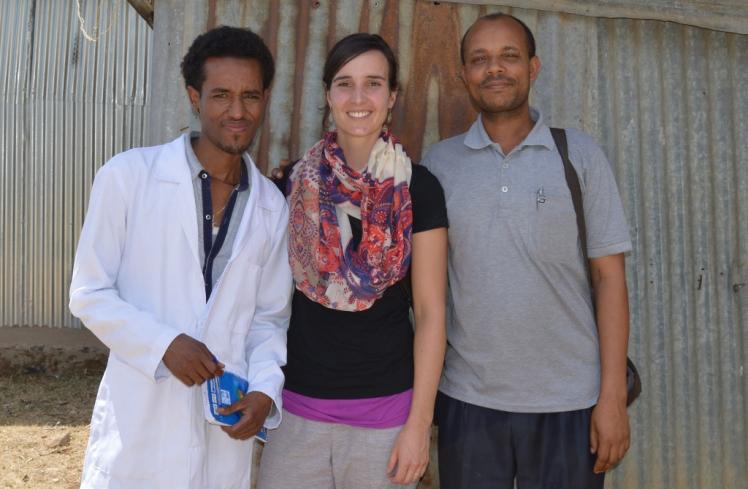 On Thursday we joined Getnet, our Ethiopian liaison, to visit what will likely be SCOPE's new clinic site in Ayambe [also spelled Ayemba]. It is about an hour outside of Gondar by taxi van (a transportation method that warrants further discussion, but later) first to Azezo, a nearby suburb, and then hopping on another to Ayambe. Our driver was nice enough to pull right onto the road to the clinic, which is also shared with the elementary school. We were spotted immediately and surrounded within 20 ft of emerging from the van by at least 30 children saying "hello, hello, hello;" "you, you, you, you;" and running up to shake our hands. This is a pretty regular occurrence in our day-to-day here, but not at this magnitude. Geta explained that it was probably lunch time, so all of the kids had either just emerged from the school or were on their way. Regardless, it was all very friendly. As we got to the gate of the clinic, a couple of staff members told the kids to scram and we made our way to the office.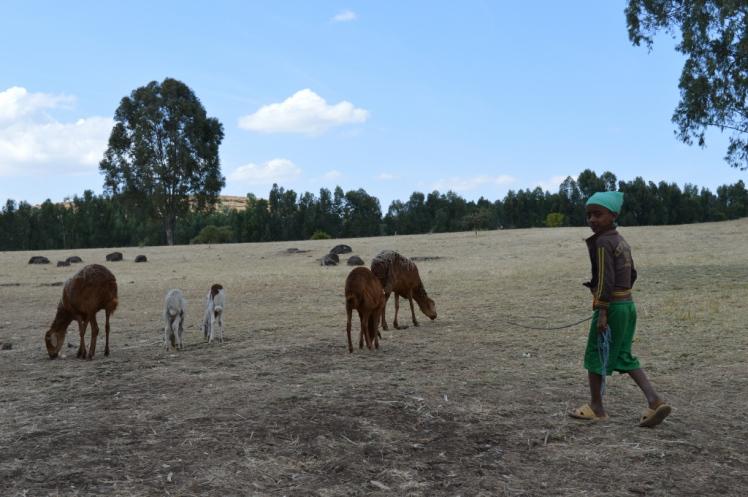 The clinic manager was absent on Thursday so we met with their stand-in, Brahmu. Getnet explained the mission and strategy of SCOPE and that the clinic had been recommended for the program expansion by the zonal health office. Brahamu was very receptive, and said that increasing the number of expectant mothers receiving pre-natal care was one of the primary goals of the clinic. He said they would be 100% supportive of SCOPE making Ayemba their next site. They have been diligently collecting and reporting on a number of metrics on display in their office and they were happy to provide all of these numbers as part of the program.  He also invited us to sit in on a meeting with about 30 women in the village to encourage expectant mothers to use the clinic's services and solicit feedback on how they could make the clinic a more attractive birth location.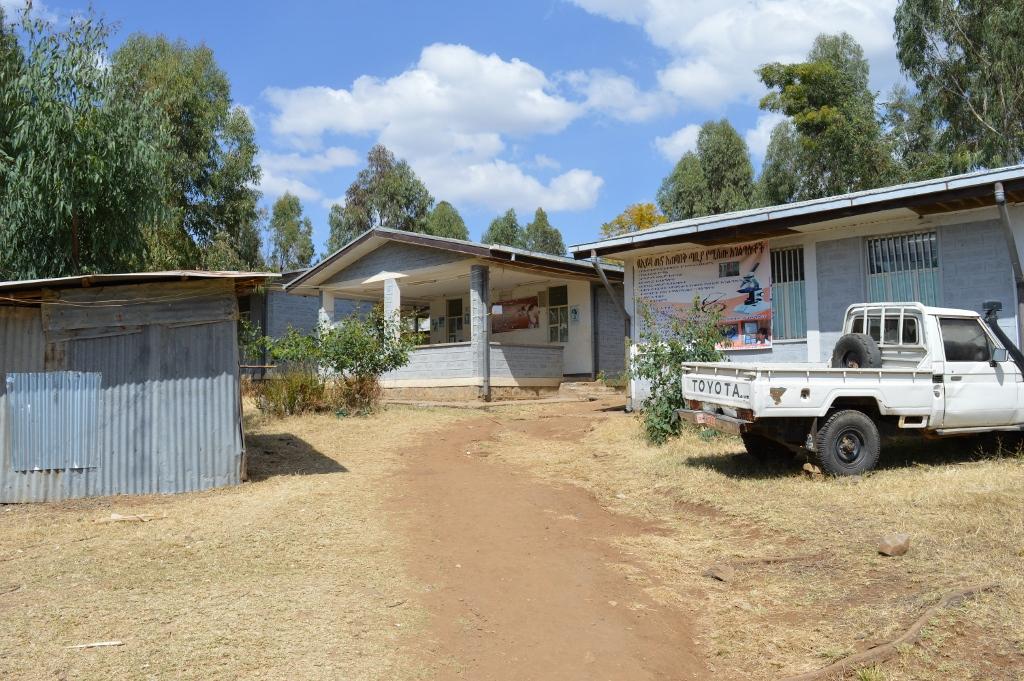 Taking photos at the clinics is a bit sensitive – the culture around photos is a bit different in Ethiopia – and this difference in comfort with photos is only amplified in a situation in which people feel they are already not at their best or somehow compromised. We didn't really even ask to take photos of patients for this reason, but we got some of the buildings, some surroundings, the clinic administrator we met with, along with the charts showing some of the important metrics that the clinic was tracking.
Metrics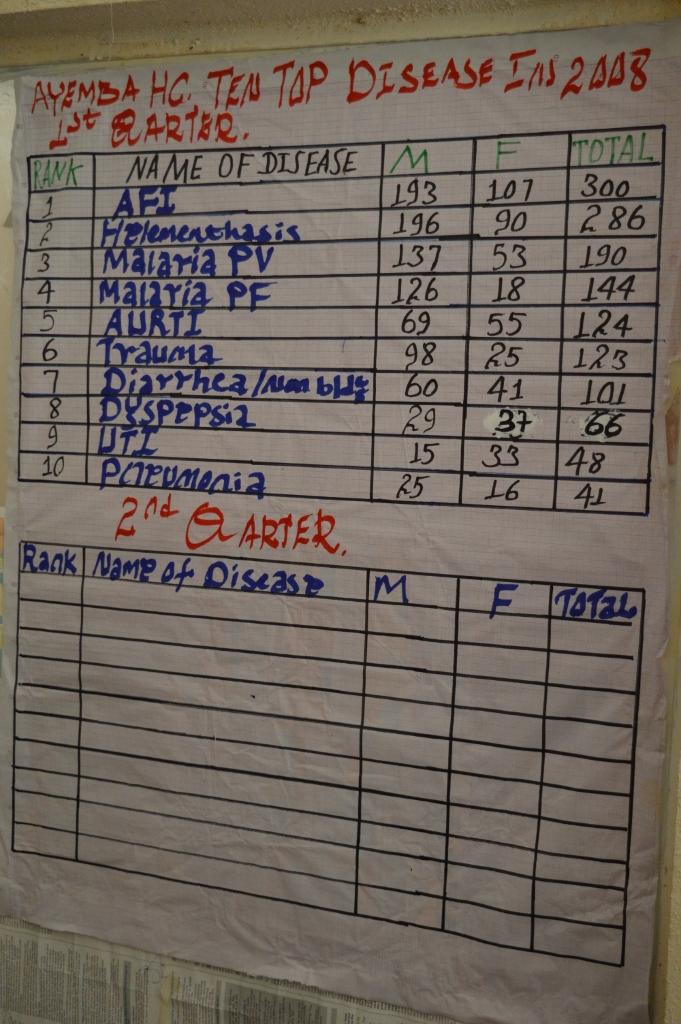 As mentioned above, we were very impressed with the clinic's emphasis on tracking metrics to understand their performance. I took a number of photos of the posters hanging in the manager's office, including a hand-drawn map of their jurisdictional areas (kabeles). There was hardly any blank space on the walls, and while at first I was a little concerned that this was out of date, I then remembered that in the Ethiopian calendar it is now mid-2008.
For more information about the SCOPE Fellowship, visit our funding for fieldwork section. Applications open February 1, 2016 and are due March 14, 2016. To read more about Anna's time in Ethiopia, visit their blog, Adventures in Gondar.