Senior Lecturer Emeritus, Global Health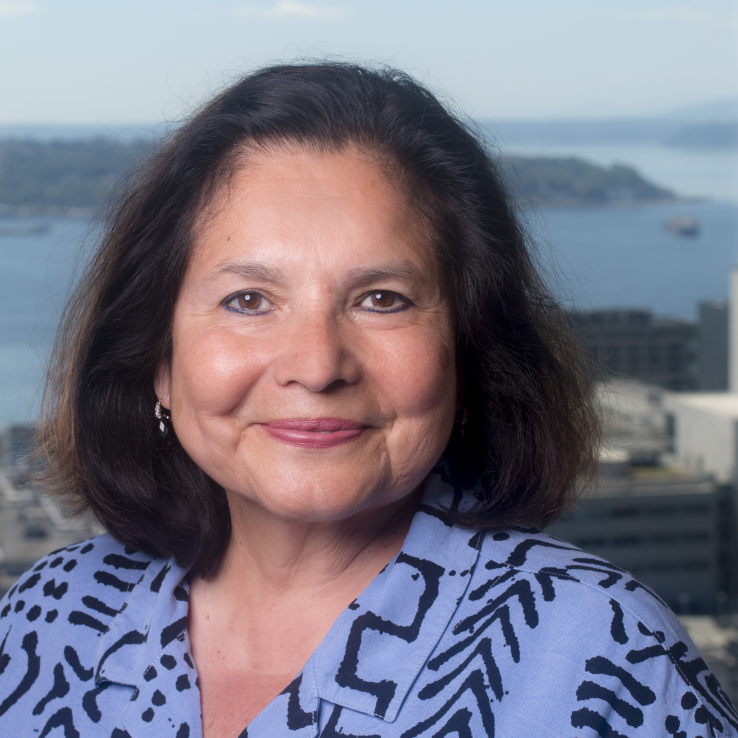 International Training and Education Center for Health (I-TECH)
901 Boren, Suite 1100
Box 359932
Seattle, WA 98104
United States
Phone Number:
206-616-1355
Select from the following:
Biography
VIRGINIA GONZALES, MSW, MPH, EdD, is the Senior Technical Specialist for the University of Washington International Training & Education Center for Health (I-TECH). She is currently working on developing supportive materials on mentoring for the Fogarty Kuskaya project, based at the University of Washington and the Universidad Peruana Cayetano Heredia in Lima Peru. She served as a Technical Specialist for the University of Washington and University of Namibia (UNAM) Twinning Project. In 2009 the project was awarded a five-year cooperative agreement with the Centers for Disease Control and Prevention (CDC) to work with UNAM faculty to support the graduate program in public health. She has also worked on Prevention of Mother To Child Transmission of HIV/AIDS activities in Ethiopia, Mozambique, Namibia, Kenya, and the Caribbean. Since 1993, Dr. Gonzales has been a faculty member at the University of Washington, School of Public Health in the Department of Global Health. She has been working in the area of HIV/AIDS since 1989. She was based in Nepal and New Delhi, India while working with the World Health Organization Global Program on AIDS serving as the health education specialist for the South East Asia Region. She has worked in Bangladesh, Bhutan, India, Indonesia, Myanmar, Maldives Is., Nepal, Sri Lanka, Thailand,Caribbean and Africa. She has coordinated STD/HIV/AIDS counseling workshops in the Maldives Islands, Myanmar, Bangladesh and Peru and has facilitated a support group for drug- addicted HIV infected men. Dr. Gonzales has an educational background in Social Work, Public Health, and Education with a focus on Counseling and Consulting Psychology



Education
EdD (Harvard University)
MPH (University of California (Berkeley))
MSW (University of California (Berkeley))
BA (California State University, Los Angeles)
Health Topics
Education and Training
HIV/AIDS
Maternal Child Health (incl. Reproductive Health)
Mental Health
DGH Centers, Programs and Initiatives and Affiliated Organizations
Expertise
Women's health, national and international STD/HIV/AIDS prevention, prevention of mother-to-child transmission of HIV
Publications
Van Devanter, N., Cohall, M., Litwak, E., Gonzales, V., Travers, S., Greenberg, J. Developing and Maintaining Post-Intervention Drop-In Groups for Women at Risk of HIV/STDs: The WINGS Experience. Accepted by the journal: Women and Health. 1998.

Greenberg, J., Lifshay, J., Van Devanter, N., Gonzales V., Celentano, D., Preventing HIV infection: the effects of community linkages, time and money on recruiting and retaining women in intervention groups. Journal of Women's Health. 1998 June; 7 (5): 587-96.

Gonzales, V., Washienko, KW., Chapman, LI., Arredondo, EM., Huckeba, HJ., Krone, MR., Downer, A. Sexual and Drug Risk Factors for HIV and STDs: A Comparison of Women With and Without Bisexual Experiences. American Journal of Public Health. December, 1999.

Greenberg, J, Hennessy M, MacGowan, R., Celentano D., Gonzales V., Van Devanter N., Lifshay, J. Modeling intervention efficacy for high-risk women. The WINGS Project. Evaluation of the Health Professions. 2000 June; 23(2):123-48.

Smith, S., Gonzales, V. All Plans Need CLAMS: Culturally and Linguistically Appropriate Material for diverse Populations. HeathPlan. Sept/Oct. 2000.

Van Devanter, N., Cohall, R., Faber, N., Litwak, L., Gonzales, V., Dahn-Krieger S., Messeri, P., Weinberg, G., Greenberg, J., Factors Influencing Participation in Weekly Support Groups Among Women Completing and HIV/STD Intervention Program. Women and Health. May 2000 Vol 30 (1).