Affiliate Professor, Global Health
Vice President, Preclinical Biology, IDRI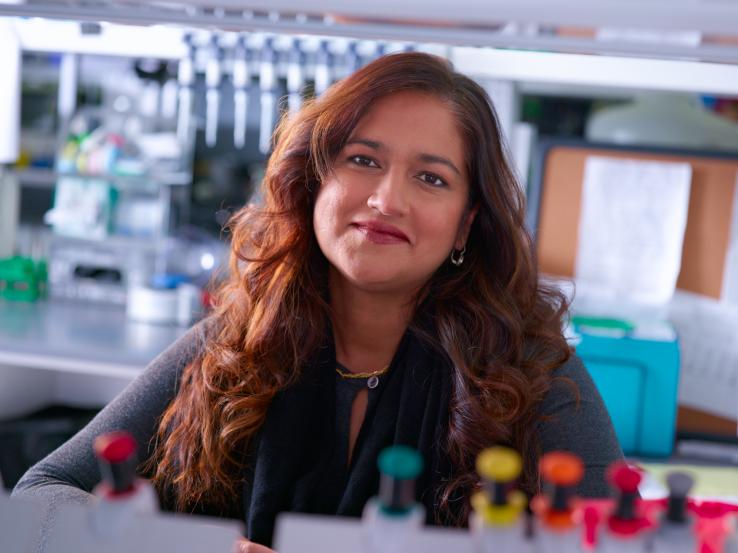 Infectious Disease Research Institute
1616 Eastlake Ave East, Suite 400
Seattle, WA 98102
United States
Phone Number:
206-858-6065
Select from the following:
Biography
Rhea Coler is the Senior Vice President of Preclinical and Translational Research at IDRI and an Affiliate Professor in the Department of Global Health at The University of Washington. Her work focuses on the characterization of candidate vaccines for tuberculosis, leishmaniasis, nontuberculous mycobacteria, West Nile Virus and Chikungunya. Uncovering the roles that innate and adaptive immunity play during these infectious processes are key research questions in the Coler lab. Elucidating the mechanisms of protection against these diseases could lead to the development of novel prophylactic and therapeutic interventions.

Rhea has been the recipient of several fellowships and grants awarded by the NIH/NIAID, the Medical Research Council (MRC), and PATH Vaccine Solutions. She has several patents and has co-authored more than 60 original articles. After doing field work on malaria control in Tanzania, she returned to Trinidad where she worked in the Department of Parasitology and Entomology at the Caribbean Epidemiology Center (CAREC), funded in part by the Center for Disease Control and the World Health Organization.

Rhea received her BSc from McGill University and her MSc at the London School of Hygiene and Tropical Medicine. She obtained her PhD from the School of Public Health and Community Medicine (SPHCM) at the University of Washington.
Education
PhD (University of Washington)
MSc (London School of Hygiene & Tropical Medicine (UK))
BSc (McGill University (Canada))
Health Topics
Biodefense infectious diseases
Drug and Vaccine Development
Infectious Diseases
Influenza
Innate Immunity
Laboratory Strengthening
Leishmaniasis
Molecular Immunology
Neglected Diseases, Tropical Medicine (incl. Parasites)
Non-communicable diseases
Pathobiology
TB
Viruses
Zoonotic Diseases and Animal Health
Pathobiology research areas
DGH Centers, Programs and Initiatives and Affiliated Organizations
Expertise
Candidate vaccines for tuberculosis, leishmaniasis, malaria, HIV, West Nile virus, anthrax and influenza.
Publications
Coler RN, Bertholet S, Moutaftsi M, Guderian JA, Windish HP, Baldwin SL, Laughlin EM, Duthie MS, Fox CB, Carter D, Friede M, Vedvick TS, Reed SG. Development and characterization of synthetic glucopyranosyl lipid adjuvant system as a vaccine adjuvant. PLoS One. 2011 Jan 26;6(1):e16333. PubMed PMID: 21298114; PubMed Central PMCID: PMC3027669.

Bertholet S, Ireton GC, Ordway DJ, Windish HP, Pine SO, Kahn M, Phan T, Orme IM, Vedvick TS, Baldwin SL, Reed SG*, Coler RN*. A defined tuberculosis vaccine candidate boosts BCG and protects against multidrug-resistant Mycobacterium tuberculosis. Sci Transl Med. 2010 Oct 13;2(53):53ra74. PubMed PMID: 20944089; PubMed Central PMCID: PMC3110937.

Fox CB, Mulligan SK, Sung J, Dowling QM, Fung HW, Vedvick TS, Coler RN. Cryogenic transmission electron microscopy of recombinant tuberculosis vaccine antigen with anionic liposomes reveals formation of flattened liposomes. Int J Nanomedicine. 2014;9:1367-77. PubMed PMID: 24648734; PubMed Central PMCID: PMC3956628.

Coler RN, Duthie MS, Hofmeyer KA, Guderian J, Jayashankar L, Vergara J, Rolf T, Misquith A, Laurance JD, Raman VS, Bailor HR, Dubois Cauwelaert N, Reed SJ, Vallur A, Favila M Orr MT, Ashman J, Ghosh P, Mondal D, Reed SG. From mouse to man: safety, immunogenicity and efficacy of a candidate leishmaniasis vaccine LEISH-F3+GLA-SE. Clin Trans Immunol. 2015 Apr 10;4(4):e35. PubMed PMID: 26175894 PubMed Central PMCID: PMC4488838

Van Hoeven N, Joshi SW, Nana GI, Bosco-Lauth A, Fox C, Bowen RA, Clements DE, Martyak T, Parks DE, Baldwin S, Reed SG, Coler RN. A Novel Synthetic TLR-4 Agonist Adjuvant Increases the Protective Response to a Clinical-Stage West Nile Virus Vaccine Antigen in Multiple Formulations. PloS one. 2016;11(2):e0149610. doi: 10.1371/journal.pone.0149610. PubMed PMID: 26901122; PMCID: PMC4762984.