Associate Professor, Global Health
Associate Professor, Allergy and Infectious Dis.
Adjunct Associate Professor, Epidemiology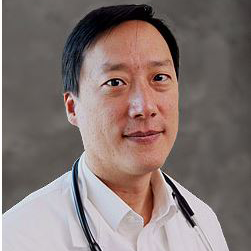 325 Ninth Avenue
Box 359909
Seattle, WA 98104
United States
Phone Number:
206-543-4278
Select from the following:
Biography
Dr. Chung lives in Nairobi, Kenya and has been involved in HIV treatment, epidemiology research, and medical education in Kenya and Vietnam since 2002. He has led randomized clinical trials on adherence to antiretroviral medications, cervical cancer screening and treatment, and transmitted antiretroviral drug resistance. In 2004, Dr. Chung co-founded the Coptic Hope Center for Infectious Diseases, an HIV clinic which has become one of the largest single-site antiretroviral treatment centers in Kenya. He is the Director of Treatment, Research, and Expert Education (TREE), a program dedicated to addressing the health needs of people living in resource-limited settings. Dr. Chung leads a UW partnership with the University of Nairobi to train fellows to manage the Kenyan HIV epidemic and to give health researchers more skills in information and communication technology (ICT). As co-director of the Department of Global Health's E-learning Initiative (eDGH), he has pioneered the use of the internet to deliver UW academic courses to an international audience, building upon the principle that better medical education leads to better patient care. Dr. Chung co-directs the Mekong Health Collaborative which seeks to leverage UW academic resources to improve health in Vietnam, Laos, and Cambodia.
Education
MD (University of Chicago)
MPH (Harvard University)
BA (Oberlin College)
Health Topics
Cancer
Clinical Mentoring
Digital Media
Distance Learning
Economics
Education and Training
Health Interventions
Health Systems Strengthening and Human Resources Development
HIV/AIDS
Implementation Science
Infectious Diseases (other than STDs)
Informatics
Leadership and Organizational Development
Maternal Child Health (incl. Reproductive Health)
Metrics and Evaluation
Pathobiology
Publications
Chung MH, Silverman R, Beck IA, Yatich N, Dross S, McKernan-Mullin J, Bii S, Tapia K, Stern J, Sakr SR, Kiarie JN, Frenkel, LM. Increasing HIV-1 Drug Resistance among Antiretroviral-Naïve Adults Initiating Treatment between 2006 and 2014 in Nairobi, Kenya. (2016). AIDS. 2016 Jun 19; 30(10):1680-2.

Chung MH, Beck IA, Dross S, Tapia T, Kiarie JN, Richardson BA, Overbaugh J, Sakr SR, John-Stewart GC, Frenkel LM. (2014). Oligonucleotide Ligation Assay Detects HIV Drug Resistance Associated with Virologic Failure among Antiretroviral-Naïve Adults in Kenya. JAIDS, 1;67(3):246-53.

Chung MH, McKenzie KP, De Vuyst H, Richardson BA, Rana F, Pamnani R, Njoroge JW, Nyongesa-Malava E, Sakr SR, John-Stewart GC, Mugo NR. (2013). Comparing Pap Smear, VIA, and HPV Cervi-cal Cancer Screening Methods among HIV-positive Women by Immune Status and Antiretroviral Thera-py. AIDS, e-pub Jul 9, 2013.

Chung MH, Severynen AO, Hals MP, Harrington RD, Spach DH, Kim HN. (2012). Offering an American Graduate Medical HIV Course to Health Care Workers in Resource-Limited Settings via the Internet. PLoS ONE, 7(12):e52663.

Chung MH, McKenzie KP, Richardson BA, John-Stewart GC, Coombs RW, De Vuyst H, Njoroge JW, Nyongesa-Malava E, Sakr SR, Mugo NR. (2011). Cervical HIV-1 RNA Shedding after Cryotherapy among HIV-positive Women with Cervical Intraepithelial Neoplasia Stage 2 or 3. AIDS, 25(15), 1915-1919.