Adjunct Associate Professor, Global Health
Associate Professor, Medicine - Allergy and Infectious Diseases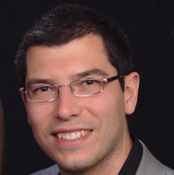 Harborview Medical Center
Research and Training Building
325 9th Ave Box 359779
Seattle, WA 98104
United States
Phone Number:
408-338-5406
Select from the following:
Biography
Dr. Giacani officially joined the University of Washington in 2005 as a post-doctoral fellow in Sheila Lukehart`s lab with the purpose of continuing the research on Treponema pallidum virulence factors that he began in 2001 as graduate student at the University of Bologna and subsequently as a visiting scientist in Dr. Lukehart`s lab in 2002. In 2010 he became an Acting Instructor in the DOM-AID and in 2012 he transitioned to the rank of Assistant Professor after receiving external funding to support his research projects. Dr. Giacani is an Adjunct Assistant Professor in Global Health, and Faculty in the Pathobiology PhD program, where he fulfills his official teaching commitments.
Education
PhD (University of Bologna (Italy))
BS (University of Bologna (Italy))
Health Topics
Drug and Vaccine Development
Genomics
Infectious Diseases
Molecular Immunology
Neglected Diseases, Tropical Medicine (incl. Parasites)
Pathobiology
Pathogenesis
Research
STDs (other than HIV)
Pathobiology research areas
DGH Centers, Programs and Initiatives and Affiliated Organizations
Expertise
Pathogenesis of syphilis; congenital syphilis;gene regulation in Treponema pallidum, the agent of syphilis; treponema pallidum outer membrane proteins; subspecies and strains; vaccine development, antibiotic resistance; molecular epidemiology; multilocus strain typing system.
Publications
Giacani L, Bernstein LR, Haynes AM, Godornes BC, Ciccarese G, Drago F, Parodi A, Valdevit S, Anselmi L, Tomasini CF, Baca AM. Topical treatment with gallium maltolate reduces Treponema pallidum subsp. pertenue burden in primary experimental lesions in a rabbit model of yaws. PLoS Negl Trop Dis. 2019 Jan 2;13(1) [original work]

Parveen N, Fernandez M, Haynes AM, Zhang RL, Godornes BC, Centurion-Lara A, and Giacani L. Non-pathogenic Borrelia burgdorferi expressing Treponema pallidum TprK and Tp0435 antigens as a novel approach to evaluate syphilis vaccine candidates. Vaccine. 2019 Mar 22;37(13) [original work]

Godornes C, Ciccarese G, Drago F, Giacani L. Treponema pallidum subsp. pallidum DNA and RNA in Semen of a Syphilis Patient Without Genital or Anal Lesions. Sex Transm Dis. 2019 Jun;46(6):e62-e64 [original work]

Haynes AM, Godornes C, Ke W, Giacani L. Evaluation of the protective ability of the Treponema pallidum subspecies pallidum Tp0126 OmpW homolog in the rabbit model of syphilis. Infect Immun. 2019 Jun 10 [original work]

Djokic V, Giacani L, Nikhat Parveen N. Analysis of host cell binding specificity mediated by the Tp0136 adhesin of the syphilis agent Treponema pallidum subsp. pallidum. PLoS Negl Trop Dis. 2019 May 9;13(5) [original work]