Adjunct Professor, Global Health
Professor, Pediatrics - Infectious Diseases
Professor, Laboratory Medicine and Pathology
Adjunct Professor, Medicine - Allergy and Infectious Dis.
Member, HIVDR Guidelines Development Group, WHO
Invited Member, HIVResNet Working Group 3 (Research & Innovation), WHO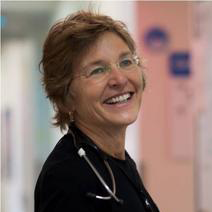 Pediatric Infectious Diseases Virology Clinic
Seattle Children's
4800 Sand Point Way NE
Seattle, WA 98105
United States
Phone Number:
206-987-5140
Select from the following:
Biography
Dr. Frenkel's group researches mechanisms of HIV persistence and HIV drug resistance. Past work refuted the concept of transient HIV infection in infants (Science, 1998; PMID9582120); was first to suggest (J Virol 2005, PMID16014925) and later provide proof that proliferating cells that have a major role in sustaining the HIV reservoir; (J Virol 2013, PMID23175380; Science 2014, PMID25011556), and rekindle infection following ART suspension (PLoS Pathog 2020, PMID32841299). Our finding that HIV is integrated disproportionately into genes that control immune functions (J Infect Dis 2017, PMID28520966) has led to current projects investigating HIV reservoirs effects on (1) cervical cancer, (2) immune tolerance of HIV infants, and (3) immune activation.

Our research on HIV drug resistance defines reservoirs of mutants (Clin Infect Dis 2010, PMID20377404) and the utility of point mutation assays to diagnose HIV drug resistance (Lancet HIV 2019, PMID32386719). Current studies aim to define mutant codons associated with failure of dolutegravir-based treatments in low-resource settings and to develop inexpensive assays (Panpradist, EBioMedicine 2019 PMID31767540 and AIDS PMID32205723.
Education
MD (University of Kansas Medical Center)
BA (University of Kansas)
Health Topics
Cervical Cancer
Child and Adolescent Health (incl. Pediatrics)
HIV/AIDS
Host-Pathogen Interactions
HPV
Infectious Diseases
Pathobiology
Pathogenesis
DGH Centers, Programs and Initiatives and Affiliated Organizations
Publications
Wagner TA, McLaughlin S, Garg K, Cheung CY, Larsen BB, Styrchak S, Huang HC, Edlefsen PT, Mullins JI, Frenkel LM. 2014. HIV latency. Proliferation of cells with HIV integrated into cancer genes contributes to persistent infection. Science 345(6196):570-573. PMID25011556. PMCID: PMC4230336.

Mullins JI and Frenkel LM. 2017. Clonal Expansion of Human Immunodeficiency Virus-Infected Cells and Human Immunodeficiency Virus Persistence During Antiretroviral Therapy. J Infect Dis 215(suppl_3):S119-S127. PMID28520966.

Shafer RW and Frenkel LM. The Clinical Implications of Pretreatment Drug Resistance-A Moving Target. Clin Infect Dis 2019 Jul 2;69(2):215-217.
PMID30321316. (PMCID N/A)

Michael H. Chung, Christine J. McGrath, Ingrid A. Beck, Molly
Levine, Ross S. Milne, Isaac So, Nina Andersen, Sandra Dross,
Robert W. Coombs, Bhavna Chohan, Nelly Yatich, Catherine Kiptinness, Samah R. Sakr, James N. Kiarie, Lisa M. Frenkel. A Randomized Clinical Trial Evaluating the Management of 1 Pre-Treatment HIV Drug Resistance by Oligonucleotide Ligation Assay. Lancet HIV, in final review. 2019