Adjunct Professor, Global Health
Professor, Pediatrics - Infectious Diseases
Professor, Laboratory Medicine
Adjunct Professor, Medicine - Allergy and Infectious Dis.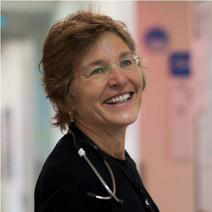 Pediatric Infectious Diseases Virology Clinic
Seattle Children's
4800 Sand Point Way NE
Seattle, WA 98105
United States
Phone Number:
206-987-5140
Select from the following:
Biography
The Frenkel laboratory's focuses on four primary areas of research:

First, we are working to understand the mechanisms that despite effective antiretroviral therapy that allow HIV infection to persist.

Second, our group conducts studies to elucidate how HIV infection, despite effective antiretroviral therapy, results in higher rates of cancers.

Third, we conduct "translational studies" in adults and children to understand the establishment and dynamics of HIV-drug-resistant reservoirs.

Fourth, in collaboration with bioengineers we are working to develop a rapid, affordable point mutation assay for detection of HIV-drug-resistance that should prove useful in both low- and high-resource communities.

A full listing of her journal publications can be found here.
 
Education
MD (University of Kansas Medical Center)
BA (University of Kansas)
Health Topics
Cervical Cancer
HIV Transmission
HIV/AIDS
Host-pathogen Interactions
HPV
Infectious Diseases
Laboratory Strengthening
Maternal Child Health (incl. Reproductive Health)
Pathobiology
Pathogenesis
STDs (other than HIV)
Viruses
DGH Centers, Programs and Initiatives and Affiliated Organizations
Publications
Wagner TA, McLaughlin S, Garg K, Cheung CY, Larsen BB, Styrchak S, Huang HC, Edlefsen PT, Mullins JI, Frenkel LM. 2014. HIV latency. Proliferation of cells with HIV integrated into cancer genes contributes to persistent infection. Science 345(6196):570-573. PMID25011556. PMCID: PMC4230336.

Chung MH, Beck IA, Dross S, Tapia K, Kiarie JN, Richardson BA, Overbaugh J, Sakr SR, John-Stewart GC, Frenkel LM. 2014. Oligonucleotide Ligation Assay Detects HIV Drug Resistance Associated With Virologic Failure Among Antiretroviral-Naive Adults in Kenya. J Acquir Immune Defic Syndr 67(3):246-253. PMID25140907. PMCID: PMC4197120.

Mullins JI and Frenkel LM. 2017. Clonal Expansion of Human Immunodeficiency Virus-Infected Cells and Human Immunodeficiency Virus Persistence During Antiretroviral Therapy. J Infect Dis 215(suppl_3):S119-S127. PMID28520966.

Duarte HA, Panpradist N, Beck IA, Lutz B, Lai J, Kanthula R, Kantor R, Tripathi A, Saravanan S, MacLeod I, Chung MH, Zhang G, Yang C, Frenkel LM. 2017. Current status of point-of-care testing for HIV drug resistance. J Infect Dis, in press. PMCID Journal – In Progress. (Invited peer-review.)