Adjunct Professor, Global Health
Professor, Pediatrics - Infectious Diseases
Adjunct Professor, Microbiology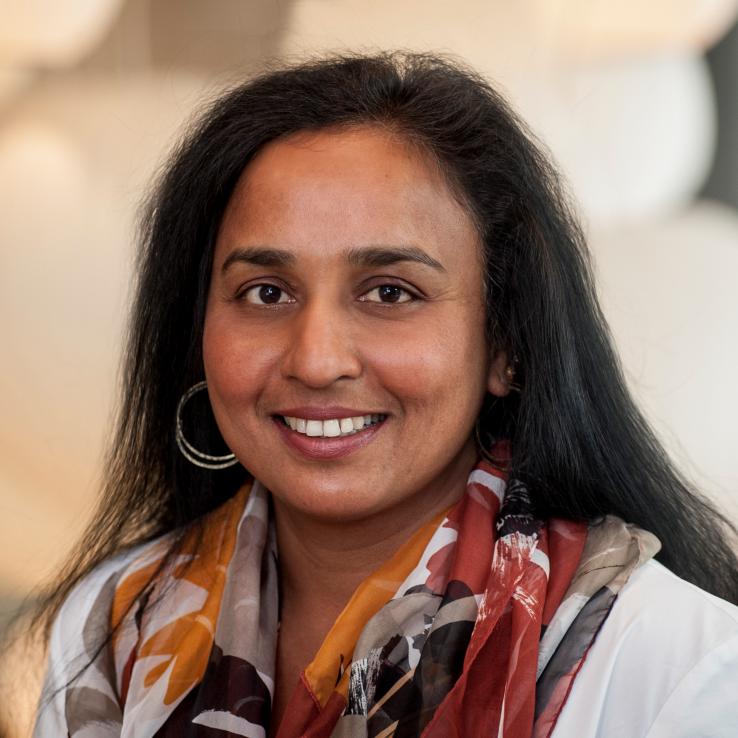 Seattle Children's Research Institute
307 Westlake Avenue North
Seattle, WA 98109
United States
Phone Number:
206-884-7336
Select from the following:
Biography
Dr. Rajagopal is an associate professor in the Department of Pediatrics, Division of Infectious Disease at the University of Washington. She has adjunct faculty appointments in the Departments of Microbiology and Global Health at the University of Washington. She is also a full faculty member of the Molecular and Cellular Biology PhD program of the University of Washington and a course coordinator of the PABIO 551 program in the Interdisciplinary Pathobiology PhD program.

Rajagopal is a member of the Center for Global Infectious Disease Research at Seattle Children's Research Institute, where her laboratory is physically located. She is an internationally recognized expert on the role of novel signaling pathways in Gram-positive pathogens.

Dr. Rajagopal's research interest is to understand virulence mechanisms of human pathogens. Her lab currently focuses on understanding how signaling systems facilitate virulence factor expression and adaptive responses in the human pathogens, Group B Streptococcus (GBS) and Staphylococcus aureus. A full listing of Dr. Rajagopal's journal publications can be found here. 
Education
PhD (Jawaharlal Nehru University)
MSc (Madurai University (India))
BSc (Bangalore University)
Health Topics
Infectious Diseases (other than STDs)
Maternal Child Health (incl. Reproductive Health)
Pathobiology
Pathobiology research areas
DGH Centers, Programs and Initiatives and Affiliated Organizations
Expertise
Bacterial pathogenesis with a focus on Group B Streptococcus and Staphylococcus aureus infections.
Publications
Armistead B, Herrero-Foncubierta P, Coleman M, Quach P, Whidbey C, Justicia J, Tapia R, Casares R, Millan A, Haidour A, Granger JR, Vornhagen J, Santana-Ufret V, Merillat S, Adams Waldorf K, Cuerva JM, Rajagopal L. Lipid analogs reveal the importance of polyene chain length to hemolysis and diminish granadaene mediated Group B Streptococcus infection. Nat Commun 2020 March;11(1):1502. PMID32198389.

Coleman M, Armistead B, Orvis A, Quach P, Brokaw A, Gendrin C, Sharma K, Ogle J, Merillat S, Dacanay M, Wu TY, Munson J, Baldessari A, Vornhagen J, Furuta A, Nguyen S, Adams Waldorf KM, Rajagopal L. Hyaluronidase Impairs Neutrophil Function and Promotes Group B Streptococcus Invasion and Preterm Labor in Nonhuman Primates. mBio 2021 Jan 5;12(1). PMID33402537.

Vornhagen J, Armistead B, Santana-Ufret V, Gendrin C, Merillat S, Coleman M, Quach P, Boldenow E, Alishetti V, Leonhard-Melief C, Ngo LY, Whidbey C, Doran KS, Curtis C, Waldorf KMA, Nance E, Rajagopal L. Group B streptococcus exploits vaginal epithelial exfoliation for ascending infection. J Clin Invest 2018 May 1;128(5):1985-1999. PMID29629904.

Boldenow E, Gendrin C, Ngo L, Bierle C, Vornhagen J, Coleman M, Merillat S, Armistead B, Whidbey C, Alishetti V, Santana-Ufret V, Ogle J, Gough M, Srinouanprachanh S, MacDonald JW, Bammler TK, Bansal A, Liggitt HD, Rajagopal L*, Adams Waldorf KM. Group B Streptococcus circumvents neutrophils and neutrophil extracellular traps during amniotic cavity invasion and preterm labor. Sci Immunol 2016;1(4):aah4576. PMID27819066.

Whidbey C, Harrell MI, Burnside K, Ngo L, Becraft AK, Iyer LM, Aravind L, Hitti J, Adams Waldorf KM, Rajagopal L. A hemolytic pigment of Group B Streptococcus allows bacterial penetration of human placenta. J Exp Med 2013;210(6):1265-1281. PMID23712433.