Assistant Professor, Global Health
Assistant Professor, Medicine - Emergency Medicine
Affiliated Faculty, Harvard Humanitarian Initiative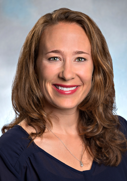 Phone Number:
206-744-2559
Select from the following:
Biography
Dr. O'Laughlin is an Assistant Professor of Emergency Medicine and Global Health. After Emergency Medicine residency training at UCLA, she joined the faculty in the Department of Emergency Medicine at Brigham and Women's Hospital and Harvard Medical School.  She completed her MPH in International Health from Harvard School of Public Health, the Program in Clinical Effectiveness through the Harvard School of Public Health and a Research Fellowship with the Medical Practice Evaluation Center at Massachusetts General Hospital. Dr. O'Laughlin joined the University of Washington in 2019 and is a member of the Section of Population Health in the Department of Emergency Medicine. Dr. O'Laughlin is Affiliated Faculty at the Harvard Humanitarian Initiative and the President of the Global Emergency Medicine Academy (GEMA) in the Society of Academic Emergency Medicine (SAEM).
Dr. O'Laughlin is a global health research scientist focused on assessing the health needs of refugee populations and on designing and evaluating refugee-specific interventions to improve care. Presently she is implementing and evaluating an intervention to improve engagement in HIV care for refugees living in Nakivale Refugee Settlement in Uganda (PI; K23MH108440). Dr. O'Laughlin is also investigating an interactive voice response (IVR) telephone-based COVID-19 symptom and exposure surveillance tool among refugees in Uganda. She aims to validate a prediction model with COVID-19 testing, assess knowledge and perceptions of risk and explore barriers and facilitators to risk mitigation strategy adoption among this population (PI; Elrha/R2HC). She is also studying assisted partner notification (APN) for HIV among refugees in West Nile Uganda using an implementation science approach (PI; UW/FH Center for AIDS Research).
While Dr. O'Laughlin is passionate in her pursuit to improve health outcomes for refugees, she is equally committed to developing this same enthusiasm and these skills in medical students, residents, and fellows. She has served as mentor for numerous trainees and as the Director of the International Health Mentorship Program for the Harvard Affiliated Emergency Medicine Residency program. She was awarded with the Scholars in Medicine Excellence in Student Mentoring Award from Harvard Medical School in 2019.
Education
MD, Oregon Health & Science University
MPH, Harvard School of Public Health
Health Topics
COVID-19
Emergency Medicine
HIV/AIDS
Refugee Health
War, Conflict, and Peace Studies
DGH Centers, Programs and Initiatives and Affiliated Organizations
Publications
O'Laughlin KN, Greenwald KE, Rahman SK, Faustin ZM, Ashaba S, Tsai AC, Ware NC, Kambugu A, Bassett IV. A social-ecological framework to understand barriers to HIV clinic attendance in Nakivale Refugee Settlement in Uganda: a qualitative study. AIDS & Behavior. 2020. https://doi.org/10.1007/s10461-020-03102-x. PMCID: PMC 8081685.
Klabbers RE, Muwonge TR, Ayikobua E, Izizinga D, Bassett IV, Kambugu A, Tsai AC, Ravicz M, Klabbers G, O'Laughlin KN. Understanding the role of interpersonal violence in assisted partner notification for HIV: a mixed-methods study in refugee settlements in West Nile Uganda. Journal of Global Health. 2020. Dec;10(2):020440. doi: 10.7189/jogh.10.020440. PMCID: PMC7719270.
Ravicz M, Muhongayire B, Kamagaju S, Klabber R, Faustin Z, Kambugu A, Bassett IV, O'Laughlin KN. Using Intervention Mapping methodology to design an HIV linkage intervention in a refugee settlement in rural Uganda. AIDS Care. 2021. https://doi.org/10.1080/09540121.2021.1900532. PMCID: PMC8452793.
Parrish C, Nelson E, Faustin Z, Stern J, Kasozi J, Klabbers R, Masereka S, Tsai AC, Bassett IV, O'Laughlin KN. Social support and linkage to HIV care following routine HIV testing in a Ugandan refugee settlement. AIDS & Behavior. 2022.
O'Laughlin KN, Thompson M, Hota B, Gottlieb M, Plumb ID, Chang AM, Wisk LE, Hall AJ, Wang RC, Spatz ES, Stephens KA, Heubinger RM, McDonald SA, Venkatesh A, Gentile N, Slovis BH, Hill M, Saydah S, Idris AH, Rodriquez R, Krumholz HM, Elmore JG, Weinstein RA, Nichol G. Study protocol for the Innovative Support for Patients with SARS-COV-2 Infections Registry (INSPIRE): a longitudinal study of the medium and long-term sequelae of SARS-CoV-2 infection. PLOS ONE. 2022;17(3):e0264260. doi: 10.1371/journal.pone.0264260. PMCID: PMC8893622.