Professor Emeritus, Global Health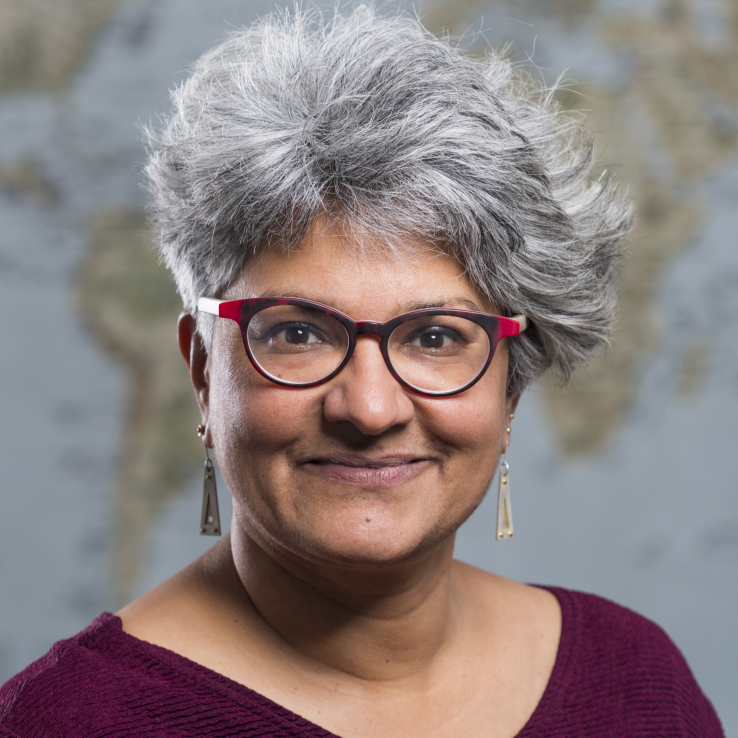 UW SLU E Bldg Lab E550
750 Republican St.
Box 358059
Box 358116
Seattle, WA 98109
United States
Phone Number:
206-616-9305
Select from the following:
Biography
Dr. Jaisri Lingappa obtained a B.A. from Swarthmore College with Distinction, a Ph.D. in Cell Biology from Harvard University, and an M.D. from the University of Massachusetts. Following an internship and residency in internal medicine, she did an infectious disease fellowship, all at the University of California at San Francisco (UCSF). Subsequently, she was a postdoctoral fellow at UCSF, where she developed a cell-free system for studying viral-host interactions in HIV-1 capsid assembly. She joined the faculty at the University of Washington in 1999 as an Assistant Professor in Pathobiology, and later moved to the Dept. of Global Health, where she is currently a Full Professor. She is also an Adjunct Professor in the Division of Allergy and Infectious Disease in the Department of Medicine and the Department of Microbiology at the University of Washington. Dr. Lingappa is well known for her studies demonstrating that host enzymes are co-opted by viruses for the purpose of facilitating capsid assembly. In 2002, her lab reported in the journal Nature that a cellular ATPase, ABCE1, plays a critical role in assembly of the HIV-1 viral capsid. More recently, her group demonstrated that the cellular factor DDX6, an RNA helicase, is critical for HIV-1 capsid assembly. Her laboratory has also studied hepatitis C virus assembly, as well as restriction factors that inhibit virus assembly. She is the recipient of two teaching awards from the Dept. of Pathobiology in recognition of her teaching in graduate level courses. In 2012, as recognition of her overall contributions to the study of AIDS, she was awarded the Joe McKee International Red Ribbon Award during the AIDS Project Worcester's 25th Anniversary in Worcester, Massachusetts.

Lab website: https://depts.washington.edu/jaisril/
Education
MD, University of Massachusetts
PhD, Harvard University
BA, Swarthmore College
Pathobiology research areas
DGH Centers, Programs and Initiatives and Affiliated Organizations
Expertise
HIV assembly, assembly of other viruses, cell and molecular biology of HIV/AIDS, viral-host interactions.
Publications
Lingappa JR, Reed JC, Tanaka M, Chutiraka K, and Robinson BR. How HIV-1 Gag assembles in cells: putting together pieces of the puzzle. Virus Research, pii: S0168-1702(14)00267-6, 2014, PMCID in process (Research Review)

Robinson BA, Reed JC, Geary CD, Swain JV, and Lingappa JR. A temporospatial map that defines specific steps at which critical surfaces in the Gag MA and CA domains act during immature HIV-1 capsid assembly in cells. Journal of Virology, 88(10):5718-41. PMC4019110

Lingappa UF, Wu X Macieik A, Yu SF, Atuegbu A, Corpuz M, Francis J, Nichols C, Calayag A, Hong S, Ellison JA, Harrell E, Asundi V, Lingappa JR, Prasad MD, Lipkin WI, Dey D, Hurt CR, Lingappa VR, Hansen WJ, Rupprecht C. Host-rabies virus protein-protein interactions as druggable anti-viral targets. Proceedings of the National Academy of Sciences, 110(10): E861-8, 2013. PMC3593902

Reed JC, Molter BK, Geary C, McNevin J, McElrath MJ, Giri SM, Klein KC, and Lingappa JR. HIV-1 Gag co-opts a cellular complex containing DDX6, a helicase that facilitates capsid assembly. Journal of Cell Biology 198: 439-56, 2012. PMC3413349

Thielen BK, McNevin J, McElrath MJ, Hunt BVS, Klein KC, and Lingappa JR. Innate immune signaling induces high levels of TC-specific deaminase activity in primary monocyte-derived cells through expression of APOBEC3A isoforms. Journal of Biological Chemistry, 285(36): 27753-66, 2010. PMC2934643

Zimmerman C, Klein KC, Kiser PK, Singh AR, Firestein BL, Riba SC, and Lingappa JR. Identification of a host protein essential for assembly of immature HIV-1 capsids. Nature 415: 88 - 92, 2002. PMID: 11780123