Professor, Global Health
Professor, Medicine - Allergy and Infectious Dis.
Adjunct Professor, Pediatrics
Affiliate Investigator, Fred Hutchinson Cancer Research Center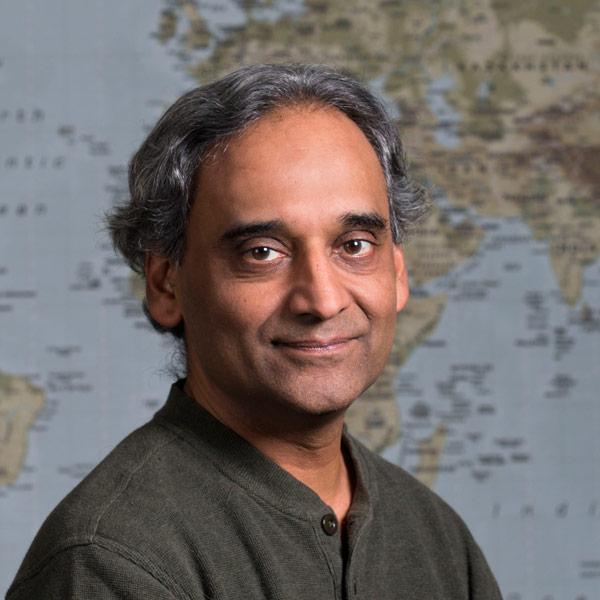 International Clinical Research Center
908 Jefferson St.
Box 359927
Seattle, WA 98104
United States
Phone Number:
206-520-3822
Select from the following:
Biography
Dr. Lingappa has been a faculty member at the University of Washington since 2004 and is currently a Professor in the Departments of Global Health and Medicine and Adjunct Professor in the Department of Pediatrics. He received his B.A. in Physics from Swarthmore College, Ph.D. in Biophysics at Harvard University and M.D. at the University of California. He completed residency training in Pediatrics and a fellowship in Pediatric Infectious Diseases at the University of Washington. From 1998 to 2003, he served as an officer with the US Public Health Epidemic Intelligence Service and subsequently as a medical epidemiologist at the U.S. Centers for Disease Control and Prevention in Atlanta, Georgia.

Since joining the UW faculty, he has collaborated with Drs. Connie Celum and Jared Baeten within the Department of Global Health International Clinical Research Center to conduct HIV-1 prevention clinical trials and observational studies in African heterosexual HIV-1 discordant couples. More recently, he has focused on conducting translational research studies to understand the pathogenesis of HIV-1 sexual transmission and particularly to identify host biological correlates for risk of HIV-1 infection. In this context he collaborates with numerous international researchers to apply genomics, proteomics and microbiome laboratory studies with state-of-the-art statistical analyses to identify factors that may be of particular relevance for public health interventions.
Education
MD (University of California (San Francisco))
PhD (Harvard University)
BA (Swarthmore College)
Health Topics
Genomics
Infectious Diseases
Molecular Immunology
Pathogenesis
DGH Centers, Programs and Initiatives and Affiliated Organizations
Publications
Lingappa JR, Baeten JM, Wald A, Hughes JP, Thomas KK, Mujugira A, Mugo N, Bukusi EA, Cohen CR, Katabira E, Ronald A, Kiarie J, Farquhar C, Stewart GJ, Makhema J, Essex M, Were E, Fife KH, de Bruyn G, Gray GE, McIntyre JA, Manongi R, Kapiga S, Coetzee D, Allen S, Inambao M, Kayitenkore K, Karita E, Kanweka W, Delany S, Rees H, Vwalika B, Magaret AS, Wang RS, Kidoguchi L, Barnes L, Ridzon R, Corey L, Celum C; Partners in Prevention HSV/HIV Transmission Study Team. Daily acyclovir for HIV-1 disease progression in people dually infected with HIV-1 and herpes simplex virus type 2: a randomised placebo-controlled trial. Lancet. 2010;375:824-33. PMCID: 2877592.

Lingappa JR, Hughes JP, Wang RS, Baeten JM, Gray GE, Wald A, Stevens W, Donnell D, Campbell M, Farquhar C, Essex M, Mullins J, Rees H, Corey L, Celum C; Partners in Prevention HSV/HIV Transmission Study Team. Estimating the impact of plasma HIV-1 RNA reductions on heterosexual HIV-1 transmission risk. PLoS One. 2010;5:e12598. PMCID: 2938354.

Lingappa JR, Petrovski S, Kahle E, Fellay J, Shianna K, McElrath MJ, Thomas KK, Baeten JM, Celum C, Wald A, de Bruyn G, Mullins JI, Nakku-Joloba E, Farquhar C, Essex M, Donnell D, Kiarie J, Haynes B, Goldstein D; Partners in Prevention HSV/HIV Transmission Study Team. Genomewide association study for determinants of HIV-1 acquisition and viral set point in HIV-1 serodiscordant couples with quantified virus exposure. PLoS One. 2011;6:e3236203. PMCID: 3236203.

Mackelprang RD, Baeten JM, Donnell D, Celum C, Farquhar C, de Bruyn G, Essex M, McElrath MJ, Nakku-Joloba E, Lingappa JR; Partners in Prevention HSV/HIV Transmission Study Team. Quantifying ongoing HIV-1 exposure in HIV-1-serodiscordant couples to identify individuals with potential host resistance to HIV-1. J Infect Dis. 2012;206:1299-1308. PMCID: 3448964.

Mackelprang RD, Carrington M, Thomas KK, Hughes J, Baeten JM, Wald A, Farquhar C, Fife K, Campbell MS, Kapiga S, Gao X, Mullins JI, Lingappa JR. Host genetic and viral determinants of HIV-1 RNA set point among HIV-1 seroconverters from sub-Saharan Africa. J Virol. 2015;89:2104-11. PMCID: 4338863.