Affiliate Assistant Professor, Global Health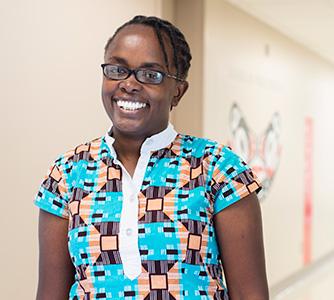 Phone Number:
206-519-1275
Select from the following:
Biography
Dr. Irene Njuguna is a Research Scientist at Kenyatta National Hospital in Kenya and affiliate Assistant Professor at the University of Washington, Department of Global Health. Her interests are optimizing outcomes among children and adolescents living with HIV or affected by HIV. Over the past 10 years, she has been involved in multiple clinical trials on pediatric HIV vaccines, timing of HIV treatment initiation, incentivizing pediatric HIV testing and transitioning adolescents to adult care, as well as observational studies on adolescent mortality and neurodevelopment. She recently received an NIH K43 (Emerging Global Leader award) career development award to study the school environment and strategies to improve the school experience for adolescents living with HIV.
Education
PhD, University of Washington
MPH, University of Washington
MSc, University of Nairobi
MBChB, University of Nairobi
Health Topics
Child and Adolescent Health (incl. Pediatrics)
Epidemiology
HIV/AIDS
Implementation Science
DGH Centers, Programs and Initiatives and Affiliated Organizations
Publications
Njuguna IN, Ambler G, Reilly M, Ondondo B, Kanyugo M, Lohman-Payne B, Gichuhi C, Borthwick N, Black A, Mehedi SR, Sun J, Maleche-Obimbo E, Chohan B, John-Stewart GC, Jaoko W, Hanke T. PedVacc 002: a phase I/II randomized clinical trial of MVA.HIVA vaccine administered to infants born to human immunodeficiency virus type 1-positive mothers in Nairobi. Vaccine. 2014 Oct 7;32(44):5801-8. doi: 10.1016/j.vaccine.2014.08.034. Epub 2014 Aug 27. PubMed PMID: 25173484; PubMed Central PMCID: PMC4414927.

Njuguna IN, Cranmer LM, Otieno VO, Mugo C, Okinyi HM, Benki-Nugent S, Richardson B, Stern J, Maleche-Obimbo E, Wamalwa DC, John-Stewart GC. Urgent versus post-stabilisation antiretroviral treatment in hospitalised HIV-infected children in Kenya (PUSH): a randomised controlled trial. Lancet HIV. 2018 Jan;5(1):e12-e22. doi: 10.1016/S2352-3018(17)30167-4. Epub 2017 Nov 14. PubMed PMID: 29150377; PubMed Central PMCID: PMC5777310.

Njuguna I, Neary J, Mburu C, Black D, Beima-Sofie K, Wagner AD, Mugo C, Evans Y, Guthrie B, Itindi J, Onyango A, Oyiengo L, Richardson BA, Wamalwa D, John-Stewart G. Clinic-level and individual-level factors that influence HIV viral suppression in adolescents and young adults: a national survey in Kenya. AIDS. 2020 Jun 1;34(7):1065-1074. doi:10.1097/QAD.0000000000002538. PubMed PMID: 32287060; PubMed Central PMCID: PMC7274775.

Njuguna IN, Beima-Sofie K, Mburu CW, Mugo C, Neary J, Itindi J, Onyango A, Richardson BA, Rubin Means A, Sharma M, Weiner BJ, Wagner AD, Oyiengo L, Wamalwa D, John-Stewart G. Adolescent transition to adult care for HIV-infected adolescents in Kenya (ATTACH): study protocol for a hybrid effectiveness-implementation cluster
randomised trial. BMJ Open. 2020 Dec 2;10(12):e039972. doi: 10.1136/bmjopen-2020-039972. PubMed PMID: 33268417; PubMed Central PMCID: PMC7713196.

Njuguna IN, Wagner AD, Neary J, Omondi VO, Otieno VA, Orimba A, Mugo C, Babigumira JB, Levin C, Richardson BA, Maleche-Obimbo E, Wamalwa DC, John-Stewart G, Slyker J. Financial incentives to increase pediatric HIV testing: a randomized trial. AIDS. 2021 Jan 1;35(1):125-130. doi: 10.1097/QAD.0000000000002720. PubMed PMID: 33048877; PubMed Central PMCID: PMC7791594.