Affiliate Assistant Professor, Global Health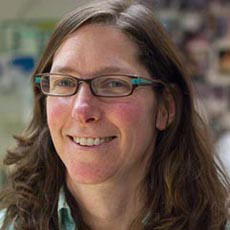 Fred Hutchinson Cancer Research Center
1100 Fairview Ave N
C3-168
Seattle, WA 98109
United States
Phone Number:
206-667-4148
Select from the following:
Biography
Dr. Dara Lehman's interests include viral dynamics, viral reservoirs and drug resistance following antiretrovirals used as prophylaxis and treatment for HIV infection. Studies involve cohorts of HIV infected women, infants and serodiscordant couples in Kenya. In addition, she has been involved in the development of multiple assays to detect HIV infection and drug resistance that work across HIV subtypes, and uses these assays in population-based studies. Dr. Lehman also collaborates on the development of a non-instrumented infant HIV diagnostic that is appropriate for use in resource-poor settings.
Education
PhD (University of Washington)
MHS (Johns Hopkins University)
BS (Tufts University)
Health Topics
HIV Transmission
HIV/AIDS
Infectious Diseases
Maternal Child Health (incl. Reproductive Health)
Viruses
Pathobiology research areas
DGH Centers, Programs and Initiatives and Affiliated Organizations
Publications
Lehman DA, Baeten JM, McCoy CO, Weis JF, Peterson D, Mbara G, Donnell D, Thomas KK, Hendrix CW, Marzinke MA, Frenkel L, Ndase P, Mugo NR, Celum C, Overbaugh J, Matsen FA, Partners PrEP Study Team. Risk of drug resistance among persons acquiring HIV within a randomized clinical trial of single- or dual-agent preexposure prophylaxis. 2015. J Infect Dis. 211(8): 1211-1218.

Lehman DA, Ronen K, Blish CA, Baeten JM, Jalalian-Lechak Z, Jaoko W, Mandaliya K, Richardson BA, McClelland RS, Overbaugh J. Systemic cytokine levels show limited correlation with risk of HIV-1 acquisition. 2014. J. Acquir Immune Defic. Syndr. 66(2): 135-139.

Boyle DS*, Lehman DA*, Lillis L, Peterson D, Singhal M, Armes N, Parker M, Piepenburg O, Overbaugh J. Rapid detection of HIV-1 proviral DNA for early infant diagnosis using recombinase polymerase amplification. 2013. MBio 4(2). pii: e00135-13. *co-first author

Lehman DA, Wamalwa DC, McCoy CO, Matsen FA, Langat A, Chohan BH, Benk-Nugent S, Custers-Allen R, Bushman FD, John-Stewart GC, Overbaugh J. Low-frequency nevirapine resistance at multiple sites may predict treatment failure in infants on nevirapine-based treatment. 2012. J Acquir Immune Defic Syndr. 60(3): 225-233.

Lehman DA, Chung MH, John-Stewart GC, Richardson BA, Kiarie J, Kinuthia J, Overbaugh J. HIV-1 persists in breast milk cells despite antiretroviral treatment to prevent mother-to-child transmission. 2008. AIDS 22(12): 1475-1485.