Every year, the Department of Global Health selects a Common Book to serve as a platform for our community of students, staff, and faculty to learn together on topics of common importance.
This DGH Common Book, as voted on by members of the department, is: "Winners Take All: The Elite Charade of Changing the World" by Anand Giridharadas.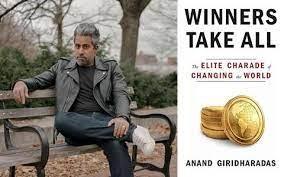 In his book, former New York Times columnist Giridharadas investigates how the global elite's philanthropic efforts to "change the world" preserve the status quo and obscure their role in causing the problems they later seek to solve. Learn more about the book.
Through reading and discussing this book, we will consider the consequences of relying on private giving to address systematic inequalities, as well as explore alternative solutions that have the power to build lasting global change.  
You do not have to have read the book to participate! Because the book's themes lie at the heart of the discussion on the decolonization of global health, we encourage everyone to join the discussion, even if you haven't gotten around to reading the book. Other resources to become familiar with Anand Giridharadas' work include his appearance with Trevor Noah on the Daily Show, has speech at the 2019 Seattle Times Town Hall, and his guest essay for the New York Times
The Seattle Town Hall donated several dozen hard copies of the book (left over from his last talk here in Seattle) that we can offer to students for free. Please email James at jamespf@uw.edu or stop by his office in HRC 763 if you'd like to pick up a copy. First come, first serve. 
Upcoming Events
Winner Take All Discussion
Wednesday, February 22, 2023, 5 – 7 pm. 
Further information about the format will be sent out as the event approaches. 
Past Events
Seattle Town Hall Discussion with Anand Giridharadas with Naomi Ishisaka: Progressive Change Through the Art of Persuasion
with an introduction by DGH DEI Director James Pfeiffer
The discussion will focus on Giridharadas' new book "The Persuaders", but the social justice and social change themes overlap with "Winners Take All" - growing inequality, the outsize influence of the extremely wealthy in social policy, and strategies for social change that impact population health around the world and in the U.S. 
Listen to a recording of the Town Hall Discussion here.