External Advisory Board Member, Department of Global Health, University of Washington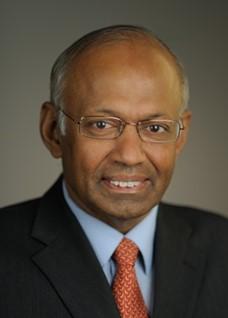 Arun Chockalingam, MS, PhD, FACC, FAHA, FIACS received his undergraduate degree in Electronics and Communication Engineering from the University of Madras, India (1970); a Master of Science degree in Biomedical Engineering from the Indian Institute of Technology, Madras, India (1978); and a Doctor of Philosophy in Cardiac Cell Physiology and Pharmacology from Memorial University of Newfoundland, Canada. (1982).
Dr. Chockalingam's experience encompasses a unique combination of global health research, policy, training, and administration in addition to international leadership within the global health community. He is a co-author of the Institute of Medicine's March 2010 report, "Promoting Cardiovascular Health in the Developing World: A Critical Challenge to Achieve Global Health", which lays out a vision for curbing and ultimately preventing cardiovascular disease in low-and middle-income countries (LMICs).  This was one of the key resource documents for the United Nations' High Level Meeting on Non-communicable Disease (NCD) Prevention and Control in 2011.  
Prior to joining Dalla Lana School of Public Health at University of Toronto, as the Director of the Office of Global Public Health Education and Training, in 2013, he served as the Founding Director of the Office of Global Health at the NHLBI, NIH between 2010 and 2013, Dr. Chockalingam was Director of Continuing Public Health Education at the Faculty of Health Sciences at the Simon Fraser University in British Columbia, where he was also Professor and Founding Director of Global Health. He has also served as Associate Director of the Institute of Circulatory and Respiratory Health in the Canadian Institutes of Health Research and Senior Policy Advisor at the Centre for Chronic Disease Prevention and Control, Health Canada.
Dr. Chockalingam is passionate about global health research, particularly on NCD prevention and control in LMICs. He has established research collaborations in China, India, Germany, Malaysia, Kenya, and Argentina. His multidisciplinary research interests go beyond cardiovascular health in to household air pollution, mental health as well as congruency of health, agriculture and economics. Dr. Chockalingam has published over 160 papers and 11 book chapters, served as an editorial board member and reviewer for numerous journals and was editor-in-chief of the Journal of Hypertension Control (1994-1999) and associate editor of CVD Prevention (1992-1998). He has been a reviewer for research granting agencies, such as the Canadian Institute of Health Research, the NIH/NHLBI, and the European Commission. He has organized several national and international conferences in Canada and abroad including the 4th International Conference on Preventive Cardiology (ICPC), Montreal 1997 and left a legacy fund with the Heart and Stroke Foundation of Canada for a perpetual post-doctoral fellowship in Preventive Cardiology.  During his tenure with Health Canada he was instrumental in the organization of the Canadian Health Heart Health Initiative (1987-1997) which led to the creation of the International Heart Health Initiative and a series of International Heart Health Conferences (IHHC) since 1992 (Victoria, BC, Canada).  The outcome of IHHC 1992 was the Victoria Declaration on Heart Health (science to Policy) laid the foundation for a trend setting process globally to understand the impact of cardiovascular disease and its risk factors.  Future IHHCs were held in many global settings – Barcelona, Spain (1995), Singapore (1998), Osaka, Japan (2001), Milan, Italy (2004) and Iguazu Falls, Brazil (2007).
Dr. Chockalingam is a fellow of the American Heart Association, the American College of Cardiology and the International Academy of Cardiovascular Sciences. He has also received many prestigious awards, including the Canadian Deputy Minister of Health's Recognition Award (1997), the Canadian Cardiovascular Society's Harold Segal Award of Merit (1998), the Canadian Institute of Health Research President's Recognition Award (2005), the Blood Pressure Canada's George Fodor Award (2007), the Canadian Association of Physicians of Indian Heritage's Medal of Honor (2007), and the Simon Dack Award from the Mount Sinai Medical Center (2013).
Dr. Chockalingam climbed and reached the glaciers covered summit of Mount Kilimanjaro, also known as Roof of Africa (5,895 m), in Tanzania in November, 2002.