Adjunct Professor, Global Health
Professor, Pediatrics
Professor, Laboratory Medicine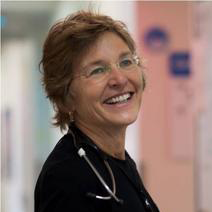 Pediatric Infectious Diseases Virology Clinic
Seattle Children's
4800 Sand Point Way NE
Seattle, WA 98105
United States
Phone Number:
206-987-5140
Select from the following:
Biography
Lisa Frenkel's work focuses on 3 topics: 

First, understanding the mechanisms that allow HIV to persist despite effective ART. Transient low-level viremias, or "blips," during ART were usually comprised of populations of identical env and pol sequences, which suggests that clones of infected cells produced viruses (Journal Virology, 2005; http://www.ncbi.nlm.nih.gov/pmc/articles/PMC1181593/). Their subsequent studies revealed that populations of identical viral sequences from the peripheral blood mononuclear cells and sputum (rich in macrophages) increase over a decade in individuals with ART-suppression of viral replication, suggesting that clonal proliferation of cells with provirus sustains HIV infection during suppressive ART (Journal Virology, 2013; http://www.ncbi.nlm.nih.gov/pmc/articles/PMC3554159/). And more recently, by documenting that identical HIV env sequences always have identical integration sites in the human genome, and conversely that diverse HIV env sequences always have different integration sites, they proved that HIV-infected cells develop into long-lived clones that persist during ART (Science, 2014; http://www.ncbi.nlm.nih.gov/pubmed/25011556). In the latter study they observed that proviruses integrated in proliferating HIV-infected cells in genes controlling immune functions, the cell cycle or cancers had a statistically significant survival advantage over time; suggesting that interference with expression of these genes allows the infected cells to proliferate and/or survive. 


Second, they study reservoirs of HIV-drug-resistant variants that influence the efficacy of antiretroviral treatment (AIDS, 2015, in press). They determined that reservoirs of nevirapine-resistant HIV were different in children, with resistant variants persisting for longer periods of time in many infants due to selection during primary infection or transmission of resistant viruses (http://www.ncbi.nlm.nih.gov/pubmed/?term=PMC3038662) and that transmitted HIV drug resistance is increasing rapidly in Kenya (unpublished). 


Third, they adapted a low-cost, relative simple assay to detect point-mutations that confer HIV-drug-resistance. They validated reagents across HIV Subtypes, demonstrated the utility of the assay in predicting virologic failure (JAIDS, 2014; http://www.ncbi.nlm.nih.gov/pubmed/25140907). Currently, in collaboration with Dr. Michael Chung, they are conducting a randomized-controlled trial in Kenya to evaluate the implementation of this assay prior to 1st-line-ART and determine if it improves virologic suppression; and they are collaborating bioengineering faculty, Drs. Barry Lutz and James Lai, to simplify the assay for point-of-care use.
Education
MD (University of Kansas Medical Center)
BA (University of Kansas)
Publications
Wagner TA, McLaughlin S, Garg K, Cheung CY, Larsen BB, Styrchak S, Huang HC, Edlefsen PT, Mullins JI, Frenkel LM. 2014. HIV latency. Proliferation of cells with HIV integrated into cancer genes contributes to persistent infection. Science 345(6196):570-573. PMID25011556. PMCID: PMC4230336.

Chung MH, Beck IA, Dross S, Tapia K, Kiarie JN, Richardson BA, Overbaugh J, Sakr SR, John-Stewart GC, Frenkel LM. 2014. Oligonucleotide Ligation Assay Detects HIV Drug Resistance Associated With Virologic Failure Among Antiretroviral-Naive Adults in Kenya. J Acquir Immune Defic Syndr 67(3):246-253. PMID25140907. PMCID: PMC4197120.

Dross SE, Rossi SS, Beck IA, Micek MA, Blanco AJ, Seidel KD, Montoya P, Capparelli EV, Frenkel LM. 2014. Variable and suboptimal nevirapine levels in infants given single-dose nevirapine at birth without maternal prophylaxis. AIDS 28(16):2491-2493. PMID25265235. PMCID: PMC4332529.

Olson SC, Ngo-Giang-Huong N, Beck I, Deng W, Britto P, Shapiro DE, Bumgarner RE, Mullins JI, Van Dyke RB, Jourdain G, Frenkel LM. 2015. Resistance detected by pyrosequencing following zidovudine-monotherapy for prevention of HIV-1 mother-to-child-transmission. AIDS, in press. PMCID Journal – In Process (U01 AI068632, T32 HD07233, U01 AI41089, P30 AI 027757, U01 AI068616, UM1 AI068632, UM1 AI068616, UM1 AI106716).

Ticona E, Bull ME, Soria J, Tapia K, Legard J, Styrchak SM, Williams C, Mitchell C, La Rosa A, Coombs RW, Frenkel LM. 2015. Biomarkers of inflammation in HIV-infected Peruvian men and women before and during suppressive anti-retroviral therapy (ART). AIDS, in press. PMCID Journal – In Process (R01 AI071212, R01 AI091550, P30 AI027757, AI068636, AI106701).