Associate Professor, Global Health
Associate Professor, Medicine - Allergy and Infectious Dis.
Adjunct Associate Professor, Epidemiology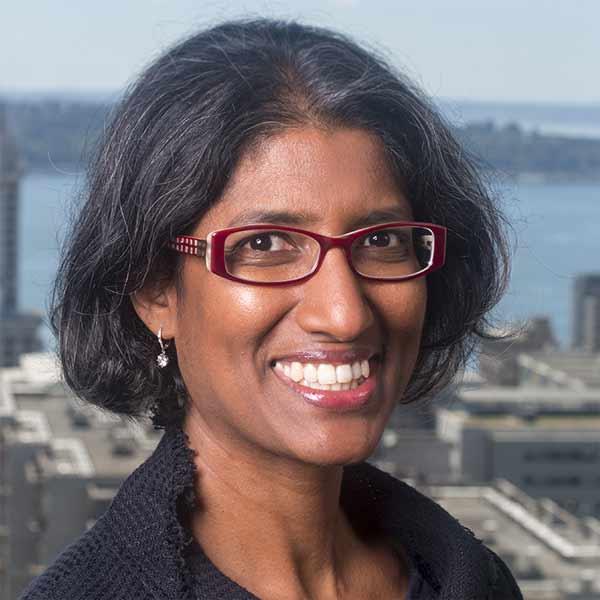 325 Ninth Ave
Box 359927
Seattle, WA 98104
United States
Phone Number:
206-520-3813
Select from the following:
Biography
Ruanne Barnabas is an Associate Professor in Global Health and Medicine at the University of Washington and affiliate at the Fred Hutchinson Cancer Research Center. She is a South African Physician-Epidemiologist. Currently, she holds the King K. Holmes Endowed Professorship in STDs and AIDS. Her research focuses on interventions for HIV and STD treatment and prevention. She is the protocol chair of the Delivery Optimization for antiretroviral (DO ART) Study, which will evaluate the effectiveness and cost-effectiveness of decentralized, community-based ART initiation and follow-up compared to clinic- based care. She is the protocol chair for the Kenya Single-dose HPV vaccine Efficacy (KEN SHE) Study, which will evaluate the efficacy of single-dose HPV vaccination for adolescents and young women. She leads the cost-effectiveness evaluation of other projects including scale-up of cervical cancer and HIV treatment and prevention in high burden settings. Her projects use clinical trial data and health economic modeling to estimate the potential impact of interventions. The ultimate aim of her work is to identify effective and efficient HIV and STI treatment and prevention strategies.
Education
DPhil (University of Oxford)
MSc (University of Oxford)
MBChB (University of Cape Town (South Africa))
Health Topics
Cervical Cancer
Community Health Workers
Community-Based Primary Health Care
Cost-Effectiveness
Delivery Logistics
Health Economics
Herpes
HIV Transmission
HIV/AIDS
HPV
Implementation Science
Mobile Health (mHealth)
STDs (other than HIV)
DGH Centers, Programs and Initiatives and Affiliated Organizations
Publications
Ying R, Sharma M, Celum C, Baeten JM, van Rooyen H, Hughes JP, Garnett G, Barnabas RV. Home HIV testing and counselling to reduce HIV incidence in a generalised epidemic setting: a mathematical modeling analysis. Lancet HIV. 2016;3:e275-82 [original work]. doi: 10.1016/S2352-3018(16)30009-1. PMCID: 4927306.

Barnabas RV, van Rooyen H, Tumwesigye E, Brantley J, Baeten JM, van Heerden A, Turyamureeba B, Joseph P, Krows M, Thomas KK, Schaafsma T, Hughes JP, Celum C. Uptake of antiretroviral therapy and male circumcision after community-based HIV testing and strategies for linkage to care versus standard clinic referral: a multisite, open-label, randomised controlled trial in South Africa and Uganda. Lancet HIV. 2016;3:e212-20 [original work]. doi: 10.1016/S2352-3018(16)00020-5. PMCID: 4852382.

Sharma M, Ying R, Tarr G, Barnabas R. Systematic review and meta-analysis of community and facility-based HIV testing to address linkage to care gaps in sub-Saharan Africa. Nature. 2015;528:S77-85 [original work]. doi: 10.1038/nature16044.

Ying R, Sharma M, Heffron R, Celum C, Baeten JM, Katabira E, Bulya N, Barnabas RV. Cost-effectiveness of pre-exposure prophylaxis targeted to high-risk serodiscordant couples as a bridge to sustained ART use in Kampala, Uganda. J Int AIDS Soc. 2015;18:20013 [original work]. doi: 10.7448/IAS.18.4.20013. PCMID: 4509901.

Barnabas RV, Laukkanen P, Koskela P, Kontula O, Lehtinen M, and Garnett GP. Epidemiology of HPV 16 and cervical cancer in Finland and the potential impact of vaccination: mathematical modelling analyses. PLoS Med. 2006;3:e138 [original work]. PMCID: 1434486.