Affiliate Associate Professor, Global Health
Senior Program Officer, Bill & Melinda Gates Foundation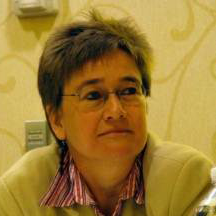 Seattle, WA 98102
United States
Phone Number:
206-604-7607
Select from the following:
Biography
Lut Van Damme has worked in biomedical HIV prevention research since the early 1990s. She was the international principle investigator on multiple multi-national trials assessing the effect of products on HIV acquisition in women. As such she has a wide expertise in protocol development, trial implementation, data interpretation, training.

Since 2013 Lut works at the Bill & Melinda Gates Foundation where her portfolio comprises biomedical HIV prevention technologies. In this position, she is involved in grants and programs for product development, regulatory approval and roll out of products. She is also affiliated with the Global Health Department at the University of Washington.

Lut obtained her medical and doctoral degrees at the University of Ghent, Belgium; and her Master degree in Epidemiology at the London School of Hygiene and Tropical Medicine. She started her research career at the Institute of Tropical Medicine in Antwerp, Belgium. Her mother tongue is Dutch and she is fluent in French and English.
Education
PhD (Universiteit Gent)
MSc (London School of Hygiene & Tropical Medicine (UK))
MD (Universiteit Gent)
Health Topics
HIV/AIDS
Maternal Child Health (incl. Reproductive Health)
Prevention
DGH Centers, Programs and Initiatives and Affiliated Organizations
Expertise
Dr. Van Damme is passionate about women's reproductive health issues and rights, and is interested in research, product development and delivery.
Publications
Corneli A, McKenna K, Perry B, Ahmed K, Agot K, Malamatsho F, Skhosana J, Odhiambo J, Van Damme L. The science of being a study participant: FEM-PrEP participants' explanations for over-reporting adherence to the study pills and on the whereabouts of unused pills. JAIDS 2015; 68: 578-58

Grant R, Liegler T, Defechereux P, Kashuba A, Taylor D, Abedel-Mohsen M, Deese J, Fransen K, De Baetselier I, Crucitti T, Bentley G, Agingu W, Ahmed K, Lombaard J, Van Damme L. Drug resistance and plasma viral RNA level after suboptimal use of oral pre-exposure prophylaxis in women. AIDS 2015; 29. In press. DOI:10.1097/QAD.0000000000000556 [Epub ahead of print]

Romano J, Van Damme L, Hillier S. The future of multipurpose prevention technology product strategies: understanding the market in parallel with product development. British Journal of Obstetrics and Gynecology 2014; 121 (s5): 15-18 (DOI: 10.1111/1471-0528.12850).

Van Damme L, Corneli A, Ahmed K, Agot K, Lombaard J, Kapiga S, Malaheleha M, Owino F, Manongi R, Onyango J, Temu L, Monedi MC, Mak'Oketch P, Makanda M, Reblin I, Makatu SE, Saylor L, Kiernan H, Kirkendale S, Wong C, Grant R, Kashuba A, Nanda K, Mandala J, Fransen K, Deese J, Crucitti T, Mastro TD, Taylor D, on behalf of the FEM-PrEP study group. Pre-Exposure Prophylaxis for HIV Prevention among African Women. N Eng J Med 2012; 367 (5): 411-422. DOI:10.156/NEJMoa1202614