Adjunct Assistant Professor, Global Health
Assistant Professor, Health Metrics Sciences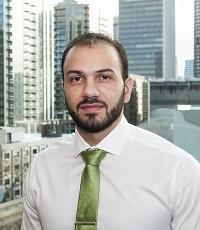 Institute for Health Metrics and Evaluation (IHME)
2301 5th Avenue, Suite 600
Box 358210
Seattle, WA 98121
United States
Phone Number:
206-897-2800
Select from the following:
Biography
Charbel El Bcheraoui, PhD, is Assistant Professor at the Institute for Health Metrics and Evaluation (IHME) at the University of Washington. In this role, he works with IHME's Kingdom of Saudi Arabia health tracking research team to create an integrated health surveillance system for the Ministry of Health. This system will be used to monitor long-term and real-time burden of disease in Saudi Arabia to inform national and subnational health priorities for policymakers. In parallel, he also works on the Gavi Full Country Evaluations (FCE), a partnership with Gavi, the Vaccine Alliance. Within the FCE, he mainly focuses on developing the research tools to ensure methods triangulation for the mixed methodology aspect of the project.

Prior to joining IHME, Dr. El Bcheraoui was a Health Systems Integration Program (HSIP) scholar with the US Centers for Disease Control and Prevention (CDC). As a HSIP scholar, he was assigned to the Fulton County Department of Health and Wellness in Atlanta, GA, where he focused on program evaluation and community health improvement.

Previously, Dr. El Bcheraoui worked for the CDC as an Epidemic Intelligence Service Officer, serving as a key member of the HIV Vaccine and Special Studies team and the Minorities HIV/AIDS Research Initiative team. His expertise is in field epidemiology, survey design, public health evaluation, and health systems integration.

Dr. El Bcheraoui studied at the Lebanese University in Beirut, Lebanon, where he received an MS in Zoology, and at the University of the Mediterranean in Marseille, France, where he received am MS and a PhD in Biological Anthropology.
Education
PhD (Université de la Méditerranée)
Master's (Université de la Méditerranée)
Master's (Lebanese University)
Health Topics
Biostatistics
Burden of Disease
Business and Public Private Partnerships
Disease Surveillance
Epidemiology
Global Health Governance
Health Information Systems
Health Interventions
Health Policy
Health Systems Strengthening and Human Resources Development
HIV/AIDS
Immunizations
Implementation Science
Infectious Diseases
Male Circumcision
Maternal Child Health (incl. Reproductive Health)
Metrics and Evaluation
Obesity
Qualitative Research and Methods
Social Determinants of Health
DGH Centers, Programs and Initiatives and Affiliated Organizations
Expertise
Capacity Building; Public Health Surveillance; Public Health Program Evaluation; Mixed Methods Research; Outbreak Investigations; Post-Disaster Response
Publications
El Bcheraoui C, GBD collaborators. Trends in HIV/AIDS burden in Eastern Mediterranean countries, 1990–2015. International Journal of Public Health, Accepted July 2017.

El Bcheraoui C, GBD collaborators. Trends in obesity burden in Eastern Mediterranean countries, 1980–2015. International Journal of Public Health, Accepted July 2017.

El Bcheraoui C, Zhang X, Welty LJ, Abram KM, Teplin LA, Sutton MY, 2015. HIV Knowledge among a Cohort of Juvenile Detainees, Chicago, 1995 – 2004. Journal of Correctional Health Care, 21(2): 112-124

El Bcheraoui C, Basulaiman M, Wilson S, Daoud F, Tuffaha M, AlMazroa MA, Memish ZA, Al Saeedi M, Mokdad AH, 2015. Breast cancer screening in Saudi Arabia: free but almost no takers. PlosOne, 10(3): e0119051. doi:10.1371/journal.pone.0119051.

El Bcheraoui C, Zhang X, Cooper CS, Rose CE, Kilmarx PH, Chen RT, 2014. Rates of Adverse Events Associated with Male Circumcision in U.S. Medical Settings, 2001 – 2010. JAMA Pediatrics 168(7): 625-34.