Associate Professor, Global Health
Associate Professor, Health Services
Director, Community Oriented Public Health Practice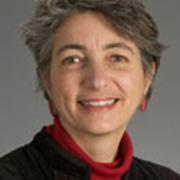 Office: Health Sciences H-690E
1959 NE Pacific
Box 357660
Seattle, WA 98195
United States
Phone Number:
206-616-4989
Select from the following:
Biography
Amy Hagopian directs the UW's Community Oriented Public Health Practice program, in the Department of Health Services, which trains MPH students using problem based learning. Her courses are in evaluation, policy, community organizing. She also teaches an undergrad/grad course called "War & Health." She conducts research on international health workforce issues, especially the area of health worker migration from low-income countries to wealthy countries.

She serves on various institutional service committees, including the American Association of University Professors, and was an organizer of the University of Basrah sister university project (since 2005).

Before entering the global health arena, Hagopian worked for 15 years in the area of rural health and community development, traveling the five-state region served by the University of Washington School of Medicine. She focused on strengthening and expanding rural health systems, as she worked with administrators, boards and communities in the settings of hospitals, clinics and public health departments.

Hagopian is also active in her professional association, the American Public Health Association, where she serves as nominating chair to the International Health Section. She is also active in her own local community, where she serves as a board member of College Access Now, which works to assist first-generation students gain admission to college. She also works to eliminate military recruitment in high schools.
Education
MHA (University of Washington)
PhD (University of Washington)
Health Topics
Health Systems Strengthening and Human Resources
Homelessness
War, Conflict, and Peace Studies
Workforce
Affiliated Organizations:
Publications
Samuel Abimerech Luboga, Bert Stover, Travis W. Lim, Frederick Makumbi, Noah Kiwanuka, Flavia Lubega, Assay Ndizihiwe, Eddie Mukooyo, Erin K. Hurley, Nagesh Borse, Angela Wood, James Bernhardt, Nathaniel Lohman, Lianne Sheppard, Scott Barnhart, Amy Hagopian. (senior author) Did PEPFAR investments result in health system strengthening? A retrospective longitudinal study measuring non-HIV health service utilization at the District level. Health Policy and Planning, March 2016.

Hagedorn J, Paras C, Greenwich H, Hagopian A.(senior author) The Role Of Labor Unions In Creating Working Conditions That Promote Public Health. AJPH June 2016, 106:6, 989-995.

Hagopian A, Flaxman A, Takaro TK, Al-Shatari SAE, Rajaratnam J, Becker S, Levin-Rector A, Galway L, Al-Yasseri BJH, Weiss W, Murray CJ, Burnham G. Mortality in Iraq Associated with the 2003–2011 War and Occupation: Findings from a National Cluster Sample Survey by the University Collaborative Iraq Mortality Study. PLoS Med 10(10): October 2013.

Hagopian A, Barker K. "Should we end military recruiting in high schools as a matter of child protection and public health?" AJPH Commentary, Am J Public Health. 2011 Jan;101(1):19-23.

Hagopian A, Lafta R, Hassan J, Davis S, Mirick D, Takaro T. Trends in childhood leukaemia in Basrah, Iraq, 1993-2007. Am J Public Health. 2010 Jun;100(6):1081-7.